Success in sales requires an up-to-date understanding of leads and their status. A good system should allow you to prioritize prospects according to potential value or conversion likelihood, as well as track the progress and performance of your team for accurate forecasts.
There should be no missing out on opportunities.
With effective pipeline marketing, B2B companies can more accurately and effectively track the journey of their prospects through the sales cycle.
By breaking down business transactions into lead stages that reflect the natural progression towards close, reps are better equipped to nurture leads with targeted touches at every stage.
Robust tracking ensures businesses have access to valuable lead qualification insights and account intelligence which allows them make informed decisions for a successful outcome in each sale.
In this blog post, we'll walk you through the basics of setting up your pipeline and getting started with marketing automation.
What is Pipeline Marketing?
Pipeline marketing is the process of nurturing leads through your sales funnel until they are ready to make a purchase. By tracking and managing your pipeline, you can ensure that every lead gets the attention they need and that no opportunities are slipping through the cracks.
Think of your pipeline as a sales funnel. At the top of the funnel, you have your leads. As they progress through the pipeline, they move closer and closer to becoming customers. Eventually, they make a purchase and become loyal customers.
The key to successful pipeline marketing is understanding where each lead is in their journey and supplying them with the correct information at the right time.
Let's walk through the different stages of the pipeline.
The Different Stages of the Pipeline Marketing Process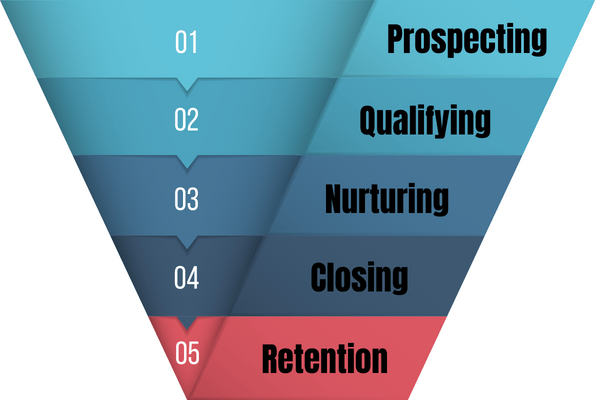 1. Prospecting
Prospecting is the very first stage of the sales and marketing pipeline. It is where you identify potential leads. You need an excellent system for gathering leads through lead capture forms on your website, cold calling, or networking.
Prospecting has three major activities:
Identifying
Targeting
Engaging
Refer to this table for the best practices you can do for each task.
Identifying
Targeting
Engaging
Research the target audience by their demographics, interests, and other characteristics.

Analyze the current market for similar products or services.

Utilize various tools such as surveys, questionnaires, focus groups, etc. to collect data about potential customers.

Develop a buyer persona to better understand who you are targeting.
Create an actionable plan on how to reach out and engage with your target audience.

Identify the most cost effective channels to reach your prospects.

Monitor and analyze trends in the industry related to your prospects' interactions with marketing efforts.

Measure ROI of each campaign.
Establish meaningful relationships with prospects through hyper-personalized emails and messages.

Invite them to webinars or seminars related to your product/service offering.

Provide incentives for early adopters of your services/products such as discounts or freebies which will help drive sign ups

Develop content strategies around topics relevant to your target audience.
2. Qualifying
In the qualifying stage, you determine whether a lead is ready to be contacted by marketing and sales teams. It is usually done by scoring the lead based on their engagement with your company.
You can measure engagement in different ways, including website activity, email interactions, and social media interactions. The more engaged a lead is, the higher their score will be.
Lead scoring is a critical step in the qualifying stage because it allows you to prioritize leads. The most engaged leads should be contacted first, while the least engaged ones can be relegated to the bottom of the list.
Here's a video that will help you setup a leadscoring system so you can quickly respond to "hot leads", nurture undecided prospects, and disqualify the unfit ones.
3. Nurturing
Nurturing means building relationships with leads and keeping them engaged until they are ready to buy. The objective at this point is to turn qualified leads into customers.
This stage of the pipeline is where you provide leads with valuable content that educates them about your product or service. You want to build trust with leads and position yourself as a thought leader in your industry.
Once you have your lead nurturing program up-and-running, enhance its reach and success by implementing marketing automation. Together the two pragmatic processes deliver unbeatable results.
Automation can boost pipeline velocity and get you higher quality leads.
How? Through automated systems:
You can create tailored email campaigns based on the prospect's demographics, industry sector and company size.
Registration form questions will adjust automatically according to their information.
You can modify landing pages for each individual visit
You'll be able to craft multiple promotions with automatic reactive responses which are all seamlessly integrated into CRM software– ensuring any important details about prospective customers reach your sales team in no time at all.
Studies have shown that companies adopting marketing automation experience 107% increased lead conversion, 40% better average deal size, and 17% higher forecast precision.
4. Closing
The closing stage is where you finally make the sale. It is the culmination of all your sales and marketing efforts in previous stages.
At this point, you should have a strong relationship with the lead, and they should trust you enough to make a purchase. If not, then you might need to return to the nurturing stage and continue building that relationship.
A study about closing B2B deals proves that establishing trusting relationships is the cornerstone of successful sales.
When customers know that they can depend on your firm and have faith in each individual involved, it creates a foundation of trust which strengthens connections and improves negotiations.
With this greater level of goodwill between both parties, there's an increased likelihood for deals to be settled with mutual understanding – even if some seller imperfections arise or higher prices are negotiated.
The closing stage can be tricky, and you'll need to use your finest marketing and sales strategy to close the deal. Once you've made the sale, the lead becomes a customer and moves on to the next pipeline stage.
5. Retention
The retention stage is where you keep customers engaged after they've made a purchase. The goal here is to turn one-time buyers into lifelong fans. You can retain customers by providing excellent customer service, continuing to nurture the relationship, and upselling them on new products or services.
The retention stage is important because it's much easier to sell to existing customers than to find new ones. By keeping your customers happy, you can increase your chances of making repeat revenue generation and growing your business.
Take a look at this five-part customer retention plan.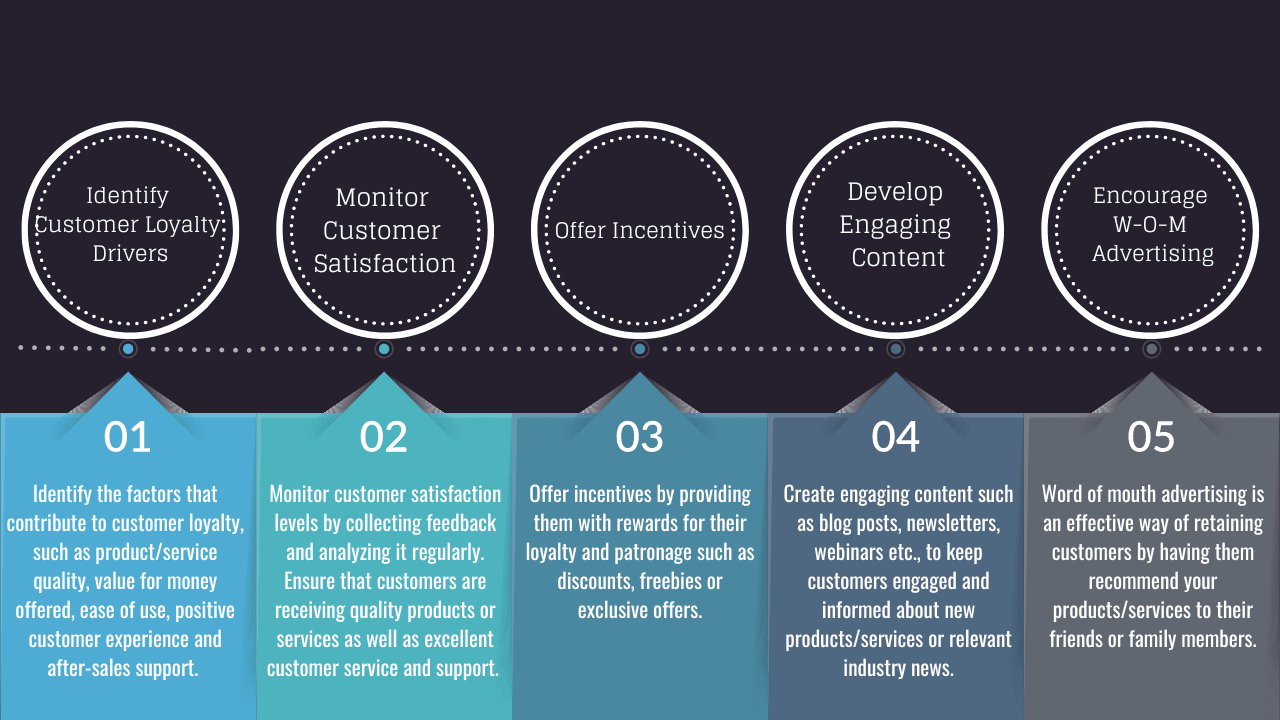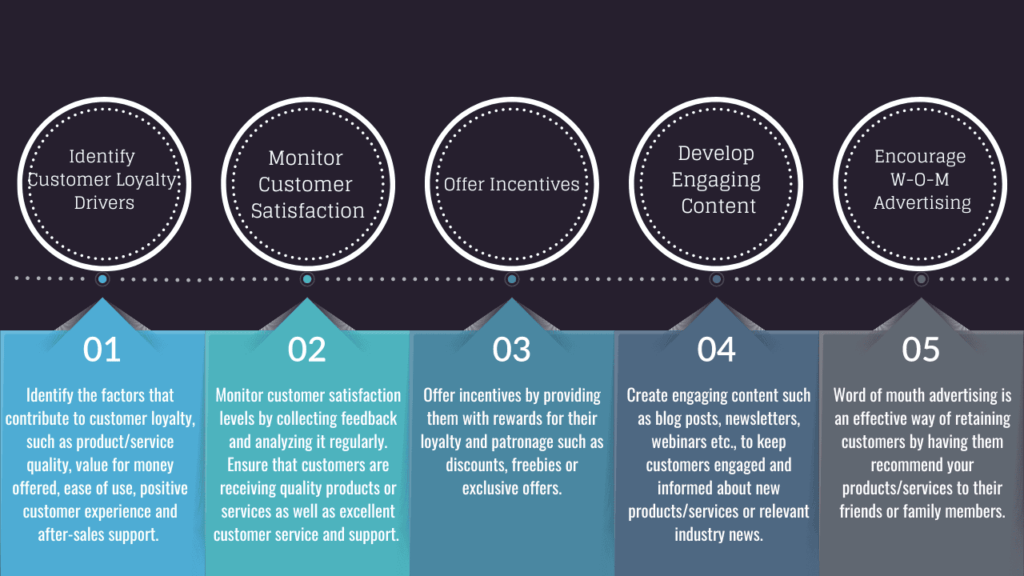 Tips for Creating a Successful Pipeline Marketing Strategy
An effective pipeline marketing strategy is one that considers the overall customer journey and how it impacts each stage of the funnel.
Therefore, it should include strategies for targeting, engaging, converting, and retaining customers. The key elements of such a strategy are segmentation, personalization, testing and optimization, content creation, analytics and reporting.
Here are six steps for creating a successful pipeline strategy
1. Define your target market.
In any business, it is essential to have a target market. It is the group of people that you are targeting for your product or service. Without a target market, your marketing efforts will be scattered, and you will likely not see the desired results. Defining your target market allows you to focus your marketing efforts and connect with the right people. It also helps you tailor your marketing message and materials to appeal directly to that group. In short, without a target market, your marketing pipeline will not be as effective as it could be.
2. Identify your key strategic objectives.
Identifying your key strategic objectives will help you focus your marketing efforts. When you establish what you want to achieve, you can target the right people and market to them in the most effective way. Without these objectives, your marketing efforts may be less effective.
Every business has different objectives, but several key objectives are essential for success when it comes to pipeline marketing. These include generating leads, nurturing those leads, and converting them into customers. Without these objectives, your pipeline will not be effective.
3. Create a lead generation strategy.
Lead generation is the action of attracting and converting strangers into leads. It is usually done through marketing activities such as content marketing, social media marketing, and search engine optimization. Once you have generated a lead, it is then your job to nurture that lead until they are ready to buy from you.
There are many methods to generate leads, but not all will be effective for your business. You must experiment with different lead generation strategies and find the ones that work best for you. Once you have a lead generation strategy in place, you can then start working on converting those leads into customers.
4. Develop a lead nurturing strategy.
Lead nurturing is developing relationships with leads until they are ready to buy from you. You can do this through email marketing, retargeting, and content marketing.
The goal of lead nurturing is to build trust and credibility with your leads, so they eventually become customers. It is important to have a lead nurturing strategy in place to keep your leads warm until they are ready to buy.
One example of a lead nurturing strategy is email marketing. It involves sending regular emails to your leads with content that is relevant to them. The goal is to keep your leads engaged and interested in your product or service to eventually become customers.
5. Evaluate your lead conversion process.
The lead conversion process is the final step in the pipeline, where leads are converted into customers. This process usually involves a sales team, but it can also involve other parts of the business, such as customer service and marketing.
It is important to evaluate your lead conversion process to identify areas that need improvement. This will help you increase the effectiveness of your pipeline and convert more leads into customers.
Many factors can affect the lead conversion process, so it is essential to experiment with different approaches and find the ones that work best for your business.
6. Refine and optimize your pipeline marketing strategy.
Once you have implemented your pipeline marketing strategy, it is important to continuously refine and optimize it. This means constantly testing new ideas and tweaking your approach so that you can improve your results.
There are many different ways to refine and optimize your pipeline marketing strategy. One way is to A/B test different lead generation strategies and see which generates the most leads. Another way is to A/B test different lead nurturing strategies and see which one converts the most leads into customers.
So, how do you know if your pipeline marketing campaign is working well?
How to Measure the Success of Your Pipeline Marketing Campaign?
Understanding the performance of your pipeline marketing campaign will give you insight into customer behavior, allowing you to refine your future campaigns to better target specific audiences.
Measurements and tracking systems help you identify which efforts are delivering value and where improvement is needed. You can uncover any friction points that could be making sales process difficult or need optimization.
Here are five ways to do it.
1. Evaluate your lead generation efforts.
There are many different ways to evaluate your lead generation efforts, but the most important thing is to track the results. It means assessing how many leads you generate, how many of those leads convert into customers, and how much revenue they generate.
You can track all marketing and sales data using various tools, such as Google Analytics, Salesforce, and HubSpot.
2. Assess the quality of your leads.
Assessing the quality of your leads means evaluating their potential to become customers. You can analyze their demographics, interests, and purchasing behavior.
You can also evaluate the quality of your leads by tracking their engagement levels. It means tracking how much time they spend on your website, how many pages they visit, and how many emails they open.
If you find that most of your leads are not engaging with your content, you may need to revise your lead generation strategy.
3. Analyze your lead conversion rate.
Your lead conversion rate is the percentage of leads you convert into customers. This metric is important because it shows you how effectively your pipeline marketing campaign generates sales.
Many factors can affect your lead conversion rates, such as:
the quality of your leads
the effectiveness of your sales team
the overall quality of your product or service
To improve your lead conversion rate, you need to focus on generating high-quality leads and optimizing your sales process.
4. Measure the sales cycle time.
The sales cycle time is the amount of time it takes to complete a sale, from the initial contact with a potential customer to the final purchase. Measuring the sales cycle time can help businesses identify areas where they may lose potential customers and change their sales process to improve conversion rates.
One common method to measure the sales cycle is to track the number of days from when a prospective customer is first contacted until they make a purchase.
By tracking this metric over time, businesses can clearly see how their sales cycle time is changing and identify any trends. By measuring the sales cycle time, businesses can ensure that they make the most efficient use of their resources and maximize their chances of making a sale.
5. Evaluate the ROI of your pipeline marketing campaign.
When evaluating the ROI of a pipeline marketing campaign, there are a few key metrics to keep in mind:
Look at the overall cost of the campaign, including both direct and indirect costs.
Calculate the number of leads generated by the campaign.
Consider the conversion rate of those leads into customers.
Determine the average lifetime value of a customer acquired through the campaign.
By looking at all of these factors, you can clearly see how effective your pipeline marketing campaign has been in generating new business.
Common Challenges Faced by Businesses when Implementing a Pipeline Marketing Strategy
Lack of clarity about the target market:
It has a rippling effect. When businesses don't fully understand their target market, they cannot create an effective pipeline marketing strategy. Without knowing who their ideal customer is, companies will struggle to generate quality leads that are likely to convert into customers.
Ineffective lead generation:
To create a successful pipeline marketing campaign, businesses must generate high-quality leads. However, many companies struggle with generating leads that are interested in their product or service. As a result, their pipeline marketing campaigns are less effective and can cost more than they generate in sales.
Lack of engagement with leads:
Even if businesses can generate quality leads, they will still struggle to convert those leads into customers if they don't engage with them. Often, businesses generate leads and then do nothing to follow up with them or keep them engaged. As a result, those leads eventually become cold and are less likely to convert into customers.
One of the biggest challenges when implementing a pipeline marketing strategy is the length of the sales cycle. Usually, converting a lead into a customer can take weeks or even months. It can be challenging for businesses as they need to keep their leads engaged throughout the process and ensure they don't lose interest.
Another common challenge is the high cost of acquiring new customers. Because it can be expensive to generate quality leads and convert them into customers, businesses need to be sure they are generating enough revenue from each customer to offset their acquisition costs.
If not, their pipeline marketing campaigns will be unprofitable.
Despite these challenges, however, businesses will still be successful with pipeline marketing if they invest the time and resources necessary to build an effective strategy.
Final Thoughts
Pipeline marketing is a powerful tool to help businesses generate new customers and grow their business. However, you should note that pipeline marketing is not a "set it and forget it" strategy.
To be successful, businesses need to continually invest in their pipeline marketing campaign and adjust their strategy as necessary. There should also be thoughtful preparation for the challenges of implementing a pipeline marketing strategy.
By being aware of these challenges and taking steps to overcome them, businesses can can tap into a new client base and create fruitful relationships.
FAQs
Here are other questions to help you further your research on pipeline marketing.
What is a pipeline strategy?
A pipeline strategy is a marketing strategy that focuses on generating leads and converting them into customers. A pipeline marketing campaign aims to generate new business by creating a system that captures leads and then moves them through the sales process until they are converted into customers.
What is pipeline marketing lead generation?
Pipeline marketing is a technique for lead generation in which potential customers are nurtured through a series of interactions until they are ready to buy. Pipeline marketing relies on building relationships with potential customers over time rather than seeking a single transaction.
What is the sales pipeline?
The sales pipeline is the process that leads go through from initial contact to conversion into customers. The sales pipeline typically includes lead generation, lead nurturing, and closing stages.
Is pipeline marketing useful in inbound marketing?
Yes, pipeline marketing can be a valuable tool in inbound marketing. Pipeline marketing involves creating a system where potential customers move through a pre-determined series of steps that ultimately leads to a sale. Inbound marketing focuses on attracting potential customers through quality content and converting them into paying customers through various lead-generation tactics.