Companies always look for effective ways to counterbalance the natural customer attrition rate.
However, customer acquisition is arduous and time-consuming. Companies mostly rely on prospecting initiatives like cold calling to fill the gap left by lost customers.
What's more, determining which prospects to contact is a complex job. Sales teams lack the resources and timescales necessary for a thorough analysis of available leads.
This means that decisions are based on gut feeling, leading to wasted efforts and money.
If sales teams had a more structured decision support system that could effectively qualify the best leads to contact, they would be better able to focus their energies and resources in the right places.
With this in mind, such a system should take a prospect list as input and use statistical and data mining techniques to identify the best leads. This would provide sales teams with greater confidence in the leads that they follow up on, helping to motivate them in their efforts and resulting in a better customer acquisition rate.
In this article, we'll look at the lead qualification process in detail and provide a step-by-step guide to help sales teams identify prime prospects. Let's begin with its definition.
Lead Qualification Process Defined
A lead is an individual or organization that has the potential to become a paying customer for a product or service. The lead qualification process is determining whether or not that lead is worth pursuing.
Typically, this is done by evaluating the lead's fit with your company and its products or services.
Factors that must be considered include the lead's demographics, interests, where they are in the buying process, and how much money they are willing to spend.
If all of these factors indicate that a lead is not a good fit for your company, you may disqualify them.
Classification of Leads
Leads are classified based on their engagement level with your brand. The most common categories are:
| | |
| --- | --- |
| CLASSIFICATION | DESCRIPTION |
| MQLs (Marketing Qualified Leads) | A Marketing Qualified Lead (MQL) is someone that has been drawn to your brand and its offerings due to successful marketing efforts. These leads have typically taken action, such as submitting their contact information, downloading content, opting into a program, or repeatedly visiting the website. While they aren't ready for sales yet, MQLs are more likely than other prospects to become customers when approached with an effective pitch. |
| SQLs (Sales Qualified Leads) | Sales Qualified Leads are those MQLs who have progressed further down the sales funnel and are more likely to convert into customers. SQLs are often created through automated lead scoring that considers demographics, behavior on the web, and how well they match up with buyer personas. |
| PQLs (Product Qualified Leads) | PQLs are individuals and businesses who have had direct experience with your product. They've tested it through free trials, limited feature models, or other means. Beyond just being aware of the product, these leads already got value from using it, which makes them more open to purchasing in the future than marketing qualified leads (MQL). |
| CSQLs (Customer Success Qualified Leads) | CSQLs are customers who have already purchased a product or service from your company. They represent the biggest opportunity for further sales, as they've already had success with what you offer and are likely to be more open to additional purchases than other leads. CSQLs also represents an opportunity for upselling or cross-selling. |
| Unqualified Leads | Unqualified leads do not meet the basic criteria you've established for your ideal customer. |
Knowing the category of your leads is critical for successful lead marketing management and conversion.
Determining a lead's category enables you to craft more targeted campaigns, tailor conversations to the individual, identify gaps in current processes that may be hindering conversions, and properly forecast future engagement capabilities.
Unclassified leads can lead to inaccurate performance goals and unrealistic expectations—leading to misdirected resources and potentially costly mistakes.
Conversely, knowing precisely which category best applies to each of your leads provides the insight and direction necessary for successful marketing outreach and conversion optimization results.
Lead Qualification Frameworks
Now, let's talk about qualification frameworks.
A framework helps sales reps standardize the lead qualification process. It assesses potential leads for their suitability for an organization's sales funnel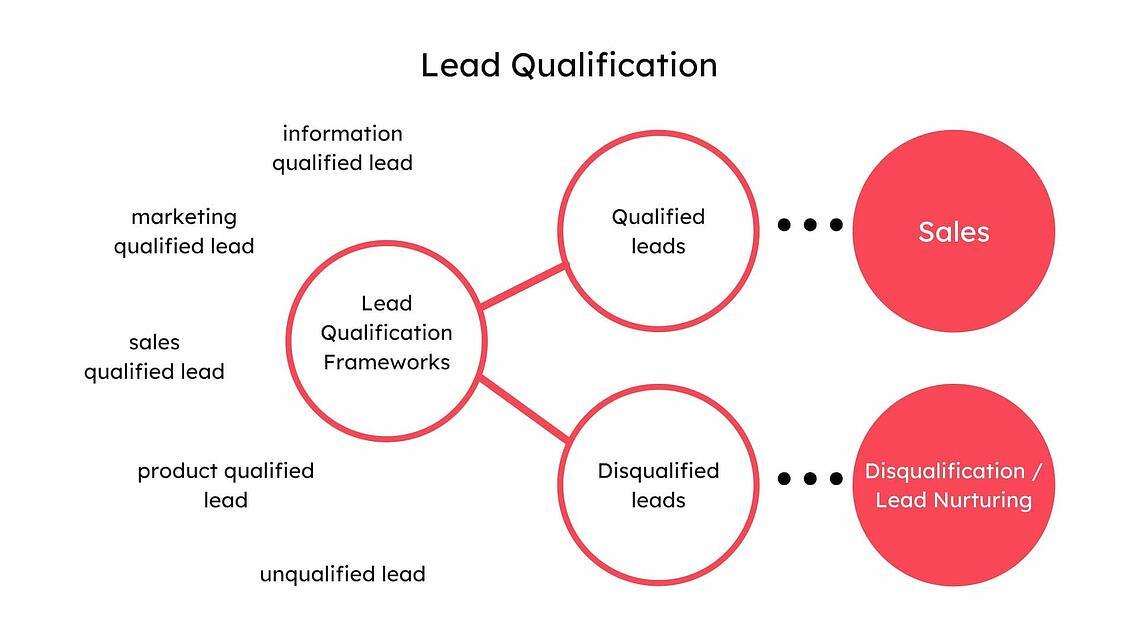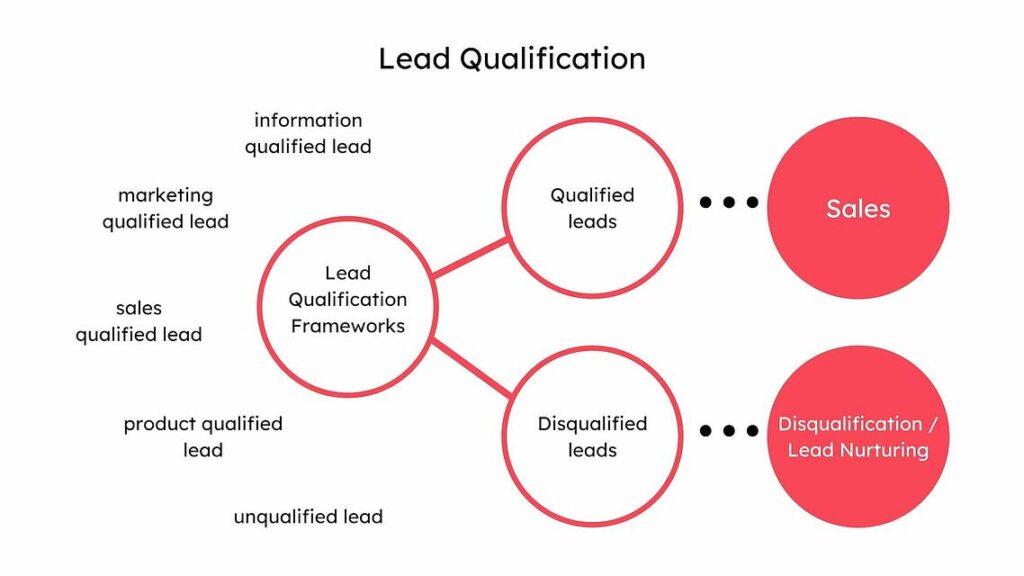 You can do this through various lead qualification methods discussed below.
BANT Method
BANT stands for Budget, Authority, Need, and Timing.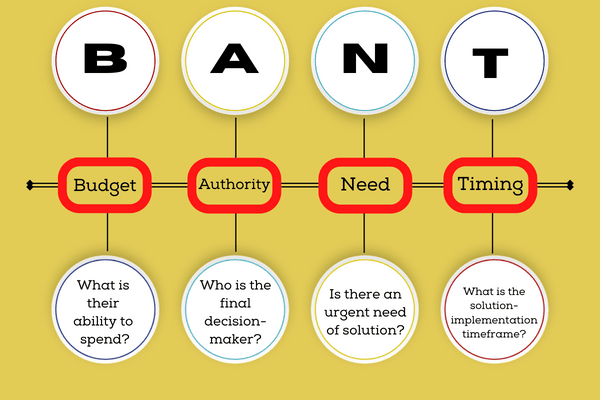 Using the BANT method requires that you ask pertinent questions about each of the 4 areas during your conversation with a prospective customer.
With BUDGET, for example, you might ask, "What kind of budget have you allocated for this project or purchase?" You should be aware that not everyone will share detailed budget information upfront. You could try following up your initial question with something like, "Can I assume then that cost is an important factor in your decision-making process?"
In AUTHORITY, determine who makes decisions regarding purchases and who will use/benefit from the product or service. Ask questions such as "Is there anyone else involved in making purchasing decisions on behalf of the organization?" Or maybe "Who would ultimately benefit from using this product/service?"
For NEED, the goal is to understand why they are interested in your offering and what problem it solves. For example, "What challenges are you trying to address with this purchase?".
Finally, for TIMING, consider how long they need it and when they're looking to decide, e.g., "When do you anticipate deciding which product/service to use?".
These open-ended questions will help you learn more about what matters most during their buying cycle and provide valuable insights into whether it's worth pursuing the sale further.
Watch this video to learn more about BANT. You will also find a downloadable full list of questions in the description box.
CHAMP Method
The CHAMP acronym stands for CHallenges, Authority, Money, and Prioritization.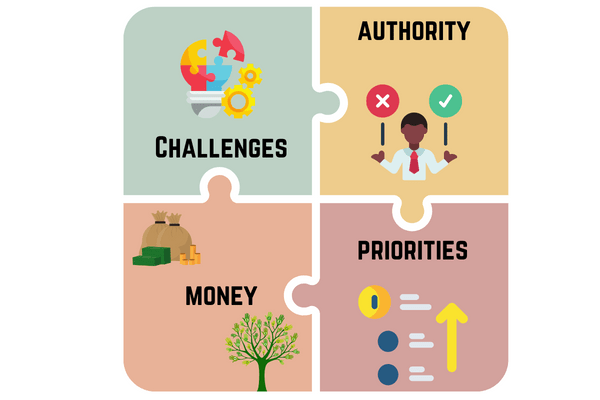 In the CHAMP framework, challenges are given hyperfocus and are the first consideration when looking at a potential customer. Once the biggest problems are identified, the sales team can work on a strategy to address them and look for opportunities in those challenges.
Each company has its own way of authorizing contracts or buying. So, it is important to talk to the person or people in charge of buying when making a sales pitch and verify that they have authority within their company before investing too much into a lead.
Be that as it may, people without buying authority can still help get a foot in the door or put in a good word. Low-influencing leads may still have access to important information like difficulties in the department which could be helpful later down the road.
Of course, money is major, but it should be discussed after some time has been spent identifying challenges and building rapport with leads.
Lastly, be realistic when trying to gauge priorities from your conversations instead of focusing on the timeline priority that you want to have to happen.
MEDDIC
MEDDIC stands for Metrics, Economic Buyer, Decision Process, Decision Criteria, Identify Pain, Champion.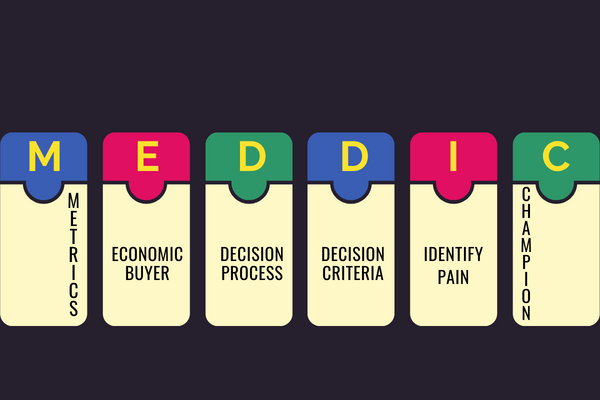 Each of these letters represents a key component that should be considered when selling to a customer.
Metrics: Knowing their revenue, profits, market size, or any other relevant figures aids in understanding the full impact of your product on them. This will also allow you to tailor your pitch to their specific situation and needs.
Economic Buyer: The economic buyer is the person who is responsible for making the purchase decision at your customer organization. Knowing who they are and what their role entails is key to understanding how best to pitch to them.
Decision Process: This is the process the customer follows when evaluating potential solutions and making a purchasing decision. Understanding the decision process helps salespeople know what to expect and what to do to move the sale forward.
Decision Criteria: This is the specific criteria the customer uses to evaluate potential solutions to their problem. Understanding this can help salespeople tailor their sales pitch and emphasize the features and benefits of their product or service that align with the customer's needs.
Identify Pain: Being able to identify pain points within a customer organization allows you to craft solutions that are tailored toward solving those problems. This gives prospects more confidence that doing business with you will ultimately make their lives easier by helping them solve those issues they're currently facing.
Champion: Finally, identifying champions within an organization enables prospects to trust your solution because people are already using it successfully within their company. This increases social proof, which helps increase conversions quicker.
MEDDIC has other variations that are explained in this simple but very informative presentation.
There are more than seven frameworks, but these three are among the most popular.
Steps to the Lead Qualification Process
Now we come to the actual lead qualification strategy. The lead qualification process is a strategic way of screening potential customers or clients to determine their ability and willingness to purchase your product or service.
It helps you prioritize leads so you can focus effort on the most qualified, providing a qualification assessment at each stage that leads to increased success with closing larger deals and converting more leads into customers.
Kick-start the lead qualification process with these three principal steps.
Step 1: Establish Lead Criteria
Establishing lead criteria is a crucial part of business success and management, as it allows for efficient organization and concentration of sales efforts. Companies can segment their target audiences into the following categories to build a buyer persona:
Demographics: age, location, gender, job title, income, etc.
Psychographics: interests, hobbies, values, media consumption habits, etc.
Behaviors: how they make purchasing decisions, what objectives they have when researching a product or service, what problems they need to solve, etc.
The goal is to find leads that match as many of the characteristics of your buyer persona as possible.
This is beneficial in helping the company develop marketable products or services that effectively reach and attract their desired customers. Additionally, by setting qualifying criteria, businesses can ensure they are funneling their resources toward prospects who are more likely to convert into customers.
Lead criteria should be detailed and comprehensive to provide the most accurate insight. A thorough evaluation of potential leads should consider factors such as customer buying habits, budget, decision-making process, geographic location, and even prior history with the company.
Here is an example of a table that outlines lead qualification criteria for a sales or marketing team:
| | |
| --- | --- |
| CRITERIA | DESCRIPTION |
| Demographic fit | The lead matches the target audience in terms of characteristics such as age, gender, location, and job title. |
| Need or interest in product/service | The lead has a demonstrated need or interest in the company's products or services. |
| Budget and purchasing power | The lead has the budget and purchasing power to make a purchase. |
| Timeframe for purchase | The lead has a specific timeframe (e.g. six months) in mind for making a purchase. |
| Level of engagement | The lead has shown a high level of engagement with the company's marketing efforts (e.g. visiting the website, requesting more information). |
| Readiness to purchase | The lead is on the brink of taking action and finalzing purchase decision. |
This table is just an example, and the specific lead qualification criteria will vary depending on the company and its target audience. It is important to regularly review and adjust the lead qualification criteria to ensure that they are still relevant and effective.
Step 2: Score Leads
Lead scoring is the process of ranking leads to determine how qualified they are as potential sales prospects.
Typically, lead scoring models are built using qualitative and quantitative criteria that reflect a lead's engagement level with your brand and their potential fit for your products or services. Lead scoring aims to help sales and marketing teams prioritize their outreach efforts to spend their time and efforts on the most qualified leads.
Here's an example of a lead score card.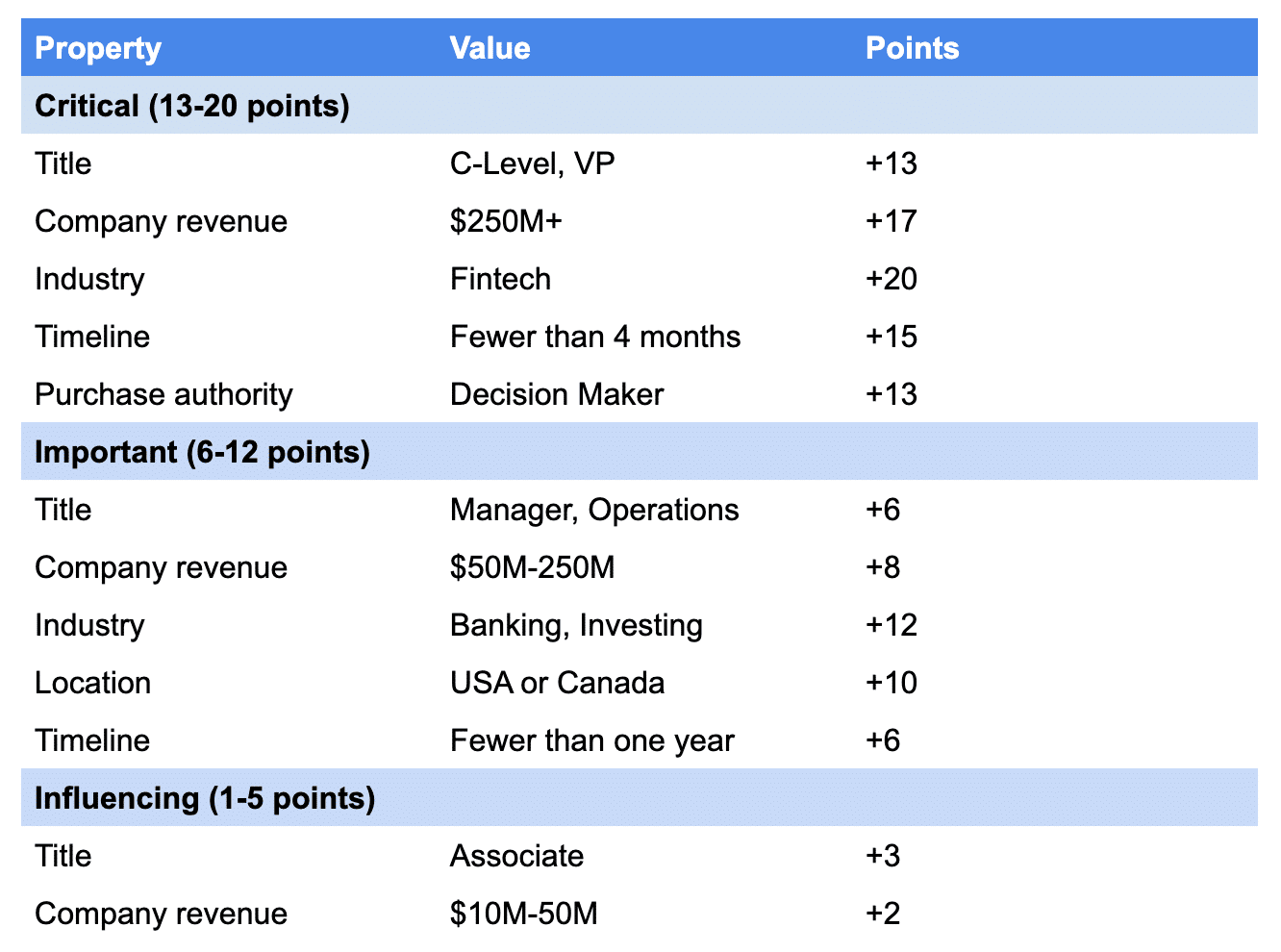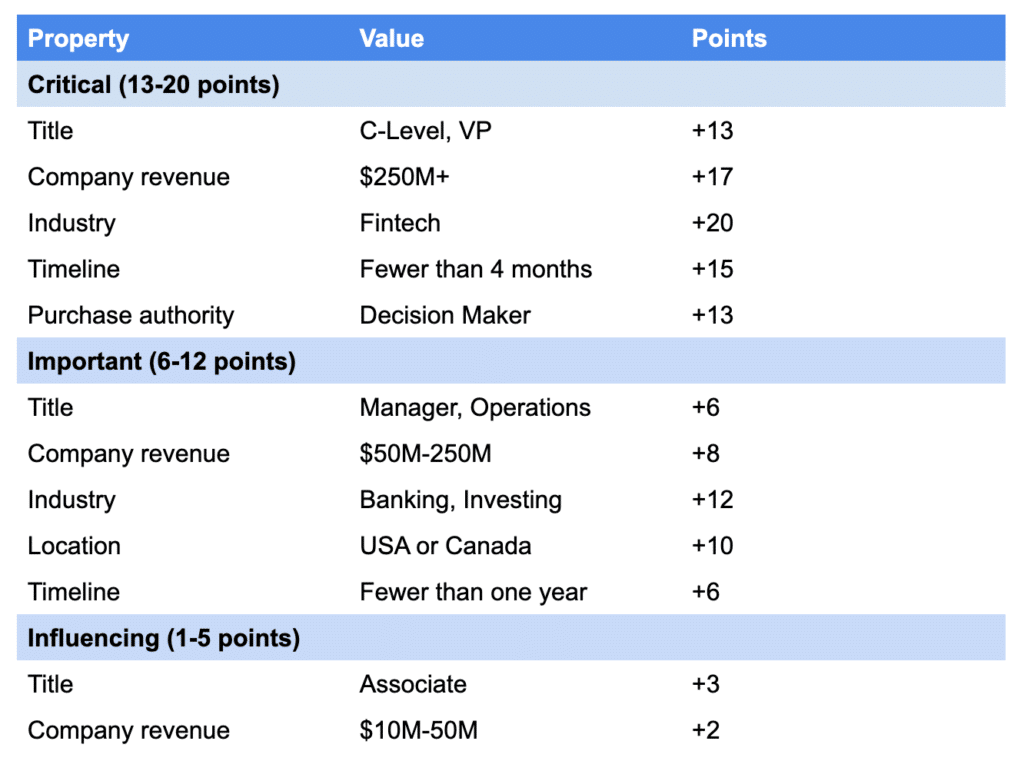 Lead scoring models can be as simple or complex as you need them to be, but they all start with two key components: criteria and values.
Criteria are the characteristics you'll use to score your leads (job title, company size, location, or industry).
Values are the numeric scores you'll assign to each criterion (for example, 1-5). Once you've determined your criteria and values, you can build your lead scoring model.
There are two main procedures in scoring leads: manual and automated.
Manual Scoring
Automated Scoring
Manual lead scoring is a process in which sales and marketing teams manually assess each lead based on their attributes, such as where they are in their buyer's journey or how far along they are in the sales process.

Each lead is assigned a "score" based on these attributes that indicates their potential for becoming a customer. Companies use manual lead scoring to determine which leads should be contacted first, or who should receive certain promotions or offers designed to move them further along in the sales funnel.

Automated lead scoring uses predictive analytics and machine learning algorithms to automatically score leads, thereby removing the need for manual assessment by sales and marketing teams.

Automated lead scoring can help you quickly identify high-value leads from low-value ones by analyzing key data points such as demographic information, previous website activity, social media activity, etc., rather than relying solely on traditional methods like surveys and focus groups. As a result, you can target your highest-value prospects with more accuracy and speed than ever before.

The downside of manual lead scoring is that it requires significant time, resources, and effort to evaluate leads one-by-one.
The downside of automated lead scoring is that it can be too rigid or inflexible if not set up properly.
Step 3: Qualify Leads
Once you have identified your most promising leads through lead scoring, start qualifying them further by evaluating their fit with your company.
You can start this process with a qualitative analysis of the data in your CRM or other software solutions.
CRM software provides an expansive platform to organize customer and prospect interactions. With detailed insights into individual behaviors, it helps identify the most promising leads so resources can be focused on converting them quickly. It also reduces time-consuming manual tasks by automatically storing contact details or sending automatic follow-up messages. This makes lead qualification more efficient than ever before.
Here's a ranking of the top ten CRM software providers in 2021 and their market shares.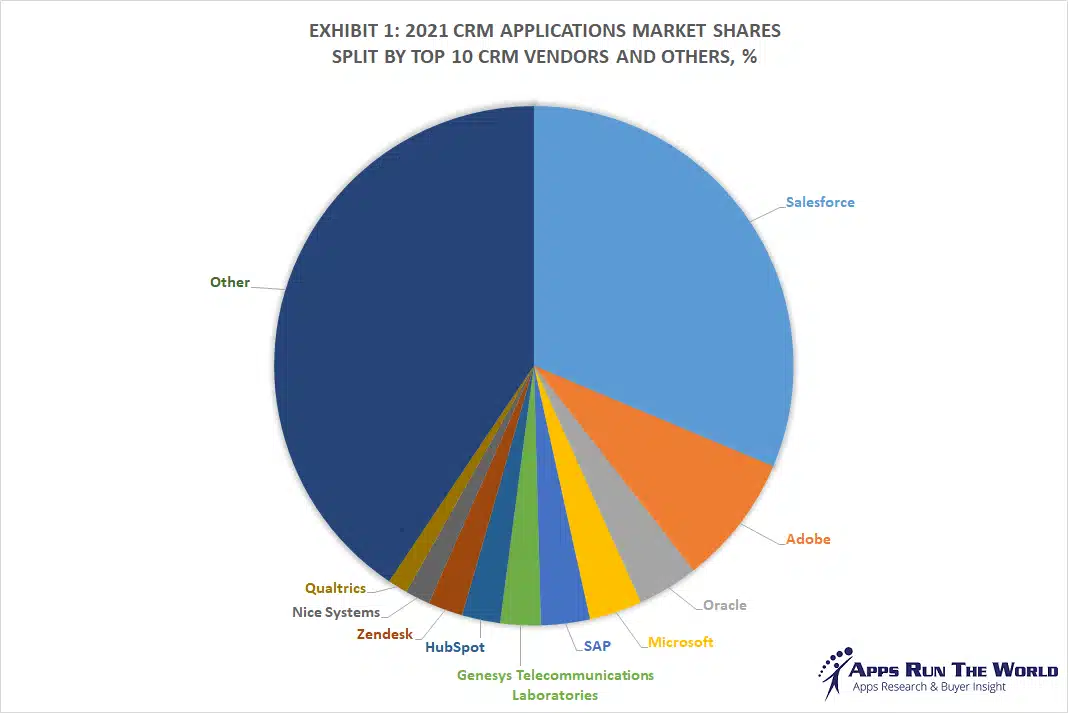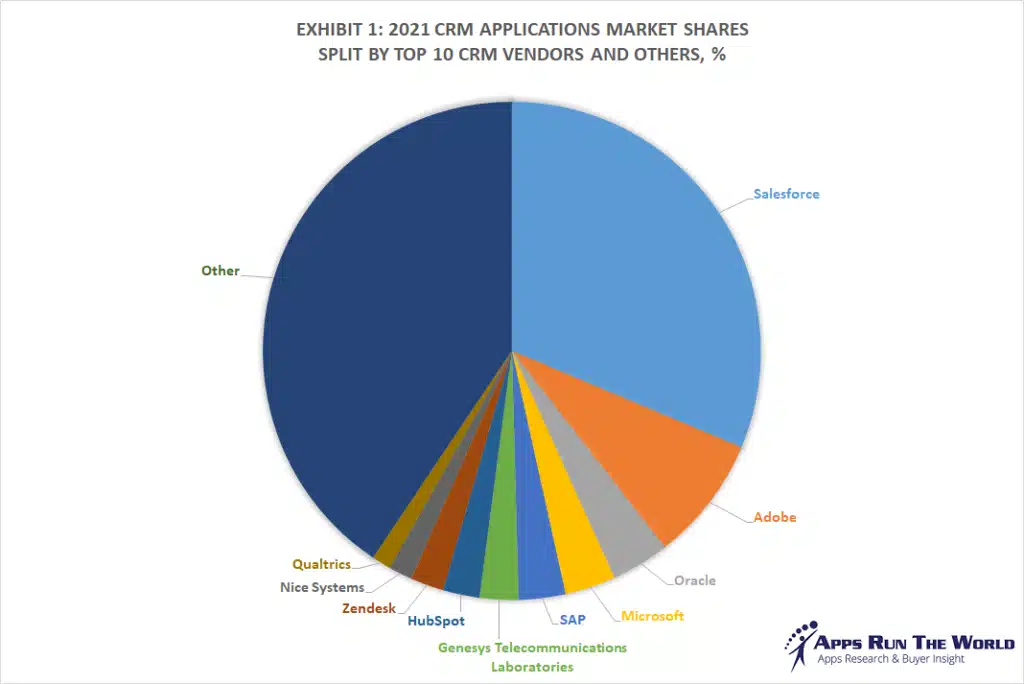 Next, you should assess what challenges they face and how you may be able to offer solutions that meet their needs better than any competitor could. Here's when you level their timeline, budget, and level of decision-maker.
Finally, prioritize leads according to their potential value over time. Establishing long-term relationships with customers is essential for any business's success, so make sure that your qualified leads show potential for future growth with your company as well as current benefits from a sale.
Qualities of a Qualified Prospect
To summarize, here are the important qualities of a qualified prospect:
they hold power to make purchasing decisions
they have financial means
they have no binding agreement with a competitor
they have pain points that your product solves
their timeline to make a decision is amenable to you
their company's size and type are a good fit
they are reachable
Lead Disqualification
We have been talking about what makes a lead qualified and ideal, but what happens to leads that are unsuitable for your services? Disqualifying leads that do not qualify for the predetermined criteria your marketing team has set is equally important.
So, when is the right time to disqualify a lead?
Some people believe that there's never a right time to disqualify a lead, while others believe that there are certain red flags that indicate it's time to do it.
Here are a few signs that may help you in your decision:
They're not interested in your product or service.
There are a few clear signs that a customer is not interested in your product or service. They may ignore your attempts to engage them; they may be evasive when you ask questions about their needs or clarify that they're not interested in what you're offering.
If you see any of these signs, it's best to move on and find customers who are more likely to be interested in what you offer.
They're not in your target market.
If a customer is not in your target market, it's unlikely that they'll ever become a customer. They have no pain points that your product or service can solve, so there's no point in selling to them.
They can't afford your product or service.
With the customer's financial situation in mind, it can be beneficial to have an upfront conversation with them. Though you don't want to get their hopes up and risk disappointment if they cannot afford your product today – this might not always be the case. Be sure to check periodically throughout your client relationship as circumstances may change that make the purchase affordability more achievable for them down the line.
They're not ready to buy now.
If a customer is interested in your product but not ready to buy, what you can do is nurture them until they are ready. You may send them helpful information about your product, stay in touch with them regularly, and offer them discounts or coupons.
Conclusion
Sales are all about qualifying leads- determining which prospects are most likely to buy what you're selling. There are different methods sales professionals use to qualify leads. Understanding each step of these processes and how they can be applied to your business is your ladder to success in sales.
You can have your custom version of these methods (or others) based on their specific products/services and target industry. The important thing is to have a well-thought, practicable process for qualifying leads so that your sales teams can focus their time and energy on the most promising prospects.
FAQs
Here are other questions about Qualifying Leads that can help marketing and sales teams as they build their customized lead qualification process.
What are the benefits of lead qualification?
1. Improved Efficiency
2. Increased Conversions
3. Better ROI from Resources
4. More Accurate Forecasting & Measurement

The benefits mentioned above represent only a small fraction of what qualified leads can bring to an organization, making investing in such processes essential for any successful marketing and sales operations looking to optimize long-term performance outcomes.
How do you qualify leads in B2B sales?
To qualify a B2B sales lead, start by identifying your ideal customer profile based on industry, size of organization, geographical location, and buying capacity. 

Use various sources to create contact lists with qualified prospects who meet the criteria set out in the ideal customer profile, including automation tools.

Once a list has been compiled of contacts from qualified leads who meet your specified criteria, move on to further qualification steps that prioritize these individuals into hot leads ready for outreach and cold leads that require more data gathering before they can be prioritized higher up the funnel ladder (i.e., scored). 
Can lead qualification be automated?
Yes, lead qualification can be automated by leveraging algorithms, machine learning (ML), artificial intelligence (AI), software platforms, data analytics tools, natural language processing (NLP), etc.
Automated qualifying tools allow businesses to filter out irrelevant inquiries from genuine inbound leads.
The use of advanced technologies like AI for lead scoring offers a degree of accuracy that manual methods typically cannot.