Proactive marketing describes the process of initiating and managing customer interactions to create and promote a positive company image. It can also be seen as taking control of the marketing situation instead of waiting for things to happen.
In short, proactive marketing is being in charge of your brand's destiny.
It is reaching out to potential customers before they reach out to your marketing team. What a great way to build relationships with potential clients and create trust before they even become customers.
Ready to take the first move? Let's begin.
What is Proactive Marketing
Proactive marketing is a strategic approach that anticipates customer needs and takes steps to meet them before they arise.
It often contrasts with reactive marketing, which centers on responding to customer inquiries and requests. Proactive marketing requires a deep understanding of the customer base, trend analysis, and forecasting.
By taking a proactive approach, businesses can aim to create customer demand rather than simply respond to it. You can do it through various means, such as new product development, targeted advertising, and personalized service.
While reactive marketing can also be effective in some cases, proactive marketing is often seen as a more sustainable and long-term strategy.
What advantages can you gain by being proactive?
The Benefits of Proactive Marketing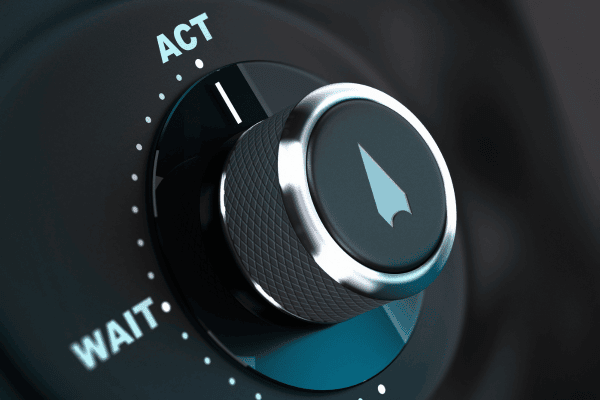 Your business can gain several advantages by taking a proactive marketing approach. Here are four of the most significant.
Freedom to Identify and Capitalize on New Opportunities
In the ever-changing marketplace, companies must be able to identify new opportunities quickly and efficiently to capitalize on them.
Proactive marketing allows companies to constantly monitor their environment for changes that present new partnerships and other profitable opportunities. This gives them a significant edge against companies that are not proactive in their marketing efforts.
Controlled Narrative
Among the most important aspects of marketing is controlling the narrative about your company, products, and services.
Proactive marketing lets you control the narrative by constantly creating and pushing out messages that shape how people perceive your company.
It is especially important in the age of social media, where one negative post can spread like wildfire and significantly damage your reputation.
More Effective Use of Marketing Budget
The end goal of marketing is lead prospecting and sales generation, and the most effective way to do this is by targeting your marketing efforts at individuals who are most likely to be interested in what you offer.
Proactive marketing allows you to do this by constantly collecting data about your target market and using that data to create highly targeted marketing campaigns. It results in more efficient use of your marketing budget and improved ROI.
Improved Efficiency and Effectiveness
Proactive marketing also allows you to improve the efficiency and effectiveness of your marketing campaigns by constantly collecting data and using it to adjust your campaigns on the fly.
This feedback loop ensures that your campaigns are always fine-tuned and performing at their peak. It maximizes your chances of success.
For businesses, proactive marketing provides many benefits that ultimately improve ROI and help take your business to the next level.
Now that we've talked about what proactive marketing is and why it's important let's look at how you can create content that takes a proactive approach.
The Proactive Marketing Content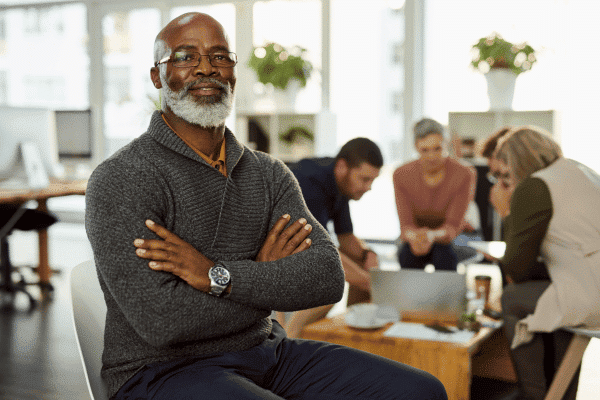 Wondering what proactive marketing content looks like? Proactive content is material created in anticipation of future events or trends. It is not a reaction to something that has already happened.
Creating proactive content can help you get ahead of the competition and be a thought leader in your industry.
But what does proactive marketing content look like?
3 Main Types of Proactive Marketing Content
This content is designed to educate your audience on a particular topic. It can be helpful for people who are new to your vertical market and need some guidance.
This type of content predicts future events or trends in your industry. It is based on data and research and can help position you as an expert in your field.
Solution-oriented content
This type of content offers solutions to your audience's common problems. It is designed to be helpful and informative and can take the form of blog posts, eBooks, infographics, or video tutorials.
So, how do you go about creating proactive marketing content?
How to Create a Proactive Content?
Here are a few tips:
Stay up-to-date on current events
To create truly timely and relevant content, you need to know what's happening in the world around you. Intentionally allot time each day to read the news so that you can identify any potential topics that interest your target audience.
Monitor your competitor's blog
Keep an eye on what kinds of content your competitors are putting out there. It will give you a good idea of what's working well for them and what topics you might want to avoid.
Use social media listening tools
Social media is a great way to see what people are talking about in real-time. There are social media listening instruments (such as Hootsuite Insights) that can help you keep tabs on potential topics for your next piece of proactive marketing content.
There's no shortage of ways to get ahead of your competition in content creation. If you get caught in the middle, try thinking outside the box—you might be surprised at the results!
Keep these simple tips handy for the next time you try to craft proactive content.
Now, what makes proactive marketing work? Let's examine the elements that make up a good proactive strategy.
10 Elements of a Proactive Strategy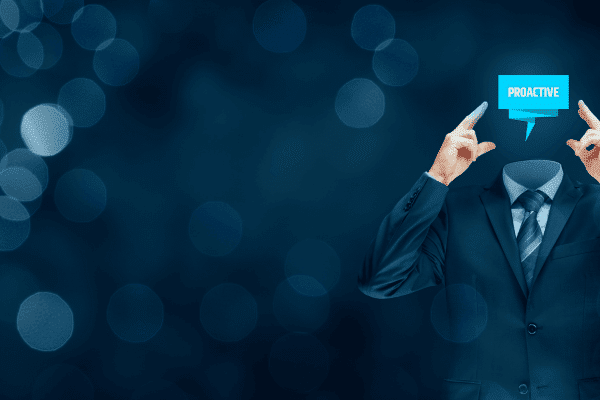 An effective proactive marketing strategy will use the following ten elements, which we classify into two groups. The first group is material, while the second group is behavioral.
Let's go.
Element #1: Competitive Analysis
To develop a dynamic marketing strategy, you must first understand your competition. What are they doing that works? What could they be doing better? How can you position your offer to fill any gaps in the market?
Conducting a competitive analysis is an essential first step in developing a proactive marketing strategy.
Element #2: Target Audience Identification
Who is your target audience? Despite its simplicity, it is a question that many businesses struggle to answer. Your target audience should be as specific as possible; consider age, gender, location, interests, and income level factors. The deeper your knowledge of your target market, the easier it will be to craft an effective marketing message that resonates with them.
Element #3: Unique Selling Proposition
What makes your product or service unique? Why should potential customers pick you over your competitors? Your unique selling proposition (USP) sets you apart from the competition and should be front and center in all your marketing efforts. If you don't have a USP, now is the time to develop one.
Element #4: Integrated Marketing Communications Plan
An integrated marketing communications (IMC) plan outlines how you will communicate your USP to your target audience across all channels. What kind of advertising will you use? What kind of public relations tactics will you employ? How will you use social media to reach your target audience? IMC has countless possibilities, so developing a strategic plan that considers your business goals, advertising budget, and available resources is important.
Element #5: Ongoing Measurement and Adjustment
No marketing campaign is perfect, and even the best-laid plans will require adjustments along the way. That's why it's important to have systems to measure the results of your marketing efforts and make necessary changes.
Without ongoing measurement and adjustment, it would be impossible to know whether or not your marketing strategy is truly effective.
Element #6 Constant Vigilance
One of the most important aspects of a proactive marketing strategy is constant vigilance. You must monitor your industry closely to stay ahead of the competition and identify new opportunities as they arise.
It means reading trade publications, attending industry events, and keeping tabs on your competitors' marketing initiatives. By being vigilant, you'll be able to identify emerging trends early and adjust your marketing strategy accordingly.
Element #7 Rapid Response
In business, timing is everything. That's why it's so important to have a rapid response plan when something unexpected happens.
Whether it's a negative news story about your company or an unexpected change in the market, you need to be prepared to respond quickly.
By responding rapidly with a well-crafted message, you can mitigate any damage and take advantage of any opportunities.
Element #8 Flexibility
Another key element of a successful proactive marketing strategy is flexibility. To respond quickly and effectively to changes in your industry or marketplace, you need to be able to pivot quickly and adjust your plans on the fly.
It means having a team that can adapt quickly and thinks creatively about solutions. Flexibility also means trying new things and experimenting with different marketing tactics.
Element #9 Proactivity over Reactivity
One of the biggest mistakes businesses make with marketing is being reactive instead of proactive. Rather than waiting for things to happen and responding accordingly, you need to take action proactively to achieve your desired results.
It might mean investing in market research or using data-driven decision-making when crafting your marketing strategy.
By taking a proactive approach, you'll be able to position yourself for success rather than simply reacting to whatever comes your way.
Element #10 Strategic Planning
The final element of a successful proactive marketing strategy is strategic planning. Setting goals, measuring progress, and adjusting as needed will be difficult without a clear plan.
A good marketing plan will take into account your budget, your target audience, your objectives, and the marketing channels that you'll be using to reach them.
By developing a comprehensive plan, you'll be much better positioned for success down the road.
With these ten elements, you can develop a proactive marketing strategy that will help you achieve your desired results.
Conclusion
In conclusion, proactive marketing allows you to be one step ahead of your competition by being more prepared for market changes. It provides current and future customers with timely and relevant information about your offering and improves relationship marketing as it keeps you in close communication with customers. All these factors contribute to successful marketing leading to sales acceleration and profitability for businesses.
FAQs
Here are other questions about proactive marketing that we have not discussed in the article.
How does proactive marketing differ from reactive marketing?
Proactive marketing is planned, and reactive marketing is unplanned. With proactive marketing, a business takes the time to plan out its campaigns and target its audience. It strives to find new opportunities and ways to reach its customers. Reactive marketing, on the other hand, occurs when a company responds to something that has already happened. For example, if there's been a natural disaster and many people have lost their homes, a company selling home insurance might create an actual campaign specifically targeting those who lost their homes.
What are the advantages of proactive marketing?
Proactive marketing can provide several advantages for businesses, including:
1. Increased visibility: When you're proactive, you always look for new opportunities to market your business. This increased visibility can result in more leads and sales.
2. Greater customer engagement: By being proactive, you stay top-of-mind with your customers, leading to more conversions and long-term loyalty.
3. Improved brand awareness: Proactive marketing helps get your brand in front of more people, increasing awareness and support for your company.
4. More opportunities to stand out: In a competitive marketplace, it's essential to find ways to differentiate your business from the competition
What are some common mistakes made with proactive marketing?
There are a few common mistakes that people often make when it comes to proactive marketing:
1. Not targeting the right audience
2. Not having a clear strategy
3. Lack of consistency
4. Not measuring results
5. Not being prepared for change