A marketing audit is a tool with predictive potential. It has the power to identify what's working in your strategy – both now and in the future. This dynamic measure can help your business ensure that its strategies are in sync with its goals.
Staying aware of the internal and external environment is necessary for success. An audit allows companies to strategically reorient their operations to thrive in a competitive market.
That's why experts and coaches recommend conducting a regular audit introduce market orientation to the company.
The audit must be designed as a consistent and controlled process to live up to high expectations of quality—standards are met, evidenced through reliable analysis.
In a digital world, the scope of a marketing audit has changed. It now requires the full range of digital marketing disciplines to be successful.
This article defines digital marketing audit and outlines the fundamental steps for conducting one.
What Is a Digital Marketing Audit?
A digital marketing audit is a comprehensive review of an organization's current digital marketing strategy and success rate.
Through careful analysis of all the different channels and methodologies used, the audit gives you a better understanding of your strengths, weaknesses, and opportunities to shape a strategy for achieving better results.
A good digital marketing audit dives deep into activities such as advertising on search engines, analyzing tracking data, reviewing content strategy performance on social media, evaluating website effectiveness, and more.
By exploring each aspect, from website layout and design to visitor engagement metrics like bounce rates or time-on-site duration, the audit highlights important areas that need focus so that objectives can be more efficiently achieved.
What Makes a Successful Digital Marketing Audit
Before conducting the audit, you must consider what makes a good one. Your benchmark should be based on three main stages. Success at each stage will define the final outcome.
Determining the objective, which indicates how much a company can improve its market position over a specified period (expressed in terms of the desired income and/or production level or profit
Ascertaining a comprehensive audit plan, which is objective-driven and follows the time and object (events) method
Systematizing all activities necessary to enforce the plan, emphasizing timely completion, and thoughtfully considering all related remarks and changes to existing structures, processes, and personnel.
Once these three pillars are in place, you can move on to the audit itself.
Steps for Conducting a Digital Marketing Audit
The following steps will help you plan and conduct a comprehensive digital marketing audit that can provide valuable insights into improving your strategies and establishing lasting success.
Step 1: Decide What to Audit
First, you must figure out what your digital marketing audit will involve. Maybe you want to improve your marketing communication. Or perhaps you want to focus on other areas like: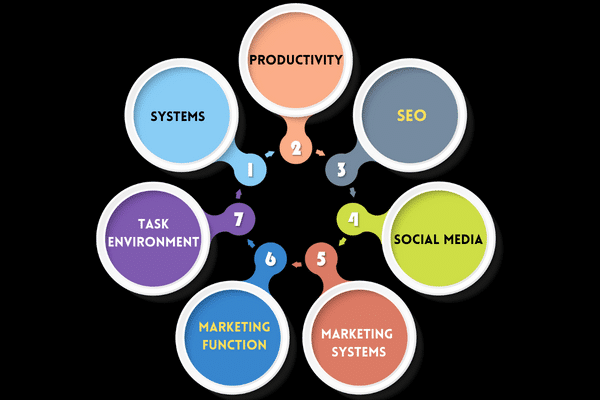 Knowing the scope of the audit narrows your focus and provides direction on how to conduct it. You can log those details in your marketing control system for easy access. That way, everyone on your team will know what is happening with the audit.
Making these decisions now can help you craft a marketing strategy later. And you won't have to waste time analyzing other aspects of your company.
Step 2: Research Your Competitors
Competitive analysis can be a vital part of digital marketing audits. Not only will you look at your current marketing environment, but you can compare it to that of your competition. Then, you'll be able to see if other companies are more successful at content amplification.
In his paper, the Anatomy of Competition, Henderson outlined 21 principles of competition that can be described as a system of relationships. Four of them are:
Every competitor who remains in the game has a unique edge over all others.
The closer the competitors are in similarity, the more intense their competition.
If competitors are different and coexist, they must possess a distinguishing advantage over one another. Such an advantage can only exist when their individual attributes are in sync with the environment that grants them relative value. In other words, the differences which set apart two entities must reflect distinct variations of their surrounding context if both are to remain competitively viable.
Competitors that coexist must be in equilibrium. This balance can only remain if any alteration results in forces that are set to restore the status quo before the disruption occurred.
If so, you can take inspiration from those marketing systems and conduct a SWOT (strengths, weaknesses, opportunities, and threats) analysis. It is necessary to identify the primary areas of improvement in your digital marketing audit.
Step 3: Know Your Customers
You should also consider your ideal customer as part of an effective digital marketing audit. Understanding who you are creating products and services for and how they make purchasing decisions is critical.
Consider where your target audience spends their time, their needs and values, and how you can communicate those back to them in a meaningful way.
Doing this brand research will help you shape more effective marketing campaigns that target the right people and provide tangible value.
Step 4: List Your Offers
Next, you should inventory all your products and services and how your marketing team currently promotes them.
Maybe you have spent more of your digital marketing efforts on one offer. But that strategy hasn't led to the sales that you desire. Consider how this relates to your marketing mix: price, product, promotion, and place.
You can use that information to swap out marketing strategies. However, you should also understand the various marketing functions outside of sales. That way, you can get sales later on.
Step 5: Track Your Marketing Assets
Another essential part of auditing your marketing plans is to track marketing assets. This can include marketing collateral and brand materials.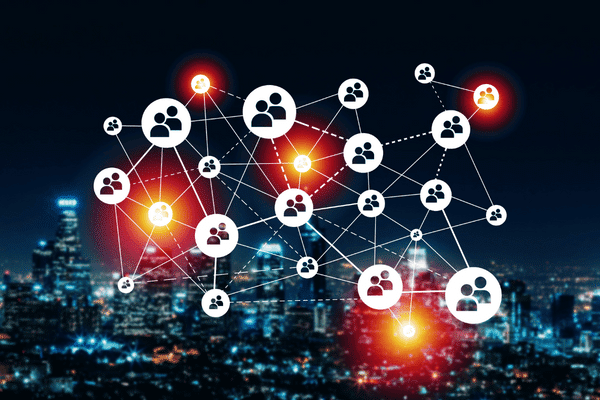 Let's take a look at some of the methods for tracking marketing assets.
Create a Spreadsheet or Database
Creating a spreadsheet or database is one of the most common ways to keep track of marketing assets such as social media posts, email campaigns, and landing pages.
This method allows you to store all of your data in one place, which makes it easier to find what you need quickly and efficiently.
It also helps you stay organized by allowing you to categorize information into different columns or fields. This can help you quickly identify trends or patterns in your data.
Digital Asset Management System
A digital asset management system (DAMS) is another great tool for tracking marketing assets. A DAMS will store all of your files in one centralized location, making it easy to collaborate with team members and access the most up-to-date versions of documents.
This type of system will allow you to set permissions for different files so that only certain users have access to specific assets. This helps protect confidential information from being accessed without permission.
Project Management Tool
Using a project management tool can also be helpful for keeping track of marketing campaigns and asset progress. These tools allow you to assign tasks to team members, set deadlines, and monitor progress over time.
They can also provide visibility into the overall progress of each campaign so that everyone has an understanding of where things stand at any given moment. This can help ensure that deadlines are met, and objectives are achieved on time.
Analytics and Reporting Tools
Finally, analytics and reporting tools are essential for tracking the performance of your marketing campaigns and assets over time.
These tools provide detailed insights into how users are engaging with your content—such as how many people viewed an email campaign or clicked on a link—so that you can understand what is working well (or not so well).
It informs decisions about future campaigns so that they perform better than before.
Step 6: Analyze Your Digital Marketing Efforts
After you track your assets, you should use the data to analyze your digital marketing efforts.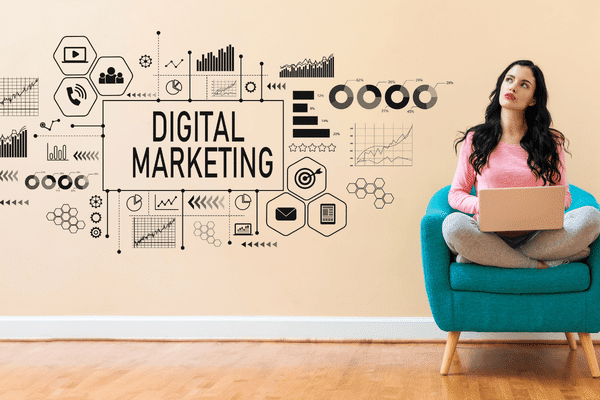 How do they impact customer engagement, website traffic, and sales?
Here's how you can do it.
Analyze Your Traffic and Sources of Traffic
The first step in analyzing digital marketing efforts is understanding where your traffic comes from. Knowing where visitors come from helps you determine which channels work best for you and which ones need improvement.
To get started, use Google Analytics or any other analytics tool to view detailed data about each traffic source, such as organic search, paid search campaigns, social media posts, email campaigns, etc.
Measure Engagement with Your Content
You can measure engagement by looking at metrics such as page views per visit, time spent on a page, average session duration, bounce rate (the percentage of visitors who leave without visiting another page), and conversions (website visits that result in a sale).
Assess Your Return on Investment (ROI)
The last step in analyzing your digital marketing efforts is assessing the return on investment (ROI). ROI measures the profitability generated from an investment – in this case, your digital marketing investments.
To calculate ROI for each campaign or channel, divide the amount spent by the amount earned (sales/leads generated).
This will give you a number that indicates whether or not investing more money into certain channels is worth it based on the returns generated by those channels.
Step 7: Run a Comprehensive Social Media Audit
A social media audit assesses how well your business performs on different social media platforms.
It gives you an idea of what kind of content resonates with your audience, which platforms are best for connecting with them, and which ones aren't performing as well as others.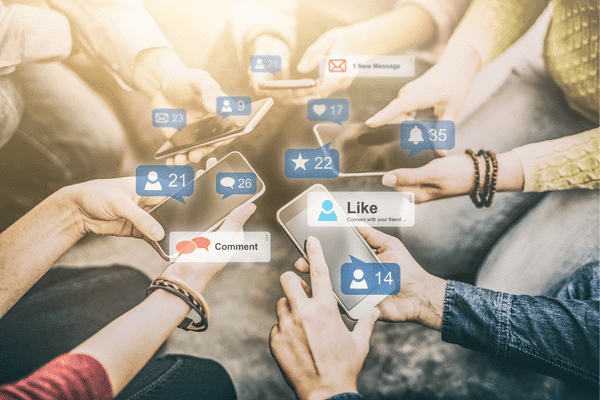 It also allows you to compare yourself to other businesses in the same industry and see where you stand in terms of reach, engagement, and more.
What Should You Look For?
When conducting a social media audit, it's important to look at more than just numbers—you should also pay attention to the quality of the content you're producing.
Consider the tone and style used in each post, as well as the types of topics being discussed. You should also review any recent campaigns or posts that have done particularly well or poorly so that you can adjust accordingly in the future.
Be sure to analyze any feedback from customers or followers so that you can better understand their wants and needs.
Here are six specific elements that a social media audit might include:
An inventory of the company's social media accounts and profiles, including the platforms they are using and the content they are posting.
An analysis of the company's social media followers and engagement, including the number of followers, likes, comments, and shares they are receiving.
A review of the company's social media strategy and goals, including the target audience, messaging, and overall objectives.
An assessment of the company's brand presence and reputation on social media, including any negative or positive mentions or reviews.
A comparison of the company's social media performance with that of its competitors.
Recommendations for improving the company's social media presence and strategy based on the audit findings.
How Can I Use This Information?
Using this data, you can develop an effective strategy for reaching new audiences and engaging existing ones on all of your chosen platforms. You can also use it to identify potential opportunities for collaboration or partnership with other brands or influencers in your field.
Step 8: Run a Comprehensive SEO Audit
To have a successful digital marketing audit, you should also run a comprehensive SEO audit. It will help you understand how well your website is performing in the search engine results pages (SERPs).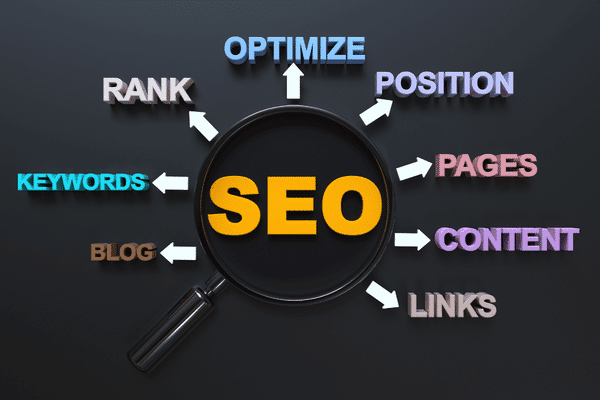 A comprehensive search engine optimization audit should include five key components: keyword analysis, technical analysis, content analysis, link-building analysis, and competitor analysis. Each component requires thoughtful consideration and an understanding of how it contributes to overall SEO.
Keyword Analysis
This involves researching and analyzing popular keywords related to your business's niche to identify ones that could potentially be used for SEO purposes. This can help you create more targeted content that appeals to users who are actively searching for information related to your business.
Technical Analysis
This involves examining the structure of your website from a technical standpoint to identify any potential issues impacting its performance. For instance, if there are broken links on your site or it takes too long for pages to load, this could negatively affect user experience and ultimately lead to lower search engine rankings.
Content Analysis
Content provides the foundation upon which search engines judge the quality of your website. During this step, you will review existing content on your website to identify areas that need improvements, such as thin or outdated content or duplicate content that may appear multiple times on different pages of your site.
Link Building Analysis
All websites need links both internally (from one page within a domain) as well as externally (from other sites). An effective link-building strategy will help users easily navigate between pages within a domain and other websites. This will also help boost visibility and improve overall ranking on search engines such as Google.
Competitor Analysis
It's always beneficial to see what other businesses in your industry are doing with their websites in terms of design, functionality, and content to get an idea of where you stand among them in terms of visibility on major search engines like Google and Bing.
By reviewing competitors' websites from top-to-bottom, you can gain insight into how they're optimizing their websites for maximum performance so that you can apply those same principles to yours for optimal results.
Step 9: Run a Comprehensive Content Marketing Audit
Analyzing existing content informs you which pieces perform best with your audience and what needs to be improved, discontinued, or repurposed.
Further research on this data provides insight into the most successful strategies so future successes can be achieved confidently. Plus, a content marketing audit will quickly reveal any weaknesses in your current approach.
It helps you prepare proactive fixes while avoiding major issues down the road.
So, your audit should include: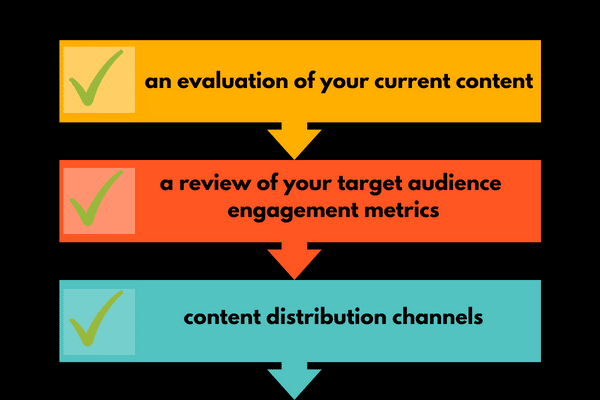 There are several tools that can be helpful for conducting a content marketing audit. Some options include:
Google Analytics: This is a free tool that provides detailed data on website traffic, including page views, bounce rate, and conversion rate.
Social media analytics tools: Many social media platforms, such as Facebook, Twitter, and Instagram, have built-in analytics tools that allow you to track the performance of your social media content.
Content management systems: If you use a content management system (CMS) to manage your website and blog, it may have built-in analytics capabilities that allow you to track the performance of your content.
Marketing automation tools: Many marketing automation tools, such as HubSpot and Marketo, offer analytics and reporting capabilities that can help you track the performance of your content marketing efforts.
Survey tools: Survey tools, such as SurveyMonkey and Google Forms, can help you gather feedback from your audience about your content.
Step 10: Run a Comprehensive Website Audit
A comprehensive website audit looks at all aspects of your website from the perspective of both users and search engines.
It considers six areas: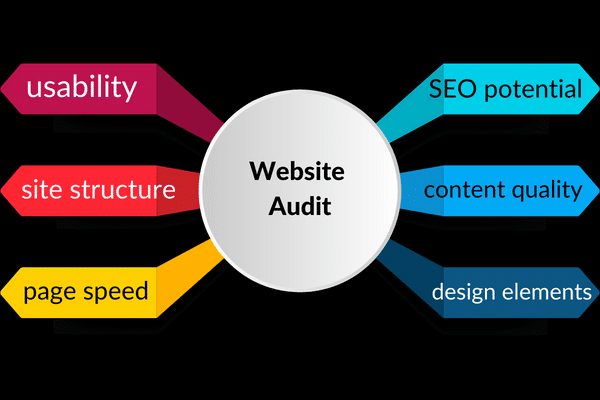 The goal is to ensure that your site meets the standards of both search engines and users so that it can be indexed properly and rank well in organic search results.
The audit process generally starts with an analysis of your current website performance.
You look at key metrics such as page views, bounce rate, time on page, unique visitors, organic traffic sources, etc., and evaluate any current SEO efforts. The next step is to evaluate the overall usability of the site by looking at factors such as navigation structure and content layout. This phase also involves testing site functionality and ensuring all links are working properly.
Finally, the audit process will include a review of your site's design elements, such as colors and fonts, as well as assessing how well-optimized your content is for SEO purposes.
Post-Audit Activities
What's next after completing the digital marketing audit? Here are seven post-audit activities you must secure:
Know What You Can and Can't Control
Do a macro environment inspection. This will cover your external and internal environments. Like a task audit, macro-environment audits can include economic factors or platform algorithms.
Unfortunately, you can't control those things, but they still affect your marketing. Because of that, you should know what those factors are and how they affect your business.
That way, you can make the necessary adjustments to ensure consistency despite outside changes. So that instead of losing, you'll stay ahead.
Benchmark Your Most Successful Content
Using tracking and analysis to identify successful areas of your marketing can be a great starting point. Visit your existing content that not only follows brand guidelines but was also successful when it was initially posted. Use this content as a base for future pieces.
This does not mean you should repeat the same posts. Look to find ways to give them a new life. Switching out the photo, using the same text or caption but with different words, or using the existing photo with a new caption are all easy ways to provide new content without starting from scratch.
Reusing successful posts can also help save time and effort while providing high-quality content that will bring great results. Furthermore, writing longer versions of these pieces with more detailed information, facts, and higher semantic richness will make the content even more engaging and valuable for your readers.
Create a Marketing Strategy
Now that the audit process is complete, it's time to create a tailored marketing strategy.
Your digital marketing report contains all of the insights gathered during your audit. Use this valuable data to decide which methods will be most effective for you and help take your business forward.
Leverage areas where results have been strong by increasing focus on those channels while investing in other areas like SEO or social media if they provide great opportunities but previously lacked attention.
Start With Something Easy
Now that you have your new marketing plan implement the easier changes. At this point, you might want to focus on cost-effectiveness. So perhaps you start with smaller marketing campaigns.
Or maybe you fix issues causing site penalties. That way, your site can start appearing in more search results. When you start small, you can slowly get bigger, and you may see results a little sooner.
Starting small is easy for a lot of businesses. You won't have to risk time and money on new strategies that might not work better than your existing methods.
Then, Try Something Big
Once you've implemented the small changes, you can take bigger steps.
Perhaps expanding into new markets or improving customer acquisition processes. Or maybe you pitch your brand to get press coverage. You might also choose to work on your organic rankings.
Consider all the factors involved in your audit to decide which is most worth your time now. Then, you can add other things later.
If you have a large team, you may be able to start making a lot of changes at once. But you don't want to overwhelm yourself or your employees.
These larger projects will require more investment and effort, but they could offer higher returns if successful. Ensure that any major change is backed up with data from your audit and research before committing to it.
Schedule Future Digital Marketing Audits
Doing one digital marketing audit can be an important step to ensure that your business is gaining the best possible results, but it should not be thought of as a one-time event.
As the marketing environment constantly evolves, so should your strategies and tactics.
Therefore, it is important to conduct regular audits to ensure that your sales force is getting the most qualified leads and converting those leads into paying customers.
Test Various Marketing Strategies
After and between audits, it is important to test various marketing strategies. Research what is not working for your business so you can decide which tactics to try.
You may want to start by testing a new social network or adjusting the frequency of emails sent out to your subscribers. You could also experiment with different types of content, such as blog posts, podcasts, videos, etc.
Analyze how people interact with your content and use this data to inform future changes to optimize your process. The goal is to balance using existing best practices and introducing something new into the mix.
Conduct A/B tests when possible. Make one change at a time to know what brought about differences in results.
By running multiple tests and tracking their results through regular audits, you can optimize your marketing efforts for maximum success in reaching your desired outcomes.
Outsourcing Your Digital Marketing Audit
You can perform a self-audit on your business. However, outsourcing the task can save you a lot of time and minimize any bias you may have. An outsider audit won't have the same risks of making your marketing systems look better than they are.
Instead, a third party can conduct a good marketing productivity audit. They can look at internal and external factors that may be affecting you and your company.
Plus, you'll have time to focus on other areas of your organization.
There are a few key things to consider when hiring someone for a digital marketing audit:
Expertise: It's important to hire someone knowledgeable and experienced in digital marketing. Look for someone with a strong track record of success in the field, and consider their education and industry certifications.
Objectivity: An effective digital marketing audit requires objectivity. Look for someone who can approach the audit with a fresh perspective and provide unbiased recommendations.
Communication skills: The person you hire should be able to communicate their findings and recommendations to you in a way that is easy to understand.
Conclusion
Jumpstart your digital marketing journey by conducting a comprehensive audit to tailor the perfect plan for you and your business. You'll gain insight into what will be most effective at bringing success, which ensures that every penny spent is worth it.
FAQs
If you're still wondering about how a digital marketing audit works, here are a few questions you may have and their answers.
What are the three elements of a digital marketing audit?
1. External analysis: This involves examining the external environment in which the company operates, including competitors, customers, market trends, and regulatory factors.

2. Internal analysis: This involves reviewing the company's internal resources, capabilities, and processes related to marketing.

3. Performance evaluation: This involves measuring the effectiveness of the company's marketing efforts and identifying areas for improvement. It might include analyzing marketing metrics such as reach, engagement, and conversions.
What is the most important part of a digital marketing audit?
There is no one "most important" part of a digital marketing audit, as the entire audit process is designed to comprehensively assess a company's digital marketing efforts. However, some elements of a digital marketing audit may be more important for certain companies, depending on their specific goals and needs.

Ultimately, the most important part of a digital marketing audit is the actionable recommendations and plan for improvement that it produces. It should be based on a thorough analysis of all elements of the company's digital marketing efforts and tailored to its specific goals and needs.
How do I analyze the data collected during a digital marketing audit?
You can analyze the data collected during a digital marketing audit in several ways. Here are some steps you can follow:
1. Identify the key metrics to track
2. Use analytics tools
3. Create reports
4. Identify trends
5. Compare to benchmarks
6. Look for opportunities for improvement