Vertical marketing is a strategy that focuses on catering to specific industries or market segments rather than appealing to a broad range of consumers.
By doing so, businesses can create tailored solutions for their client's unique needs and establish themselves as experts within those niches.
What does this mean for you and your business? By adopting a vertical marketing approach, you'll be able to hone in on the key issues certain industries face.
As a result, you'll provide more relevant products or services with a better chance of resonating with potential customers.
In the following sections, we'll see why entering into a vertical market might be your company's secret weapon to succeed in an increasingly competitive marketplace.
What is a Vertical Market?
A vertical market refers to a distinct group of businesses and customers with unique requirements, united by their shared interests or expertise within a certain trade or niche.
Companies operating in vertical markets focus on carving out a strong presence within their chosen sector rather than attempting to appeal to broader customer bases across multiple industries.
By concentrating on the specific needs and wants of a targeted consumer base, companies can often establish themselves as experts in their given field, fostering trust and loyalty among clients who recognize the value of doing business with specialists.
Let's compare a vertical market with a horizontal market.
Vertical Markets Vs. Horizontal Markets
Recognizing how vertical and horizontal markets differ is essential because it informs business strategies and helps organizations identify their target audience effectively.
| | | |
| --- | --- | --- |
| Criteria | Vertical Market | Horizontal Market |
| Characteristic | Focuses on a specific industry or niche market | Offers products or services that can be applied across industries |
| Target Customers | Businesses within a particular industry or niche | Businesses across various industries |
| Product/Service | Tailored to meet the specific needs of the industry | Generalized and applicable to multiple industries |
| Market Knowledge | In-depth understanding of the industry's requirements | Broad understanding of business operations across industries |
| Customization | Highly customized solutions to meet industry-specific demands | Offers standardized solutions |
| Expertise | Specialized knowledge and expertise in the targeted industry | Diverse knowledge and expertise across multiple industries |
| Growth Potential | Limited to the growth and developments within the industry | Potential for scalability across various industries |
| Risks | Prone to economic fluctuations and regulatory changes within the targeted industry. | Susceptible to market saturation and increased competition due to a broader target market. |
It's important to note that while this table provides a general comparison, there can be some overlap between vertical and horizontal markets in some instances.
Key Players and Stakeholders in Vertical Markets
Organizations operating in vertical markets are typically composed of stakeholders. These parties must collaborate to ensure the success of a business by delivering quality products and services to their target customer base.
Some notable figures in various vertical markets include:
Healthcare providers who focus on specific medical conditions or patient demographics
Educational institutions catering to niche fields like culinary arts or marine biology
Financial services firms specializing in wealth management for high-net-worth individuals
Software developers creating tailored solutions for exclusive sectors such as aerospace engineering
Retailers offering products designed explicitly for particular hobbies or lifestyles
Each stakeholder must know their role within the vertical market to contribute to the venture effectively.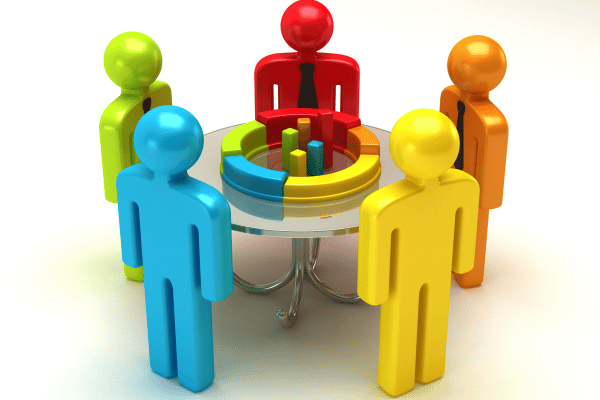 For instance, manufacturers must ensure their products are consistently high-quality and current with consumer demands.
Distributors must supply retailers with the necessary materials promptly.
Retailers should be able to provide customers with reliable customer service and access to quality goods and services at competitive prices.
They must possess extensive knowledge of their sector's nuances and challenges, which enables them to drive brand innovation within these niches.
Furthermore, these industry leaders often collaborate, fostering synergies that ultimately contribute towards expanding their market share.
Developing a Vertical Marketing Strategy
At this point, you must wonder how your company can leverage vertical marketing to gain a competitive edge.
The answer lies in understanding the unique needs of your target market and capitalizing on them to create solutions that meet their demands.
A solid strategy should include the following components:
Market Research and Analysis
The first step in developing a successful vertical marketing strategy is conducting thorough market research and analysis.
You need to gather information about their behavior patterns, preferences, needs, and pain points to create an effective message that resonates with them.
This involves analyzing data from various sources, such as customer feedback, industry reports, competitor analysis, and social media insights.
Doing so lets you gain valuable insights into your customers' buying habits and tailor your marketing efforts accordingly.
By understanding your niche market's unique challenges and opportunities, you can develop a targeted approach that speaks directly to your intended demographic.
This step also entails understanding industry trends, challenges, and opportunities. Knowing how your competitors position themselves within the same market reveals potential opportunities to differentiate yourself.
Moreover, it helps you identify gaps you can fill with new products and services or better customer service.
Here's a short video that commendably covers the bases of primary and secondary market research.
Segmentation and Targeting
After conducting thorough market research and analysis, segmentation and targeting are the next steps in developing a successful vertical marketing strategy.
By dividing the market into smaller segments based on specific characteristics such as demographics, psychographics, or behavior patterns, marketers can identify each group's unique needs and preferences to create tailored messaging.
Once the target audience is identified, they can be reached through various channels, including social media platforms, email campaigns, or targeted advertising.
In order to effectively segment and target potential customers, it's important to consider factors such as their buying behaviors, interests, pain points, and motivations.
Understanding your customer personas : Creating ideal customer profile helps businesses craft personalized messages for different segments.
Analyzing competitors' strategies: Studying what works (and doesn't) for others in your industry allows you to tailor offerings accordingly.
Conducting A/B testing: Testing variations of ads or messaging can provide insights about the most effective approach.
Refining content regularly: Continuously monitoring metrics like engagement rates or conversion rates enables you to optimize content according to current trends and shifts in consumer behavior.
Taking these steps strategically will help ensure success when it comes time to execute positioning and messaging efforts.
Positioning and Messaging
It is important to clearly define your product or service's unique value proposition and then communicate that message consistently across all channels.
This means understanding your target audience's pain points and tailoring your messaging accordingly. Your positioning should also consider the competitive landscape and how you differentiate from other players in the market.
Messaging can be conveyed through various mediums, such as advertising, social media, PR, sales collateral, and website content.
Channel Selection and Distribution
Channel selection and distribution play a crucial role in ensuring vertical marketing success. The channels chosen must align with the target audience and their preferred methods of communication.
You must include this during your market research and customer behavior analysis. Once the ideal channels have been identified, determine how products or services will be distributed to reach customers efficiently.
Here are three key points to consider when selecting channels:
Evaluate each potential channel's cost-effectiveness.
Determine which channels provide the most value for the specific product or service.
Assess whether each channel has sufficient resources to handle the sales volume.
With an effective channel selection and distribution plan, businesses can decide where to invest their efforts and resources for optimal results.
As companies implement their vertical marketing strategies, budgeting becomes critical to success.
Budgeting and Resource Allocation
When allocating resources for your vertical marketing strategy, you must go back to your goals and objectives. This will help you determine how much money and manpower should be allocated toward each aspect of your plan.
It is also important to consider any potential roadblocks or challenges that may arise along the way and allocate resources accordingly.
Breaking down your overall marketing strategy into smaller components can help you more easily assess what needs to be prioritized and where funds should be allocated first.
From there, you can adjust your budget based on performance metrics and other relevant data.
For me, developing strategic partnerships is key when implementing vertical marketing tactics. It's important to leverage network resources to maximize the potential of these partnerships—more of this next.
Developing Strategic Partnerships
In today's competitive business landscape, you can't afford to go it alone.
When you collaborate with other businesses and organizations within your industry or niche, you can access new markets, expand your customer base, and enhance the overall value of your product or service offerings.
One key aspect of building successful strategic partnerships is identifying potential partners with similar goals and values. You can accomplish this through networking events, industry conferences, or social media platforms like LinkedIn.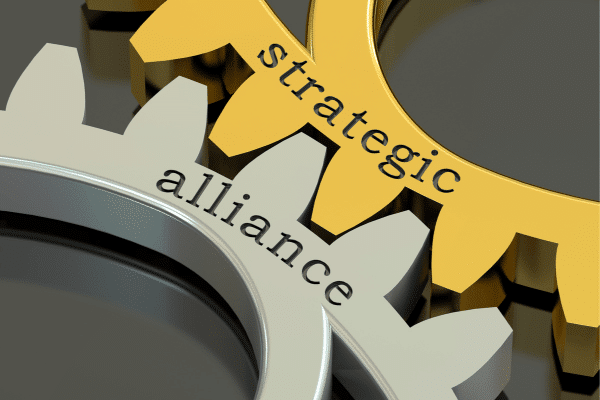 Once a connection has been made, establish clear expectations for both parties involved. This includes outlining each partner's role in the partnership and determining how success will be measured – whether that means increased sales revenue, improved brand recognition, or something else entirely.
Remember that strong communication is vital for maintaining healthy relationships – including those between businesses.
Schedule regular check-ins with your strategic partners to discuss progress towards joint objectives and address any challenges that may arise along the way.
Leveraging Network Resources
As you continue implementing vertical marketing tactics, leveraging your network resources becomes increasingly important.
This involves tapping into the knowledge and connections of individuals and organizations within your industry or niche to help promote growth and reach new heights together.
By utilizing these valuable resources, you can strengthen existing relationships and identify potential strategic partners with similar goals and values.
To effectively leverage your network resources, it's crucial to actively participate in networking events, join relevant online communities, and engage with industry influencers on social media platforms.
Feel free to ask for introductions or referrals from people within your network. They may have contacts who could become valuable strategic partners. Remember that sharing is caring. Offering support and advice will encourage others to do the same for you.
In addition to fostering strong connections within your network, take advantage of professional associations and industry groups that offer opportunities to collaborate with other businesses in a more structured setting.
These organizations often provide access to tools, resources, and expertise that can significantly enhance your vertical marketing strategy.
So keep nurturing those relationships and exploring every avenue available. Doing so can ultimately lead to impressive results for all parties involved.
Conclusion
Vertical marketing is incredibly effective for businesses targeting a specific industry or niche market. By focusing on that market's unique needs and challenges, companies can tailor their products and services to offer specialized solutions that set them apart.
One fascinating statistic highlights the success of this strategy: 75% of B2B marketers claim that producing content tailored to individual industries has significantly increased engagement rates.
FAQs
Here are other frequently asked questions about vertical marketing that we have not answered above. This will help you further your research.
What are some examples of vertical markets?
Vertical markets can vary widely, but examples include healthcare, automotive, real estate, hospitality, financial services, and technology sectors. Each vertical has its own unique characteristics, challenges, and customer requirements.
How can I identify the right vertical market for my business?
Conduct market research to identify the right vertical market to assess the industry's growth potential, competition, customer needs, and market size. Look for industries where your expertise, products, or services align well with the specific demands of the vertical.
How can vertical marketing contribute to customer loyalty?
Vertical marketing allows you to build expertise and provide tailored solutions to customers in a specific industry. You can foster strong relationships and earn customer loyalty by consistently delivering value, addressing pain points, and understanding their industry-specific challenges.