What are your thoughts on the benefits of sponsored content for B2B businesses?
Imagine showcasing your business content to a new audience without lifting a finger.
Sponsored content is engaging and informative marketing pieces written and published by a third party. It gives you the ultimate boost in brand awareness.
You have likely seen these posts on blogs, magazines, and social media channels.
In this post, we look at the definition of sponsored content and how it differs from other advertising. We will also see its benefits and a practical strategy to start your sponsored content campaigns if you decide it's the right move for your business.
What is Sponsored Content
Sponsored content is a form of advertising where the sponsor pays the publisher (usually a website) to publish content that promotes the sponsor's products or services. The advertiser typically creates the content, but you can also repurpose it from other sources.
Sponsored content can range from product promotions to opinion articles written by influencers and other thought leaders, depending on the platform used.
The main purpose is to provide an informational connection between the business and its target audience, leaving out any direct sales approaches.
It is an educational source that provides information on topics relating directly to the brand's product line so viewers can better understand what it offers—without feeling overloaded by promotional material.
What are the Benefits of Sponsored Content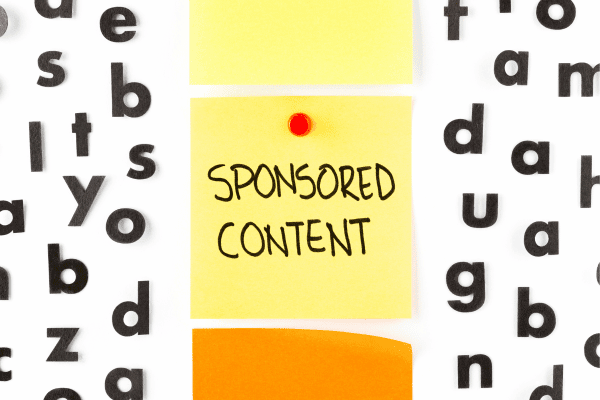 Increased Reach
When you publish sponsored content, you can expect to reach a much wider audience than you would through your organic social media posts. Your sponsored content will be seen by people who don't already follow your brand, which can help you to attract new leads and customers.
Greater Engagement
Sponsored content tends to be more engaging than other forms of advertising, such as banner ads. The reason is simple: sponsored content is more targeted and personal.
It speaks directly to the reader and often comes from a source the reader trusts. Sponsored content generally provides useful information or entertainment rather than just trying to sell a product.
Improved Brand Awareness
Sponsored content helps to improve brand awareness by associating your company with a relevant topic or trend. When your content appears on a popular website, it helps to increase your brand's visibility and name recognition.
For example, if a fashion brand sponsors an article on the latest trends, its audience is likely to see the article and learn about the brand. Similarly, if a tech company partners with a popular blog about gadgets, it can gain exposure to a tech-savvy audience.
More Traffic
With the right approach, sponsored content marketing can significantly increase website traffic than non-sponsored posts. It is likely because readers trust sponsored content more than traditional advertising. So, it is more shared and linked to than other types of content, effectively attracting new visitors to your website.
Higher Conversion Rates
Sponsored content has been shown to convert browsers into buyers faster than traditional marketing methods.
As sponsored content provides valuable information, it helps potential customers make informed buying decisions. In addition, sponsored content comes from a trusted source, further building confidence and credibility.
Better SEO
Sponsored advertising content can help improve your website's SEO. When your articles are published on high-quality websites, they can help to build your brand's authority and increase your search engine rankings.
You can reap many benefits by using sponsored content to promote your business.
Types of Sponsored Content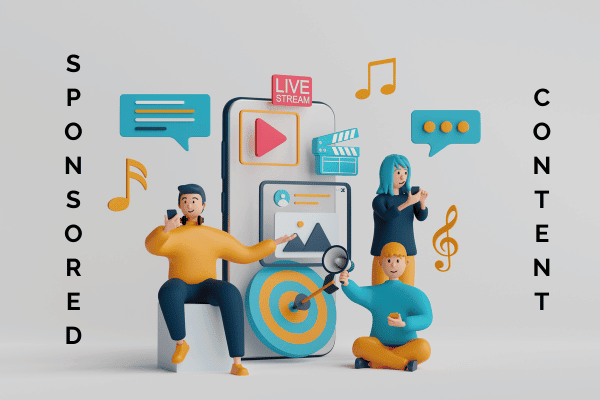 Articles
Sponsored articles are a form of native advertising whereby an advertiser pays to publish their content on a publisher's site.
Sponsored articles are typically labeled as such (which may be "Sponsored by ZYX Company"). They often aim to promote a product or service while providing valuable information to the reader.
Although a sponsored article is similar to a commercial, it must be well-written. It should have a clear voice and style that fits with its publication.
If the sponsored article is too obviously an advertisement, readers will tune it out. Their attention will be piqued if it looks and feels like something they normally read on the site.
It is also relevant to the publication's audience. It should offer something of value to readers, whether it's information, entertainment, or both. A sponsored article that's nothing more than a sales pitch will likely be ignored, no matter how well-written.
Blog Posts
Sponsored blogs are usually written by professional copywriters or bloggers who are paid to write positive reviews or articles about the sponsor's products or services.
While some sponsored blogs may be transparent about their relationship with the sponsor, others may try to hide this information to appear more objective.
How to spot a sponsored blog?
Sponsored blogs often have positive reviews of the sponsor's products or services and have more advertisements. It could be in banner ads, sidebar ads, embedded videos, or sponsorships.
Videos
A sponsored video usually features a product or service placement within the video content itself. The sponsor may also be featured in voice-over or on-screen as part of the video. In some cases, the sponsor may be the exclusive focus of the video.
Sponsored videos can take many forms, depending on the goals of the sponsor and the style of the video content.
For example, a sponsored product placement in a cooking show could feature the sponsor's kitchen appliances in use by the host. Or, a travel vlog could feature the sponsor's travel gear as part of the host's packing list.
Generally, a sponsored video should feel organic and natural rather than like an advertisement. The goal is to create an enjoyable viewing experience that "just happens to" feature a particular product or service.
Webinars
Sponsored webinars are online seminars that feature a presenter who discusses a particular topic. The webinar sponsor may be featured prominently before and after the presentation. The host may mention their products or services during the event.
Sponsoring a webinar allows you to reach a target audience of potential customers interested in learning about topics related to your business.
It is a great way to get your product or service in front of potential customers already interested in your offer. And, because webinars are typically recorded, your sponsored content will stay available long after the event.
Social Media Posts
You're scrolling through your Facebook feed when you see a post from your favorite clothing brand. The product looks great, and you're tempted to click on the link. But wait – is this a sponsored post?
Sponsored social media posts are paid advertisements that appear on platforms like Facebook, Twitter, and Instagram.
Whether it's a post about someone's new skincare routine or a cooking tutorial using a particular brand of spices, sponsored display ads are all around us.
Social media is a very effective platform for businesses to reach their target audiences. And, because people are already used to seeing a mix of content on social media (including ads), sponsored posts can be effective.
What's more, the right social media platform allows businesses to target their ads very specifically. For example, Facebook allows businesses to target ads by location, age, gender, interests, etc.
So, businesses can ensure their sponsored content is only seen by people who are likely to be interested in it.
Podcasts
A sponsored podcast is a bit like a radio show, except it's distributed online instead of over the airwaves. Podcasts are usually audio-only, although some do include video.
Podcast listeners are often highly engaged and strongly interested in the topics covered in their favorite shows. So they are more likely to remember your brand and discuss it with friends and family. Sponsoring a podcast also helps build trust with potential customers.
When you align your business with a trusted source of information, you can create a positive association in the listeners' minds.
Moreover, connecting with influencers in your industry is a clever move. Supporting a popular show can develop relationships with influencers who can help to promote your business to a wider audience.
Ebooks
Ebooks are digital books that people can download and read on their computers, tablets, or phones. And, yes – you can sponsor them. Ebooks are a great option for businesses that want to provide valuable content to their target audiences.
For example, if you sell products for home cooks, you could sponsor an ebook with recipes and cooking tips.
Ebooks offer a few key benefits for businesses:
They allow you to demonstrate your expertise in a particular subject area because they are often very focused on a specific topic and provide an in-depth look.
They provide an opportunity to build trust with potential customers. When you offer valuable information for free, people are more likely to recognize your brand and consider doing business with you in the future.
Ebooks can be a great way to generate leads. You can add a call-to-action at the end of your ebook to encourage readers to sign up for your email list or visit your website.
As you can see, there are many different types of sponsored content. And each one offers its unique benefits. Next, we'll learn the best practices for creating sponsored content.
Best Practices When Working with Sponsors and Partners
Sponsored content requires much effort and collaboration between the brand, the sponsor, and the publisher.
The success of a sponsored content campaign ultimately depends on how well these parties work together to create valuable content for the target audience.
This section will examine the best practices when working with sponsors and partners for sponsored content.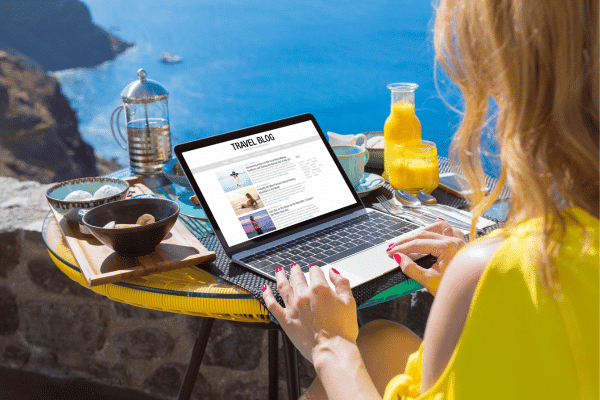 Set Clear Objectives
Setting clear objectives at the outset of a sponsored content campaign is essential. Doing so ensures that both parties are aligned on goals, expectations, and deliverables, leading to a more successful and productive partnership.
One of the best practices for setting clear objectives is to establish specific, measurable, achievable, relevant, and time-bound (SMART) goals.
This means defining specific and specific objectives focused on a particular outcome, measurable and quantifiable, so that progress can be tracked, achievable, and realistic given the available resources and timeline, relevant to the sponsor's or partner's ultimate objectives, and time-bound to ensure that deadlines are met.
Another important aspect of setting clear objectives is establishing key performance indicators (KPIs) for the sponsored content. KPIs are metrics used to evaluate the success of the content based on specific goals and objectives.
Sponsors and partners should also establish a clear timeline for the collaboration. This timeline should include important milestones and deadlines for planning, creating, and distributing the content. Awareness of deadlines and expectations greatly reduces the likelihood of missed deadlines and miscommunication.
Choose the Right Partner
The success of the content and its reach greatly depends on the partner's reputation, audience, and goals aligning with your brand's message and goals. A well-selected partner can bring in more audience engagement, higher credibility, and more revenue.
Perform thorough research and analysis of potential partners.
Start by looking into their past partnerships, content quality, branding approach, and metrics. Consider their audience reach, engagement levels, and demographics. You want to ensure the partner's audience will appreciate and value the sponsored content.
Doing so ensures better alignment with their expectations and gains audience trust, leading to better engagement.
Another crucial aspect is ensuring that the partner's brand values align with your brand's values. If their values don't align, it can create mismatches in content messaging and negatively affect your brand's reputation, leading to lower engagement levels and a damaged reputation.
The partner's size is not always a guarantee of success.
Choosing a smaller partner but with a niche and engaged audience may be more beneficial than teaming up with a large partner that doesn't have a specific audience alignment with your brand.
Maintain Editorial Independence
Editorial independence refers to the editorial team's freedom to decide what goes into the content, how it's presented, and what information is included without any undue influence from the sponsor or partner.
The content must still be objective, factual, and transparent. Do not compromise these qualities in the process.
The importance of editorial independence cannot be overstated. The readers and viewers need to trust that the content they consume is unbiased and that they can make informed decisions based on that content.
If a sponsor has too much control over the content, it can come across as dishonest or insincere, thus losing the audience's trust.
Maintaining editorial independence is also a legal requirement. Hence, sponsored content must be disclosed as such to avoid misleading the public.
Build a Collaborative Relationship
Creating content is a collaborative process. The content creator must work closely with sponsors and partners to create content that meets their goals and resonates with their audience.
This requires effective communication, active listening, and providing feedback. Be open to suggestions and collaborate to create content that balances sponsored messaging and provides value to your audience.
Building a collaborative relationship with sponsors and partners also requires authenticity and honesty. Communication with partners should be frequent throughout the collaboration, keeping them in the loop on progress and performance.
Use Detailed Metrics to Measure Success
Measuring and analyzing the results of a sponsored content campaign is important to determine its effectiveness. By tracking metrics such as clicks, shares, and conversions, the sponsor and publisher can evaluate the campaign's success and optimize it for better results in the future.
Conclusion
To summarize, sponsored content provides numerous benefits to businesses and consumers alike. It helps brands build their reputation, increase reach, influence customer decisions, and generate additional revenue.
What's more, it's also an excellent way of connecting companies with audiences they may not otherwise have access to. These benefits make sponsored content a great asset for any business or organization looking to take advantage of the opportunities available in the digital world.
With that said, it is essential to ensure your sponsored content is relevant and aligns with the objectives of your target audience to maximize its full potential. Integrating sponsored content into your marketing strategy can be extremely beneficial as long as you prioritize the needs of your desired consumers.
FAQs
Here are other questions about sponsored content that we have not covered in the article.
What is the difference between sponsored content and an ad?
While sponsored content and ads may appear similar at first glance, there are major differences between the two that marketers should be aware of. 

Sponsored content is a piece of online content created in partnership between a brand and a publisher. The goal of a sponsored ad is to promote the brand's products or services in a non-intrusive and authentic way. This type of content aims to provide value to the reader rather than simply selling them a product. 

In contrast, an ad is a paid piece of online advertising that promotes a product or service more directly. Ads are usually less expensive than sponsored content, but they also tend to be less effective since they are less relevant to the reader. 
What are examples of sponsored content?
There are many different types of sponsored content, but some common examples include blog posts, articles, social media posts, videos, and infographics.
How much does sponsored content cost?
The cost of sponsored content will vary depending on the publisher, the type of content, the length of the piece, and other factors. In general, though, businesses can expect to pay anywhere from $250 to $750 for a single piece of sponsored content.
Is sponsored content a native ad?
Yes. Native ads are advertisements incorporated Into the design and flow of the content on a website or app. Unlike traditional banner ads, which are often obtrusive and disrupt the user experience, native ads are non-disruptive and seamless.