Setting business development goals gives you a clear target to aim for, and the satisfaction of achieving them can provide a much-needed boost when times are tough. But you need to make your goals achievable.
Unrealistic goals can set you up for setbacks and ultimately lead to demotivation.
This blog post is about setting practical business development goals. We provide a step-by-step guide on creating achievable goals to help you achieve your desired results.
Why Do You Need to Set Goals?
Goals give your company direction and purpose by creating an overarching vision that teams can work toward achieving. When a company strategically sets specific, measurable, achievable, realistic, and time-bound (SMART) objectives, it creates an actionable plan for success.
Without set goals, measuring progress and making data-driven decisions about allocating resources for optimal growth is difficult.
Let's begin with the types of business goals.
Types of Business Development Goals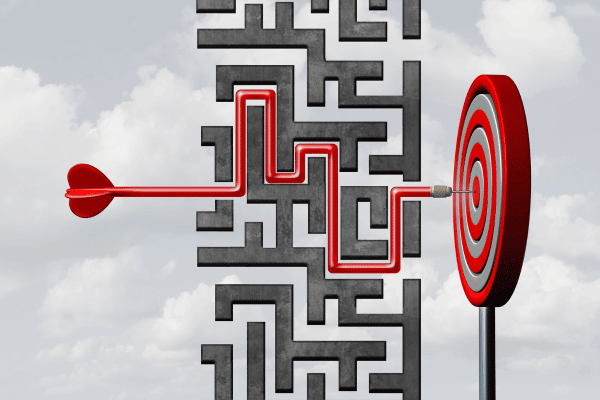 Any business development goal worth achieving will likely fall into one of four major categories:
Expanding the reach of your offering
Deepening your relationship with existing customers
Improving your operational efficiency
Developing new products or services
Let's talk about the ten most common goals.
Sales Goals
These are financial business goals that focus on revenue operations. They usually revolve around increasing the number of sales you make or the average sale size.
If your business is new, your sales department will probably focus on increasing the number of sales. Once you have a few customers and are starting to establish yourself in the market, you can focus more on increasing the value of each sale.
Sales goals are usually written as a percentage of some number. For example, increase sales by 10 percent over last year's sales volume. The challenge with this type of goal is that it doesn't consider what's happening in the marketplace or the competition.
Market Penetration Goals
Market penetration goals are about increasing the number of people who buy your products or use your services. Businesses do this by selling to new markets or finding new ways to reach existing ones.
For example, if you sell winter coats, a market penetration goal might be to increase sales to college students by setting up pop-up shops on campus.
Or, if you provide accounting services, a market penetration goal might be to increase sales to small businesses by setting up a booth at a local business expo.
Profit Margin Goals
Profit margin means determining how much profit you want on each sale and setting prices accordingly. The goals are designed to increase the amount of money your business makes after expenses. It can be done by either increasing revenue or decreasing expenses (or both).
For example, if you target a 20% profit margin on each sale, you would need to charge $12 for a product that costs you $10 to produce. Once you have determined your profit margin goals, tracking your progress and adjusting your prices as necessary is important.
Customer Acquisition Goals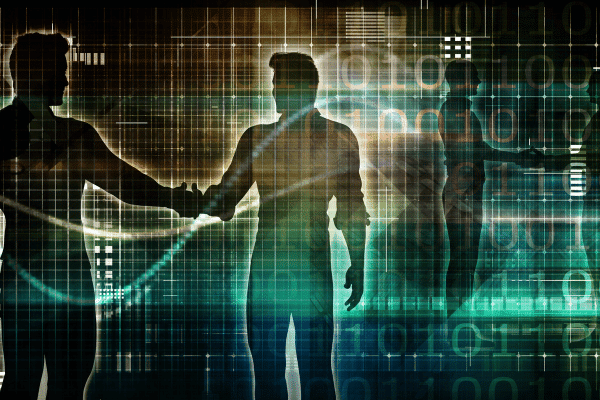 A company's customer acquisition goals are its objective to increase the number of new customers.
The targets may be short-term, such as aiming to acquire ten new customers in the next month, or long-term, such as acquiring 1,000 new customers over the next year. The company's marketing strategy will be focused on achieving these targets.
The basic elements of a customer acquisition strategy include identifying the target market, generating leads, converting leads into customers, and retaining customers.
The company must also track its progress toward its goals and adjust its strategy if necessary.
Brand Awareness and Loyalty Goals
Brand awareness and loyalty are important goals for any business development process. Businesses cannot hope to survive without a solid connection with their customers.
Brand awareness goals aim to increase the number of people aware of a company and its products or services.
On the other hand, loyalty goals focus on increasing the number of repeat customers or customers who make referrals. Brand awareness can be improved through marketing and advertising campaigns, while loyalty can be increased through excellent customer service and valuable rewards programs.
Employee Engagement and Satisfaction Goals
Employee engagement and satisfaction are important goals for any organization. Engaged employees are more productive, creative, and committed to their work. They also have lower turnover and absenteeism rates.
Satisfied employees are more likely to stay with an organization and provide high-quality service to customers. Employee engagement and satisfaction improve when employees feel valued and supported by their employer.
Employee engagement and satisfaction goals aim to increase the number of employees actively engaged in their work and committed to the company's success.
The goals focus on increasing the number of employees who are happy with their jobs and working conditions. Employee engagement can be increased through training and development programs, while satisfaction can be increased through fair wages and benefits.
Product Innovation Goals
Product innovation aims to create new products or services that offer customers more value than existing ones. You can do this by improving existing products or services or developing entirely new offerings.
To be successful, product innovation must focus on creating customer value rather than simply adding features. You must execute it well to avoid costly mistakes often occurring during innovation.
Process Improvement Goals
Process improvement goals aim to streamline and improve the efficiency of strategic business decisions. Achieving these goals usually requires changes to the current process.
Below are three process improvement goals that every business strategy should target.
Reduce waste. This includes excess inventory and wasted time on tasks that don't add value. Not only is this economical, but it also helps to streamline your operations.
Increase efficiency. It involves automating repetitive tasks or finding new ways to complete existing tasks. By doing so, you'll be able to get more done in less time, freeing up your team to focus on higher-value activities.
Strive for continuous improvement. Rather than making a one-time change and moving on, you should always find ways to fine-tune your processes.
Sustainability Goals
All business initiatives should have sustainability goals. Sustainability is the ability to resolve the problems of the present without compromising the ability of future generations to meet their own needs.
It's a holistic approach that regards environmental, social, and economic factors.
Common sustainability goals include reducing energy consumption, improving waste management, and increasing employee productivity.
By implementing sustainability measures, businesses can save money, reduce their environmental impact, and improve their social responsibility.
Social Responsibility Goals
As a businessman, you are accountable to your employees, customers, and community. Social responsibility goals are a business's actions to ensure that it does its part to improve the world.
It can include reducing environmental impact, supporting employees' mental health, and giving back to the community.
Of course, social responsibility goals will look different for every business, depending on the company's values and the needs of its employees and customers.
But no matter their form, you should always align social responsibility goals with your company's overall mission and goals.
So, how can you guarantee that your business development team works towards propping the right goals?
Keep reading.
How to Set Realistic Business Goals?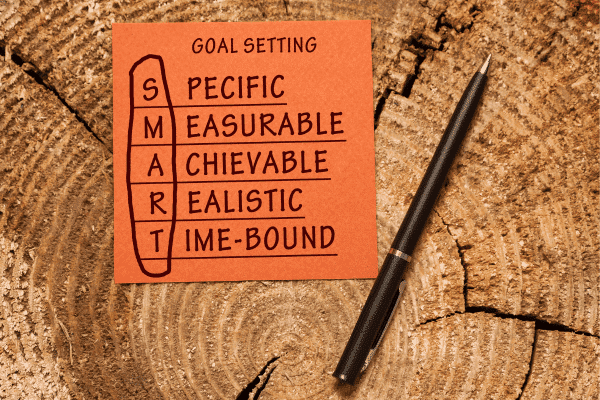 While setting goals for your business is important, ensuring those goals are realistic is just as important. Here's a helpful guide to help you set realistic business goals:
Know Your Why
In business, it's not enough to have goals. You need to have a complete idea of your motivation for pursuing those goals in the first place. This is what it means to "know your why."
Why are you in business? What are you trying to achieve? When you know your why, you can set goals aligned with your overall mission.
This alignment will make it easier to maintain motivation and stay on track. You'll be more likely to achieve those goals because you'll be driven by a sense of purpose.
And when your team knows the company's why, they'll be more inspired to work towards the common goal.
The SMART Goal-Setting Process
The SMART goal-setting process is a simple yet effective way to set and achieve your goals. SMART stands for Specific, Measurable, Achievable, Realistic, and Timely. Let's zero in on each of these elements:
Specific: The first step is to be specific about your goal. What exactly do you want to accomplish? This step helps you clarify your objectives and develop a business development plan.
Measurable: Once you know what you want to achieve, you must set measurable goals. It means setting goals that can be quantified to track your progress. For example, rather than "losing weight," set a goal of "losing 10 pounds in the next six months."
Achievable: It's important to set realistic and achievable goals. If your goals are too ambitious, you will be disheartened when you fail. But if they're too easy, you won't experience the satisfaction of accomplishing something challenging. Strike a balance by setting goals that are challenging but attainable.
Realistic: Along with being achievable, your goals should also be realistic. It means considering your current circumstances and setting feasible goals given your resources and time constraints.
Timely: Finally, ensure your goals are timely by setting your own deadlines. It will help to keep you motivated and on track. For example, instead of "save money," make it "save $500 in the next three months."
Following the SMART goal-setting process can increase your chances of achieving your goals.
Make It a Team Effort
Regardless of your business goals, it's important to remember that you can't achieve them all alone. It requires a team effort to make any business successful; delegating tasks, sharing ideas, and working together towards a common goal.
Of course, it's also critical to have an efficient leader who can provide direction and inspiration, but even the most effective leaders need the support of a strong business development team.
So if you're serious about achieving your business goals, pick the right teams, from sales and marketing, project management, vendor management, financial analysis, and website development to customer service and beyond.
Surround yourself with talented and dedicated people willing to work together towards a shared goal.
And we won't stop at setting goals. We shall also talk about reaching them through a successful business development strategy.
How to Achieve Your Business Goals?
Once you've set your business goals, it's time to start working towards them. Here's how to achieve your goals:
Visualize Your Success
Most people underestimate the power of visualization. When you visualize something, you create a roadmap for your brain to follow.
Here's how it works:
When you visualize yourself succeeding, your brain starts believing it is possible. This, in turn, leads to you taking the necessary steps to make your vision a reality.
Mental rehearsal is just as effective as a physical rehearsal in improving performance. See yourself taking the necessary actions and reaching your desired destination. The more vividly you picture it, the more likely it is to happen.
Break Down Each Goal Into Smaller Tasks
When you have a large goal, it can be helpful to break it down into smaller, manageable tasks.
It will make creating a plan of action and tracking your progress easier. It can also help to prevent overwhelm and keep you motivated.
So how do you break down your goals?
First, identify the main goal that you want to achieve. Then, think about all of the smaller steps that need to be taken to reach that goal. For each step, ask yourself what needs to be done to move closer to your goal. Finally, list all tasks that need to be completed.
For example, let's say your goal is to increase sales by 20% in the next quarter.
Your smaller tasks might include the following:
Researching your target market
Identifying your ideal customer
Developing a marketing strategy
Creating a sales deck
Training your sales team
Launching a new marketing campaign
Analyzing your results and making adjustments
It is just an example, but you can see how breaking down your goals into smaller tasks can help you to achieve them.
Create a Plan of Action to Achieve Each Task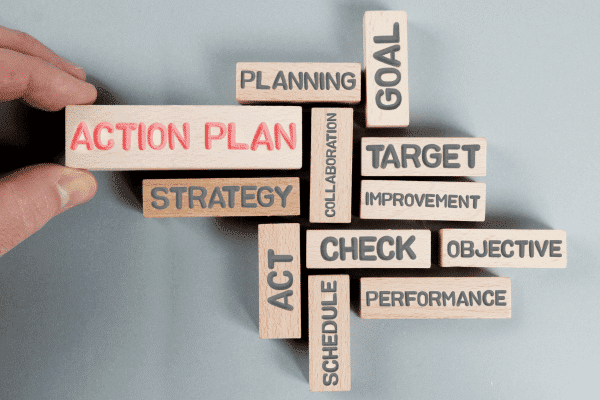 Now that you have a list of tasks, it's time to create a plan of action for each. It's where you'll decide what needs to be done, when it needs to be done, and who will be responsible for doing it.
Business planning will help you to stay organized and on schedule. It will also make delegating tasks and holding team members accountable easier.
To create a plan of action, start by listing out all of the tasks that need to be completed. Then, for each task, answer the following questions:
Who will be responsible for completing the task?
When does the task need to be completed?
What steps need to be taken to complete the task?
Again, using our example goal of increasing sales by 20% in the next quarter, your plan of action might look something like this:
Research target market: responsible person, due date, steps to take
Identify the ideal customer: responsible person, due date, steps to take
Develop marketing strategy: responsible person, due date, steps to take
Create a sales deck: responsible person, due date, steps to take
Train sales team: responsible person, due date, steps to take
Launch marketing campaign: responsible person, due date, steps to take
Analyze results and make adjustments: responsible person, due date, steps to take
As you can see, a plan of action helps to bring clarity and structure to your goal-setting process. It also makes delegation and accountability simpler.
Set a Deadline
One of the most important aspects of setting a deadline for business goals is ensuring the timeline is realistic. It can be challenging, as it is often difficult to accurately gauge how long a task will take. Your deadline must make sense for your business.
If you set a deadline too soon, you may be scrambling to meet it. On the other hand, if you set a deadline that's too far in the future, you may lose focus and motivation.
The best way to find the right balance is to consider your timeline, resources, and capabilities.
Measure Your Progress
As you work towards your goal, measuring your progress is important. It will help you track your progress and ensure you are on track to reach your goal.
There are different ways your business development team assesses your progress. One way is to set milestones. For each task on your list, identify a milestone to be reached for the task to be considered complete.
For example, if your goal is to develop a new marketing campaign, your milestone might be to create the campaign materials.
Another way to measure your progress is to set KPIs. Key performance indicators (KPIs) are measurable values that help you to track your progress toward a goal.
For example, if your goal is to increase sales, your KPIs might include the number of sales made, the conversion rate, or the average order value.
Which method you use to measure your progress will depend on your goal and what is most important to track. However, milestones and KPIs are a good way to get a well-rounded view of your progress.
Celebrate Your Successes
Whether you've landed a big client or reached personal sales targets, taking the time to celebrate your accomplishments can help to motivate and inspire you to keep pushing for more.
Celebrating your successes helps to keep you motivated and focused on achieving your goals. It also helps to build team spirit and reinforces that you are doing something right.
When you take the time to celebrate your successes, you are sending a strong message to yourself and your team that you are committed to achieving your goals.
So, take a few moments to celebrate your successes, no matter how small they may be. It will make a big difference in the long run.
Conclusion
Achieving ambitious plans for your business is possible if you set realistic goals. However, it is also important to remember that things don't always go as planned. Therefore, be prepared to make adjustments along the way. It is also important to enjoy the journey and take the time to celebrate your (and your team's) successes along the way.
FAQs
Here are other frequently asked questions about business development goals that we have not discussed in the article.
How can I make sure that my goals are challenging yet achievable?
The key to setting challenging yet achievable goals is to identify what you realistically want to achieve and then set steps and performance benchmarks to help you get there.

Here are practical ideas to help you do just that:

1. Clearly define your goals. Vague or general goals are more difficult to measure progress towards and achieve than specific, detailed ones. Make your objectives SMART.
2. Do your research. Before setting any goals, ensure you have a good understanding of your current situation and the opportunities and constraints that come with it.
3. Set measurable benchmarks. To track your progress, you need to have specific performance indicators that you can measure.
4. Make a plan. Once you determine what you want to achieve and understand your current situation well, you must develop a plan of action. It should include specific steps and deadlines for each task.
5. Be prepared to adjust. While having a plan is important, you must also be ready to make adjustments along the way.
What should I include in my goal statement?
When writing your goal statement, be sure to include the following:
1. Your overall desired outcome
2. The specific steps you'll take to get there
3. Why is this goal important to you and your business
4. When you hope to achieve this goal by
5. How you'll know if you're successful
What are some common pitfalls in setting business development goals?
The first is to try and do too much at once. When you're trying to accomplish too many things, you can quickly become overwhelmed, and no progress is made on your goals. Focus on a few business growth goals you can realistically accomplish within your set timeframe.

Another common pitfall is not being specific enough with your goals. Vague goals are hard to measure progress against and can therefore be discouraging. Be precise when setting your business development goals to know what should be done to achieve them.
Finally, another mistake people make is not seeking help from others. Trying to accomplish everything on your own can be difficult. You must delegate tasks and get input from others to achieve your goals.