Creating a B2B Ideal Customer Profile is the first step in understanding your target market.
Without knowing your ideal customer, it's impossible to know where to allocate your marketing resources or what type of content is relatable to them. Your sales and marketing teams could be targeting the wrong people entirely and not even know it.
This easy-to-follow guide will help you define your target market, understand their needs and wants, and figure out how to reach them.
What is a B2B Ideal Customer Profile?
A business-to-business (B2B) ideal customer profile describes the characteristics that make up an ideal company for your business.
This description includes size, industry, location, and purchasing power. Businesses use ideal customer profiles to help them identify and target companies that best match their products or services.
By targeting companies that fit the ideal customer profile, businesses can increase their chances of success in winning new customers.
It can be so varied how customer profiles are created. Some businesses take a very generic approach, while others get very specific.
The level of detail is contingent on the type of business and the products or services offered. In some cases, businesses will have multiple ideal customer profiles, each targeting a different type of company.
Your ultimate target should be to develop a profile that accurately describes the companies most likely to be interested in what you offer.
Why is a B2B Ideal Customer Profile Important?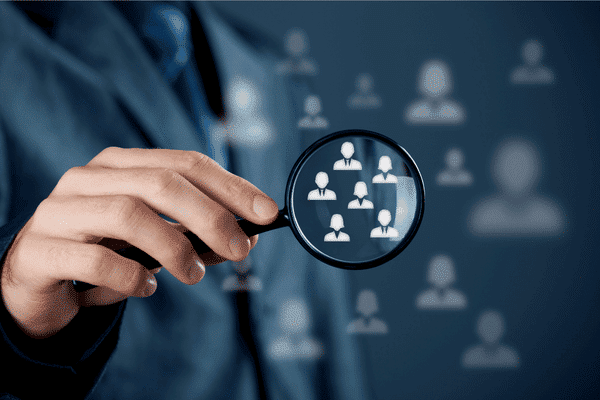 Here are seven reasons:
1. Right Focus
Creating an ICP makes your marketing campaigns laser-focused on the right people. It is the first step in all effective marketing and sales strategies. Targeting the right people means that you will be advertising and trying to sell your product or service to companies that are the best match for what you have to offer.
2. Targeted Marketing Messages
Your B2B ICP is the foundation of your marketing strategy and messaging. The information your sales team can gather will help you narrow your focus and create targeted marketing messages.
By zeroing in on your ideal customers, you can more effectively market to them, close deals with them, and provide them with valuable content. With these sales efforts, you can increase customer lifetime value.
3. Cost-Efficiency
You're misspending your time and resources if you're not targeting your ideal customers. By identifying your ICP, your marketing team can ensure that your marketing budget is spent on activities that will reach the right people.
It will be practical and economical in the long run and help you to be more efficient with your marketing efforts.
4. Decision-Making Framework
Your ICP can help you make decisions about what products or services to offer and how to price them. If you understand the needs of your ideal customer, you can tailor your offerings to meet their specific needs.
You can also use your ICP to determine how much to charge or arrange payment schemes because you will know your target market's financial needs and capabilities.
5. New Opportunities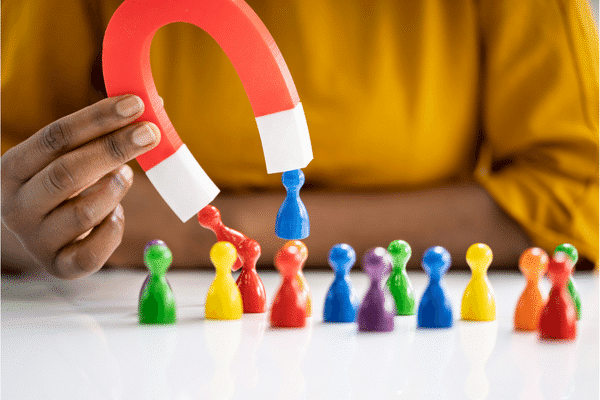 A B2B Ideal Customer Profile (ICP) can be a valuable tool for identifying new business opportunities. For example, if your ICP is a small company in a specific industry, you might want to consider expanding your target market to include medium-sized companies in that industry.
Or, if your ICP is a company with a specific budget, you might want to consider selling to larger companies with a higher budget.
6. Partnerships
One of the best ways to grow your customer base is to establish partnerships with other businesses. Businesses partnering up can share resources, knowledge, and expertise to help both businesses grow.
B2B partnerships can also lead to increased sales and marketing opportunities, as well as new collaborations and product development.
7. Improved Customer Service
A well-crafted customer profile can be a valuable tool for improving your customer service. When your sales team understands your customers' needs, wants, and expectations, they can develop targeted strategies for providing the best possible service.
It can also help you identify potential problems before they arise. You can quickly spot any trends or patterns that may indicate potential issues.
By responding rapidly to these trends, you can head off any potential problems before they have a chance to impact your business.
The bottom line is, an excellent customer service reduces churn and increases customer lifetime value.
After knowing the advantages of using an ICP, now we'll talk about how you can create your own.
10 Tactics to Create an Effective B2B ICP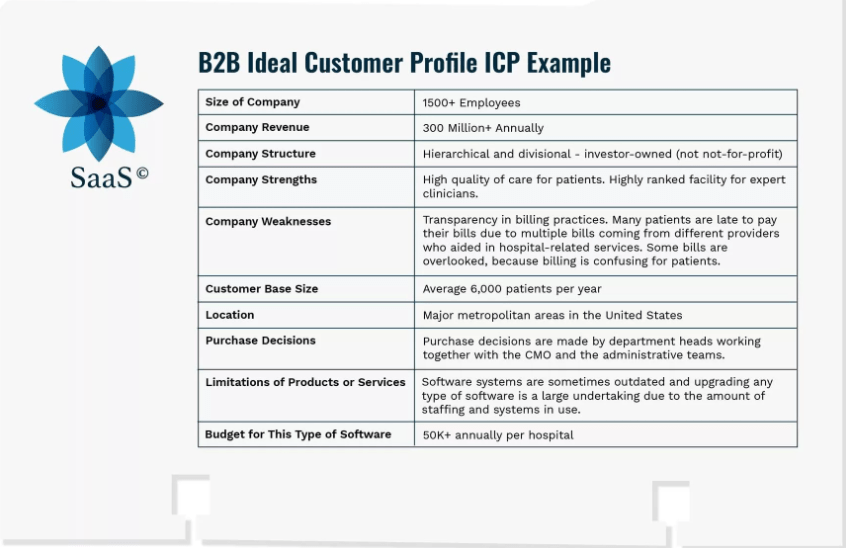 Creating an accurate ICP is a critical step in the process of segmenting and targeting the right customers. It requires research and analysis, but it's not as complex as you might think.
Here are ten steps to help you create a solid ideal customer profile:
1. Analyze Your Current Customer Base
Looking at the shared characteristics of your current customers can give you a good starting point to identify ideal customer characteristics.
Are they all in the same industry? Do they have similar-sized businesses?
needs?
demographics?
psychographic?
disposable income?
preferences?
By understanding the commonalities among your current customers, you can start to develop a picture of your ideal customer.
2. Conduct Market Research
Surveys are among the most effective methods to conduct market research and gain insights into your target market. You can use online surveys or in-person interviews to ask potential customers about their needs and preferences.
Another useful method is focus groups. It involves bringing a group of potential customers together in one place and asking them questions about your product or service.
3. Gather Feedback from Target Market
Surveys are a key tool for gathering feedback from customers. By asking questions about their experiences, needs, and expectations, businesses can gain valuable insights into how to improve their products and services.
Surveys also provide an opportunity to build relationships with successful customers and learn more about their individual preferences.
When designing a survey, it is important to keep the following factors in mind:
The purpose of the survey: What information are you hoping to gather?
The target audience: Who will you be sending the survey to?
The length: How long do you want the survey to be?
The questions: What questions will you ask?
The format: How will you collect the responses (e.g., online, in-person, by phone)?
4. Social Media Listening Tools
Social media listening tools like Hootsuite Insights and Brandwatch allow businesses to monitor online conversations about their industry and competitors in real time.
You can use these tools to track mentions of your brand, competitor brands, and industry keywords. By understanding what people are saying about your industry, you can gain insights into the needs and concerns of your target market.
5. Web Analytics
Web analytics is the process of measuring, collecting, analyzing, and reporting internet data to understand and optimize web usage.
It helps businesses to see what websites and keywords their target market is searching for, so they can adjust their marketing strategies accordingly.
When you know how people find and use your website, you can make changes that will attract more visitors and convert high-quality leads into customers.
6. Work with a Marketing Agency or Consultant
Note: This is optional.
If you're not able or don't have the internal resources to devote to this task, consider working with a marketing agency or consultant specializing in this area.
They will have the knowledge and experience to help you develop an ICP that accurately reflects your ideal customer.
7. Segment Your Market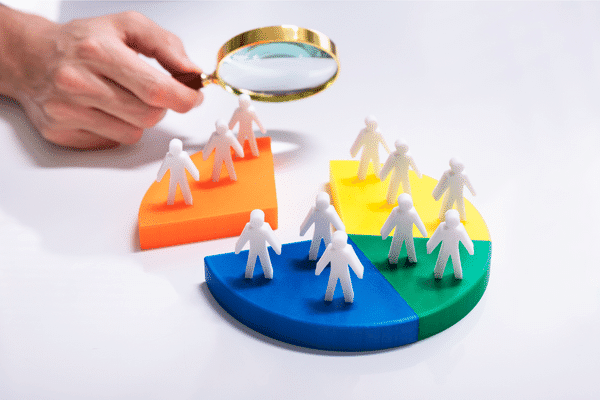 Market segmentation is the process of dividing a target market into smaller, more manageable groups. By doing this, businesses can better identify the needs and wants of their best customers and tailor their marketing efforts accordingly.
The most common method to segment a market is to use demographic criteria such as age, gender, income, and location.
Once a market has been segmented, businesses can begin identifying their target market's different types of customers. For example, they may identify "families with young children" as one type of customer and "Empty Nesters" as another.
8. Create Customer Persona Templates
Customer personas are a fictional, generalized representation of your ideal target customer. It is based on data collected about your existing customers and market research.
To create a customer persona:
Start by brainstorming a list of characteristics and demographics that would describe your ideal customer.
Narrow your list to the most important details and create a profile template.
Fill out the template with specific information about your ideal customer.
Include their age, gender, location, education level, income level, and occupation.
Include details about their interests, pain points, and how they would use your product or service. Once you have completed your customer persona template, you will have a valuable tool that you can use to make more targeted marketing decisions.
9. Analyze Website Traffic Data
By analyzing your website traffic data, you can gain valuable insights into your customers and learn how to better appeal to them. You can use this information to create targeted marketing campaigns and improve your overall website design.
For example, if you notice that most of your visitors come from a particular region, you can adjust your content and promotional offers to appeal to them. Similarly, if you see that certain pages on your site are getting more traffic than others, you can make sure those pages are more prominently featured on your website.
10. Create a Buyer Journey Map
A buyer journey map is a tool businesses use to understand the steps their target customers take when making a purchase.
To create a buyer journey map, start by identifying the different stages of the buying process. Then, for each stage, identify the needs and wants of your target customer. Finally, create a visual representation of the buyer journey, mapping out the steps your customer will take from awareness to purchase. This tool will help you better understand your customers and make more informed marketing decisions.
These are your tips for creating an effective B2B ICP. Below, we have enumerated the data you need in your customer profile.
What Should You Include in Your B2B ICP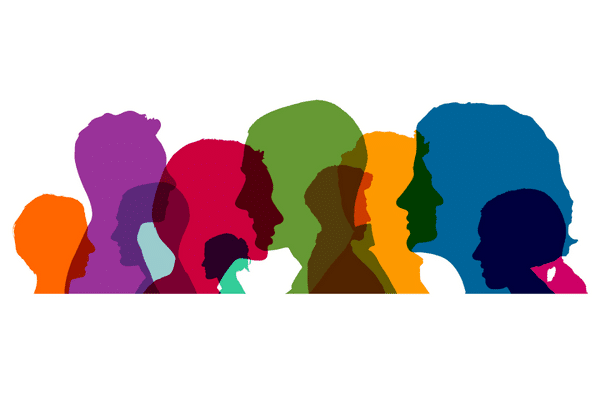 A well-crafted B2B Ideal customer profile should include the following, with examples:
Demographics
Age
Gender
Location
Income
Education level
Occupation
Interests
Pain points
Needs and Wants
efficiency and productivity in the workplace
reliable, quality products
information and resources to make informed decisions
competitive prices
customer service and support
variety and options
Values and Beliefs
Hard work and determination
Strength in numbers
Equality
That the customer is always right
Competition is good for business
Big businesses are bad for consumers.
Change is good
Progress is always positive
Buying Habits
conducts careful research before making a purchase
loyal to certain brands
price sensitive
responds well to incentives and discounts
likes to buy in bulk
prefers face-to-face interactions when buying products or services.
Channels Your Target Market Uses to Research Purchases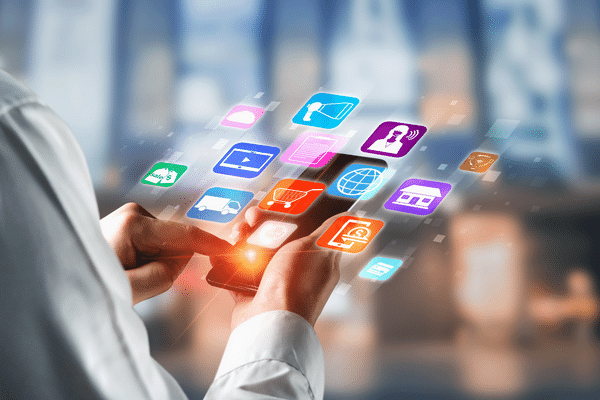 Google search
Amazon
Manufacturer websites
Consumer Reports
email
direct mail
Types of Content Target Market Consumes
Educational blog posts
How-to guides
Product reviews
Case studies
Whitepapers
The level of interest of your target market in your product or service
interested in your product or service and may be researching it
have heard of your product or service but haven't researched it yet
not familiar with your product or service and need more information
Motivators
Speed
Efficiency
Quality
Price
Customer service and support
Obstacles Target Market Faces When Making a Purchase
not sure if your product or service is right for them
concerned about the price of your product or service
think they can find a better option elsewhere
not convinced that your product or service will solve their problem
hesitant to change their current process or workflow
Industry Trends Affecting Target Market
rise of technology and the impact it is having on the workplace
the growing importance of data and analytics in business
rise of e-commerce and the impact it is having on traditional retail businesses
growth of freelancing and the gig economy
the increasing popularity of mindfulness and wellness in the workplace
Decision-makers
Who is responsible for making decisions about your product or service?
Are there multiple decision-makers involved?
What is their role in the company?
What is their level of influence within the company?
What is their decision-making process?
Influencers
Who influences the decision-makers in your target market?
What is their relationship to the decision-maker?
What is their level of influence within the company?
What are their interests and motivations?
Any Other Relevant Information
the average budget of your target market for your product or service
competition in your target market
size of your target market
the purchasing cycle of your target market
Now that you know what to include in your B2B ICP, it's time to start crafting one for your business. Keep this information you gathered handy to make your customized template.
Closing Statement
Your ideal customer profile will evolve as your business changes and grows, so be sure to revisit it often to ensure your marketing is always aligned with the needs and wants of your target market.
Thanks for reading!
FAQs
Here are other questions about the B2B ideal customer profile that we have not covered in the article.
How would you create an ideal customer profile for B2B lead generation?
Here are the steps for creating an ideal customer profile for B2B lead generation:
1. Define your target market
2. Identify the decision-makers
3. Identify the influencers
4. Understand their needs and wants
5. Consider their budget
6. Identify their pricing strategy
7. Know their value proposition
8. Keep your ICP up-to-date
What is the ideal customer profile target for your business?
Your target customer should be someone who is likely to need and want your product or service and is within reach geographically and financially.

They should also be relatively easy to reach through marketing and sales efforts, such as advertising and social media outreach. And lastly, they should be someone you can provide value to by offering a product or service that meets their needs like no other company.
Is an ideal customer profile helpful for account-based marketing?
Absolutely. An ideal customer profile is helpful for account-based marketing. When you clearly understand your target customer, you're able to create more relevant and targeted content, which in turn can help attract more leads from that particular market segment.

Additionally, with a well-defined ideal customer profile, you'll be better equipped to identify and target key decision-makers at companies that could be potential customers.