It takes a lot to gain a customer's loyalty and even more to keep it. Establishing customer loyalty in B2B is more challenging because of the complexity of the buying process.
Tech giants have cultivated an incredibly loyal customer base whose enthusiasm and commitment have helped to shape the industry. For your business to emulate this level of success, you must know how they refine customer loyalty programs.
Once you've identified which strategies and initiatives work, you can build an effective structure within a B2B setting.
Here's to getting this show started.
What is Customer Loyalty?
In a business-to-business (B2B) setting, customer loyalty means "a strongly held commitment to re-buy the same product or service regardless of changing circumstances and changes in attractive alternatives." This definition captures two crucial dimensions of customer loyalty: behavioral commitment and attitudinal commitment.
Behavioral commitment refers to customers' future purchase intentions or past purchasing behaviors. Attitudinal commitment, on the other hand, captures customers' affective attachment to a brand, often leading to positive word-of-mouth (WOM) and referrals.
7 Reasons Why Customer Loyalty is Important in B2B Businesses
Here are seven persuasive reasons why customer loyalty should be a top priority for B2B businesses:
1. Increased Revenue
Loyal customers create repeat purchases and upselling. Over time, this can lead to higher revenues by expanding the lifetime value of customers through the greater frequency of purchase, larger order sizes, and loyal customers that are more likely to engage in impulse buying or trial of new products.
Studies have shown that loyal customers are worth up to 10 times as much as their first purchase.
Additionally, marketing efforts may be less expensive for loyal customers as they already have an understanding of the company's product offerings and require a less up-front investment in education and onboarding.
2. Decreased Costs
There is a five-fold difference between the costs of gaining a new customer and keeping an existing one. By fostering customer loyalty, you can dramatically reduce your acquisition costs.
When a business has a steady stream of loyal customers returning for repeat purchases, it eliminates much of the need for costly acquisition campaigns that often come with hefty price tags.
This frees up funds that businesses can allocate toward other areas, such as product development or operations.
Loyal customers also tend to provide feedback which allows companies to improve their offering without having to spend resources on extensive brand research or surveys.
3. Increased Market Share
Achieving a significant market share is largely dependent on customer loyalty as it provides stability and longevity in the marketplace that companies cannot always achieve through marketing campaigns alone.
Having a reliable base of returning customers also helps build trust with prospective buyers who may not yet be familiar with the brand, increasing the likelihood of gaining new business.
Studies show that a 5% increase in customer retention can lead to a 95% increase in profits.
4. Better Customer Retention Rates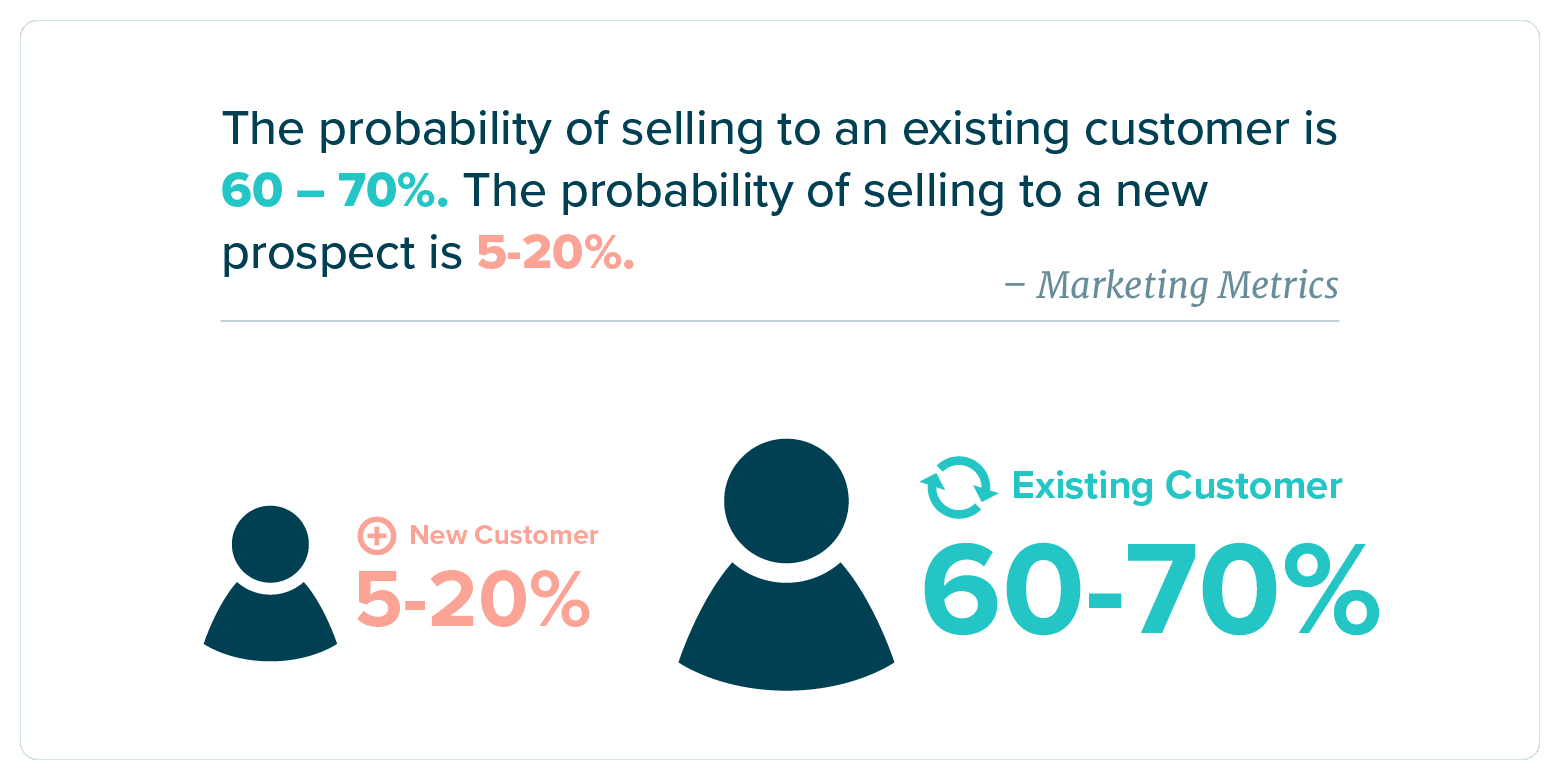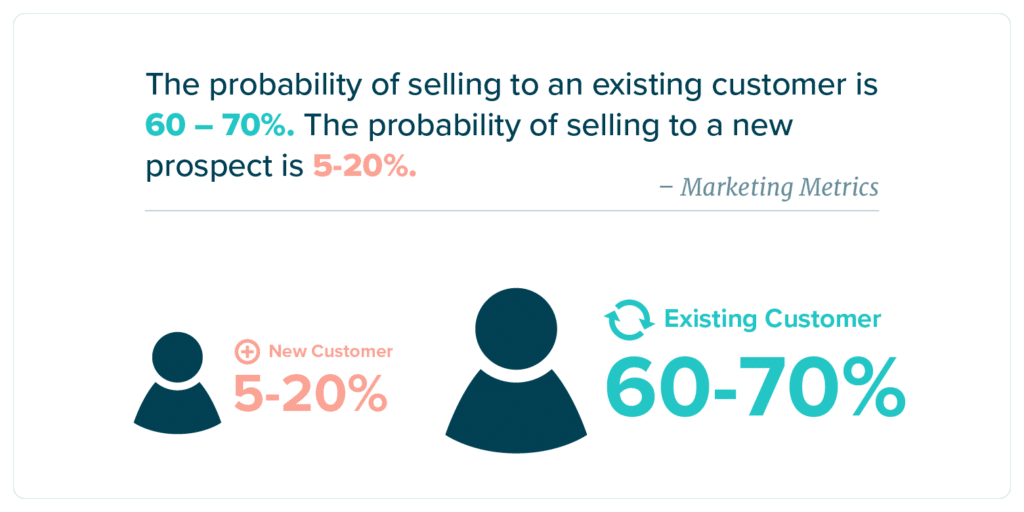 There is a 60-70% chance of selling to an existing customer, while selling to a new prospect is just 5-20%.
Customers that are satisfied with their purchase from a company are much more likely to return than those who had a poor experience or find another option that better suits their needs at a lower cost or convenience level.
As such, businesses must focus on maintaining high levels of satisfaction among their existing customer base to ensure loyalty for long-term growth and sustainability.
5. Improved Word-of-Mouth Marketing
Loyal customers are your best brand ambassadors.
They're more likely to leave reviews online or recommend and spread positive feedback about a company's products and services through word-of-mouth advertising. This creates valuable social proof for new buyers looking into the brand before making their purchase decision.
Your business can bring in additional revenue while saving money on traditional forms of advertising, which often require higher investments upfront but yield relatively lesser results over time compared to organic referrals.
6. Increased Customer Lifetime Value
Retaining valuable repeat customers maximizes profitability by leveraging what could otherwise be treated as one-off transactions into long-term relationships. This provides higher financial returns over time due to increased loyalty.
The average customer spends 67% more with a company after becoming a loyal member.
7. Improved Employee Morale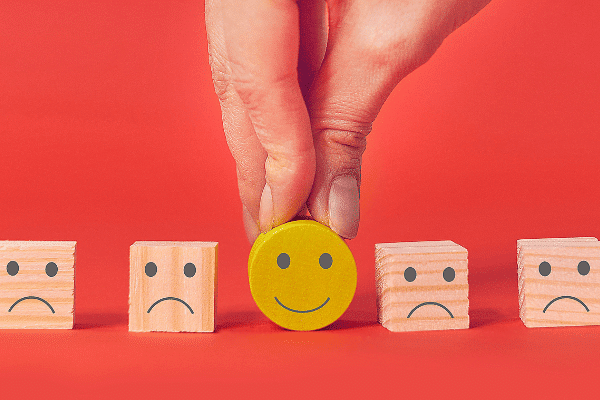 Working in a team that offers superior customer service and loyalty can be incredibly rewarding, resulting in higher job satisfaction and productivity.
It creates less stress for employees due to customers sticking around longer and allows them to use their time more efficiently because they're working with loyal customers who already understand the product/service as well as the company culture.
Now let's talk programs and strategies.
Surefire B2B Loyalty Programs and Strategies
Strategies
Customer loyalty in a B2B setting is entrenched in five influences that shape our strategies. These influences, which are backed by various research and studies, are relationship quality, customer value, customer involvement, perceived switching costs, and returns management.
Relationship Quality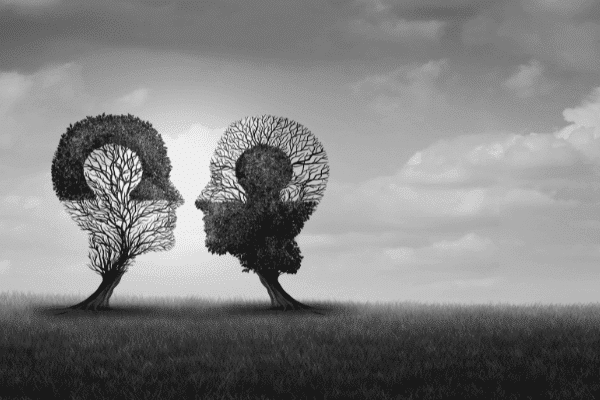 Maintaining long-term relationships with stakeholders is key to surviving in mature markets. Relationship quality is an invaluable tool that secures customer loyalty, boosting your business's competitive edge while delivering greater satisfaction for customers.
There are three principal factors that determine the success of relationship quality: trust, commitment, and satisfaction.
Trust is Key
The first step in any relationship is building trust in the integrity and behavior of a business.
Customers need to trust that they are dealing with a company that will deliver on its promises.
As such, businesses need to be transparent about their offerings and communicate what customers can expect from them. They must create an atmosphere of reliability, consistency, and dependability to create long-term relationships with their customers. This builds trust and helps foster an environment of mutual respect between both parties.
Commitment is Crucial
Commitment is another vital factor for successful B2B relationships. Customers want assurance that the company they are dealing with is committed to consistently providing them with high-quality products or services.
Demonstrate commitment and show customers you take their needs seriously by always striving for excellence in product or service delivery, keeping up with industry trends, and making sure offerings remain competitive.
This shows customers that you are invested in providing them with the best possible experience every time they interact with the company.
Satisfaction Matters
Customer satisfaction must be nurtured by providing satisfactory solutions.
This means being in tune with the needs and desires of your customers. A very effective strategy for this is relationship marketing. This technique wins customers to become long-term partners in a personalized journey of tailored communications and rewarding experiences.
To make it work, you organize customer segments according to interests, preferences, or past behaviors.
Customer Value
Customer value is the total benefit that a customer receives from buying a product or service.
It is defined by how well a product or service meets a customer's needs- objectively (through features and characteristics) and subjectively (the overall satisfaction with those features). The higher the perceived value, the more likely customers are to be loyal to a brand.
In B2B contexts, customer value can come from tangible aspects such as price competitiveness or quality assurance that provide an immediate return on investment; or intangible factors such as trustworthiness or reliable support services that contribute towards long-term loyalty.
Customers also consider how well your product or service fits into their existing infrastructure and their sense of identity with your brand when forming opinions about your offerings' overall worth.
Customer Involvement
Customer involvement is a concept that refers to the degree to which customers are engaged in the development, production, and delivery of products or services. It encompasses everything from customer feedback and surveys to co-creation and co-innovation activities.
When customers have an active role in the design, fabrication, testing, implementation, or use of a product or service, they often develop greater investment in both their purchase decisions as well as long-term loyalty and advocacy advertising for the company providing it.
We will further discuss this in the "co-creation" section below.
Perceived Switching Costs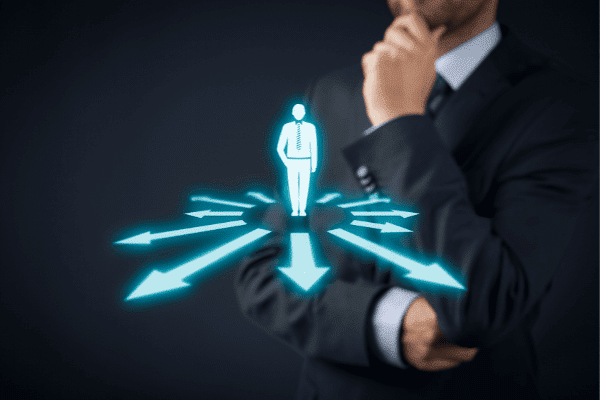 Perceived switching costs are the subjective opinion of a customer's impression of how hard it would be to switch from their current product/service to an alternative.
It is influenced by different factors, such as:
time and effort required for the switch itself
the learning curve associated with understanding a new product or service
cost of switching (transaction fees, etc.)
loss in value due to disadvantages offered by the new provider
psychological discomfort that comes with making a change
risk factors (trustworthiness, reputation) associated with the alternative option
perceived lack of incentives or loyalty programs provided by existing vendor
prior experiences that may lead one to believe they're better off sticking with what they already have.
In essence, perceived switching cost creates inertia—it gives customers the inclination not to switch even if there may be better alternatives available on offer elsewhere.
As such, it is essential for businesses these days to ensure they are providing ample incentives—such as introductory offers and lower pricing—for potential buyers not only to give them serious consideration but also make actually make the switch.
This ultimately leads toward longer-term commitment from consumers and creates a sustainable competitive advantage over competitors who lack such capabilities.
Returns Management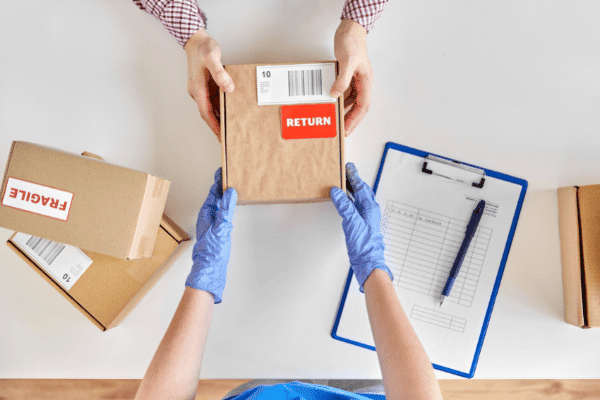 Returns management is the process of receiving, controlling, and managing returns of products or services due to unsatisfactory performance, damaged goods, and customer dissatisfaction.
It's an important part of the business cycle and encompasses several activities, such as:
communicating with customers who initiate the return process through their experience with a product or service
tracking items once they are returned
determining whether returns are resalable (if not discarded)
issuing credit or refunds for returned merchandise
identifying system-wide issues that could lead to problems in the future
The process begins when a customer sends an item back for any reason, such as poor quality or a wrong purchase decision.
Then, the company decides what they can do with this product. It can be:
resold at a lower cost because it's already been opened
exchanged for another undamaged version
replaced in its original containerization
inspected before being put into stock again
credited against another purchase by the same customer
disposed of properly if unusable/unwanted/damaged beyond repair, etc.
Depending on which stage you're focusing on within returns management, there may be different associated tasks, such as:
collecting documentation related to incoming orders/returns
including proof of sale from customers (receipts)
returning defective products after inspection
maintaining record accuracy throughout inventory movement using up-to-date information available both internally & externally (web portals)
exchanging goods according to warranty timelines across various jurisdictions where applicable
Customers appreciate being able to trust that their purchases will be easy and convenient from start to finish, with fast refunds or replacements available should something go wrong.
Programs
To implement the strategies outlined above, B2B companies use loyalty programs.
B2B loyalty programs increase customer loyalty, reduce customer churn rates, and attract new customers.
Leveraging data collected through the program, businesses gain valuable insights into market trends and customer preferences.
Using these insights in combination with strategic marketing techniques, businesses can create even more tailored loyalty programs that will better meet the needs of their partners and customers while also increasing revenue.
Here they are.
VIP and points-based loyalty programs
Points-based loyalty programs are one of the most popular loyalty programs. In a points-based loyalty program, customers earn points for every purchase or action they take. In exchange for these points, they can receive discounts, free products, or exclusive access to products or services for their current or future purchase.
VIP programs are a form of loyalty program membership where customers must reach a certain threshold (usually spending a certain amount of money or taking a certain number of actions) to become VIPs. VIP members often receive exclusive rewards, such as early access to new products or services, free shipping, or concierge service.
Referral programs
You can encourage customers to promote your business to their friends and family through a referral program. In a referral program, customers earn rewards (such as discounts or free products) for referring new customers to the company.
To be effective, referral programs should be easy to use and offer attractive rewards that motivate customers to participate. The program should also be well-publicized so that customers are aware of it and can easily take advantage of it.
Social media engagement
Social media engagement serves as a customer loyalty strategy in three ways:
Social media creates a sense of connection between the customer and the brand. When customers feel like they are part of a community, they are more likely to remain loyal to the brand.
It allows businesses to get feedback from their customers in real-time. You can use this feedback to improve the customer experience and ensure that customers are happy with their products and services.
It empowers businesses to show their human side. Customers appreciate it when companies take the time to respond to their comments and concerns. This human interaction helps to build trust and creates a stronger relationship between the customer and the brand.
Engagement in social media is essential for any business that wants to build customer loyalty. But it takes more than just setting up a social media account and posting occasional updates. Businesses must be active and engaging on social media, promptly responding to comments and concerns.
They must analyze all valuable customer data to know how to serve them best. This way, they can create customer relationships that lead to loyalty and advocacy.
Discounts and coupons
Promoting discounts and coupons will encourage customers to buy products or services from your business. A discount is a reduction in the price of a product or service. A coupon is a voucher that entitles the holder to a specific product or service discount.
But you must use discounts and coupons carefully, as they can erode profits if not managed properly.
When using discounts and coupons, businesses should consider the following:
The type of discount: There are two main types of discounts: percentage-based discounts and fixed-amount discounts. Percentage-based discounts are typically more effective at boosting sales performance, but they can also be more expensive for businesses.
The size of the discount: The discount should be large enough to motivate customers to take action but small enough so that it doesn't waste too much profit.
The frequency of the discount: Discounts should be offered frequently enough to keep customers interested, but not so often that they become expected or taken for granted.
The discount's expiration date: Discounts should have an expiration date to create a sense of urgency and encourage customers to take action quickly.
Co-creation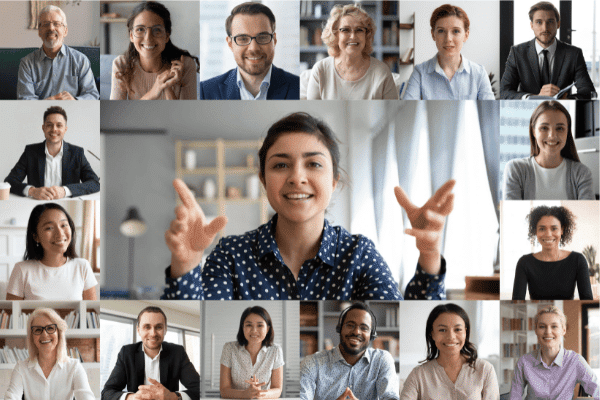 Co-creation is where businesses and customers work together to create value. Many forms of it exist, but common ones include:
Co-designing products or services.
Co-developing new features or functionality.
Co-creating content such as user-generated reviews or social media posts.
This program can build customer loyalty by giving customers a sense of ownership over the product or service.
When customers feel they have contributed to developing a product or service, they are more likely to be loyal to the company. Co-creation also allows businesses to get customer feedback and ideas that they can use to improve the product or service.
You can involve your existing customers in the co-creation process through the following:
Crowdsourcing: soliciting ideas or services from a large group of people, typically via the internet.
Beta testing: releasing a new product or service to a small group of customers before making it available to the general public.
Focus groups: a type of qualitative research in which a group of people is asked about their opinions and feelings on a particular topic.
Measuring the Success of a Customer Loyalty Program
There are a few key metrics that you can use to measure the success of your rewards program, including:
Customer lifetime value
measures the total value a customer will generate for your business throughout their relationship with you.
Customer retention rate
measures the percentage of customers who stay with your business over a period of time.
Referral rate
measures the percentage of customers who refer new customers to your business.
Net promoter score
measures customer satisfaction and loyalty and is calculated by asking customers how likely they are to refer your business to a friend or family member.
Customer engagement rate
measures the percentage of customers actively engaged with your brand, such as by visiting your website, reading your emails, or following you on social media.
Conversion rate
measures the percentage of customers who take the desired action, such as making a purchase or signing up for a subscription.
The average order value
measures the average amount spent per order.
Revenue per customer
measures the average amount of revenue generated per customer.
Customer satisfaction score
measures how satisfied customers are with your products or services.
Customer churn rate
measures the percentage of customers who stop doing business with you over some time.
Conclusion
The bottom line of customer loyalty is customer success. Customers are more likely to be loyal to your brand if they are happy. There are many different ways to create customer loyalty programs, and you must carefully choose the right one for your business.
FAQs
If you still got questions, you might just find your answers here.
What Makes a B2B Customer Loyalty Program Different from B2C
B2B loyalty programs:
1. may have different requirements for membership and may involve longer-term commitments from customers.
2. are more complex than B2C programs because they often involve multiple decision-makers and stakeholders.
3. often require more engagement and communication with customers, as well as more detailed data tracking and analysis to measure success.
4. may have a different threshold for rewards, as the purchase values are usually higher than B2C.
What are the five stages of customer loyalty?
1. Awareness: The customer is aware of your brand but has no interaction with it.
2. Interest: The customer is interested in your brand and may have interacted with it.
3. Consideration: The customer is considering doing business with your company.
4. Loyalty: The customer is loyal to your brand and is a repeat customer.
5. Advocacy: The customer is an advocate for your brand and promotes it to others.
What are the 3 Rs of customer loyalty?
1. Recognition: Customers should feel recognized and valued by your company.
2. Reward: Customers should be rewarded for their loyalty to your brand.
3. Retention: Customers should be retained through great customer service and product quality.