Why should you prioritize your B2B customer retention game plan?
Customer dissatisfaction can seriously hurt an organization's overall success. It shrinks the customer base, increases reliance on new or volatile customers, and damages the company's reputation over time.
When customers experience dissatisfaction, the way they react and how service providers respond to it can make or break a business relationship.
You must note that a satisfied customer isn't necessarily loyal, and dissatisfied customers aren't always disloyal, either. Some buyers may not take any action when they're unhappy, while others may complain or switch suppliers altogether.
Ultimately, the customer's action and the company's reaction or reactive response to that action determine whether that customer is retained.
In this post, we've outlined six winning customer retention strategies that have been proven to work. You'll also find practical suggestions on how to put each plan into action.
Scroll down and get started.
What is B2B Customer Retention?
B2B Customer Retention is a business strategy focused on retaining existing clients and customers, as opposed to acquiring new ones.
It involves understanding the needs of current customers and working towards meeting those needs to maintain a long-term customer relationship.
The key components of an effective B2B customer retention strategy can be broken down into three parts: communication, segmentation, and service.
Business-to-business relations don't end with a sale—they're just the beginning.
For B2B exchanges to succeed, customers should be encouraged to invest in stronger ties between them and their suppliers. What motivates this connection? That's what needs further exploration.
Understanding the Stages of the Customer Life Cycle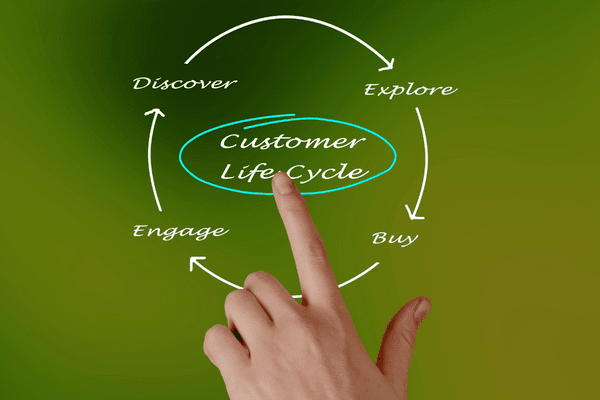 The customer life cycle is the journey that a customer takes from first becoming aware of a product or service to eventually becoming a loyal customer. By understanding which stage of the customer timeline your customers are in, you can adjust your content and communication strategy accordingly.
There are six stages in the customer life cycle:
Awareness
The awareness stage of the customer life cycle is when the prospective client becomes aware that they have a need or want that a product or service can meet. In this stage, customers are just beginning their research and are not yet ready to purchase.
Businesses must start building relationships with potential customers during this stage. They can do it through various marketing activities, such as content marketing, customer acquisition, search engine optimization, and social media marketing.
By supplying potential customers with valuable information, businesses can build trust and establish themselves as a credible source of information.
As customers move through the awareness stage and become more informed about their options, they will be inclined to consider doing business with the companies they have established a relationship.
Interest
In the cycle's second stage, customers become more interested in a particular product or service and compare different options. During this stage, businesses should focus on differentiating themselves from their competitors.
One way to differentiate your business is to highlight your unique selling proposition (USP). Your USP makes your business different from and better than your competitors.
Promoting your USP can help potential customers understand why they should do business with you instead of your competitors.
Consideration
As customers enter the consideration stage, they are narrowing down their options and are getting closer to making a purchase decision. It's the time when businesses need to focus on converting leads into customers.
There are many ways to convert leads into customers, such as offering free trials, discounts, or hyper-personalized messages. By using these strategies, businesses can encourage potential customers to take the next step and become paying customers.
Purchase/Enrollment
Customers finally commit to buying your product or service at the purchase or enrollment stage. It is when businesses need to focus on providing an excellent customer experience. After making a purchase, customers will form an opinion of your business based on their interactions with you. Therefore, it's crucial that every touchpoint is positive and that customer expectations are met or exceeded.
Here are tips for doing this:
Make the purchase process smooth and easy. Customers should find what they're looking for quickly and hassle-free. Too many complicated steps or difficulties in navigating your website will drive them away.
Offer customer support. It could be in the form of live chat, a phone number they can call, or even just helpful FAQs on your website. If they have any questions or problems, they should be able to get help quickly and easily.
Give them a good deal. Whether this is a discount, free shipping, or some other incentive, ensure customers feel like they're getting good value for their money. Take advantage of bargains; everyone loves them!
Maintain contact with the customer after they've received the product. It is a great opportunity to make sure they're happy with their purchase and that everything arrived as expected. It's also a chance to upsell or cross-sell related products.
Use/Adoption
The customer journey doesn't end after making a purchase. The real work begins in the next stage of the journey: the use or adoption stage.
In this stage, customers are using your product or service and starting to form long-term opinions of your business. It is where you start to build (or lose) customer loyalty.
To ensure that customers have a positive experience at this stage, it's important to provide quality product support and customer service. You need to secure that your product or service continues to meet their needs over time.
Loyalty/Advocacy
The final stage of the customer cycle is loyalty or advocacy. In this stage, customers are not only satisfied with your product or service but are also willing to recommend it to others.
Advocates are your most valuable customers. They love your brand and constantly sing your praises to anyone who will listen. True brand advocates give you feedback, post positive reviews, and even promote your products or services to their networks.
They're such big fans that they not only make repeat purchases but also bring new customers to your doorstep. Loyal customers are a great help to your customer acquisition strategies.
Now the opposite of customer loyalty is customer churn. Churn is when a customer quits doing business with you. No matter the reason for customers leaving, churn is costly for businesses. You want to avoid it at all costs.
Identifying the Warning Signs of Customer Churn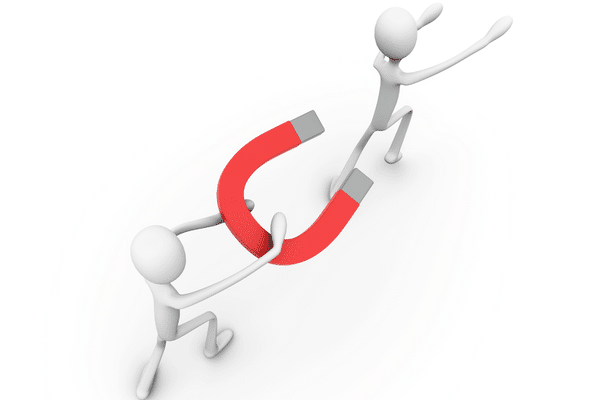 There are several warning signs that a customer is at risk of churning. By keeping an eye out for these, you can take action to prevent them before it's too late.
Some common warning signs of customer churn include:
Decreasing Interaction Level
If a customer frequently interacts with your company, it's a good sign that they're engaged and interested in your product or service. However, if the level of interaction decreases over time, it's often a sign that the customer is losing interest. It could manifest in less engagement with customer support, fewer logins and social media interactions, or decreased website traffic.
If you notice a decrease in interaction, reach out to the customer and see what's going on. It could be simple as they're busy with other things and just need a reminder. Or it might be that they're not using your product as much as they thought they would. In that case, you can offer tips on getting more out of it. Either way, it's always better to proactively reach out than do nothing and risk losing a customer.
Dropping Usage Pattern
A dropping usage pattern is when a customer stops using a product or service with or without any conscious decision to do so.
It happens for different reasons, such as changes in lifestyle or circumstances, moving to a new location, or (the worrisome part) dissatisfaction with the product or service.
In some cases, a customer may re-engage with the product or service later. But sometimes the customer never comes back.
Tracking customer usage patterns is essential for two reasons.
First, understanding why customers stop using a product or service can help businesses improve their offerings. Second, it can help businesses take steps to prevent existing customers from leaving in the first place.
There are a few different ways to track customer usage patterns:
Review customer purchase history.
Monitor customer engagement.
Conduct customer surveys.
Review customer complaint history.
Monitor social media.
When tracking customer usage patterns, businesses should look for both one-time drops in usage and sustained declines. One-time drops in usage can be caused by factors like a customer going on vacation.
Sustained declines in usage can be caused by frustration with the product or service or transfer of residence.
Shifting of Business Model
The business model of a company is how it generates revenue. It includes the products or services the company sells, the prices it charges, and the channels through which they are sold (e.g., online or in-store).
A company's business model can change over time as it introduces new products or services, enters new markets, or alters its pricing strategy.
A company's shift to new market segments or product categories can significantly impact B2B customer retention. Your business client may no longer be interested in your products or services, or they may no longer be able to afford them.
As such, businesses must monitor these changes to find ways to align their offering with their customers' new needs and preferences.
Changing Management Personnel
One major cause of customer churn is a change in management personnel. It can happen when a business client's primary contact leaves the company, is replaced by someone new, or when there is a change in the upper management of a company, such as a new CEO.
These changes can disrupt the relationship between the business and its customers. New managers may not have the same relationships with customers as their predecessors, or they may not be as familiar with the company.
They may also implement changes that are not in line with customer needs and preferences or has a different vision for the company.
To mitigate the impact of personnel changes, businesses should have a plan in place for how maintaining relationships with customers and ensuring that they are kept up to date on changes within the company.
Failure to circumvent churning customers can result in grave repercussions.
The Consequences of Losing a Customer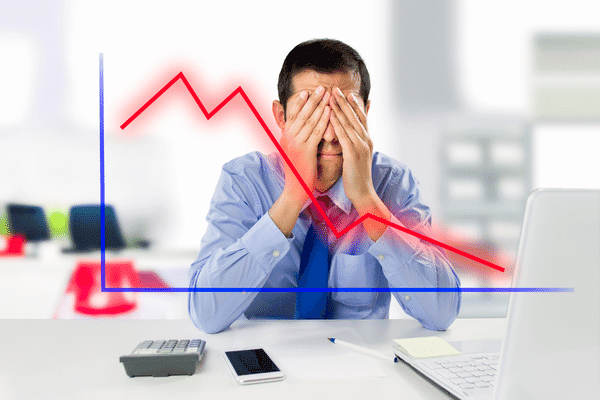 Here are the key reasons why businesses need to avoid losing customers.
Loss of future business opportunities
Damage to the brand image
Negative impact on the bottom line
Employee layoffs
Lost market share
Difficulty in recapturing former customers
The consequences of losing a customer can be far-reaching and long-lasting for any business.
Loss of Future Business Opportunities
First and foremost, there is the potential loss of future business opportunities when a customer leaves.
Without these customers, there will likely be fewer sales and revenue generated in the future as customers may not return if they had a bad experience or felt they received poor service.
Additionally, customer loyalty will likely decrease as well, leading to fewer repeat customers and referrals in the future.
Damage to the Brand Image
A further consequence is a damage to the brand image. When customers are dissatisfied with their experience or feel that a company mistreated them, word of mouth spreads quickly – potentially resulting in negative publicity for the brand.
This could ultimately lead to a drop in sales and goodwill for the company going forward, which negatively impacts its ability to grow in size or harvest demand.
Negative Impact on the Bottom Line
The impact on the bottom line also cannot be overstated.
Loss of sales from departing customers can cause serious financial losses for any business. This could mean decreased profits or even losses, which would need to be addressed through cost-cutting measures such as reduced spending or layoffs.
Employee Layoffs
Another immediate consequence of any company losing customers is often employee layoffs.
When you lose customers, you also lose revenue that helps pay for staff salaries and benefits. As such, companies may be forced to downsize to adjust their costs to match their new income levels.
This can mean laying off employees or reducing hours for those who remain; both scenarios are difficult for companies to manage as they try to keep their operations running while managing reduced cash flow.
Lost Market Share
If a competitor takes over your former customers, then it could mean losing valuable ground in your industry that may be difficult or impossible to recover from without significant effort.
It gives the impression that other players are outpacing you and have more control of the market share your company previously held.
Difficulty in Recapturing Former Customers
An undesired consequence of a business losing a customer is that it is difficult to recapture them in the future. There have been studies undertaken that show the majority of customers will not return once they've left, no matter how hard the company works to retain them.
This means businesses are forced to turn to new customers to maintain their success.
It takes significantly more effort and resources to acquire new customers as opposed to maintaining existing relationships. So it is advisable for any business wishing to stay profitable over the long-term that they work hard to earn their customers' loyalty and satisfaction early on.
These consequences underscore the importance of retaining customers for businesses. So, what can you do to prevent customers from leaving?
It's time to talk about retention strategies.
6 Strategies to Improve B2B Customer Retention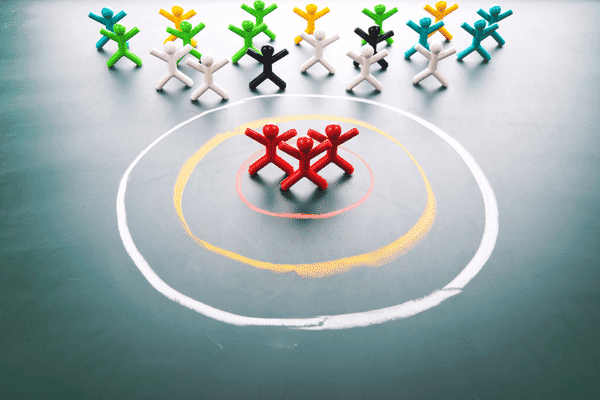 Here are six of the most effective customer preservation strategies that you can use to keep customers from churning:
Understand Customer Behavior
Customer behavior is the study of how customers interact with a company or product. By understanding customer behavior, businesses can learn how to keep customers from leaving. Some factors that influence customer behavior are need, perceived risks and benefits, perceived value, and customer loyalty.
By understanding these factors, businesses can develop strategies to keep customers happy and engaged. For example, if a company understands that its clients value convenience, it can ensure that its products are easily accessible and that its checkout process is quick and easy. Or, if a business knows that its customers are concerned about quality, it can make sure to offer high-quality products only.
Keep a Pulse on Customer Satisfaction
Customer satisfaction is a measure of how well a company meets its customers' needs and expectations. It is usually measured using surveys or other customer feedback mechanisms.
Keeping a pulse on customer satisfaction is one of the most effective ways to prevent customer defection. By constantly monitoring feedback, companies can identify areas of dissatisfaction and correct them before they lead to churn. Regular check-ins with customers can show them that their business is valued and help to build strong relationships.
Invest in Relationship Management
Relationship marketing is a customer retention strategy focused on building long-term customer relationships. Investing in relationship management can be a key strategy for keeping customers from leaving.
By nurturing existing relationships and proactively managing potential problems, businesses can keep customers happy and reduce the risk of them taking their business elsewhere.
Establishing protocols for addressing customer concerns and regularly surveying customers to gauge satisfaction levels can help identify potential issues before they become major problems.
Moreover, developing a system for following up with customers after they make a purchase can help to ensure that they are satisfied with their purchase and that any problems are addressed promptly.
Educate Employees on Customer Retention Plan
Employees are the frontline when dealing with customers, so they must be on board with the company's retention strategy plan. After properly training them on executing the retention plan, they will be held accountable for meeting customer retention goals.
Investing in employee education can pay big dividends. By ensuring that employees are up to speed on the latest retention strategies and techniques, businesses can ensure that those plans are being properly executed and employees see the value in keeping their current customers happy. These steps can dramatically reduce customer loss due to poor customer service.
Provide Customers Value for their Money
Value is the most critical factor in customer retention. Many customers who defect from a company do so because they don't feel they're getting enough value for their money.
Put your foot on their shoe. You work hard for your money, so when you spend it on a product or service, you want to feel confident that you're getting your money's worth. The same is true of your customers. As a business owner, it's your responsibility to provide value for your customer's investments.
Here are a few ways to make sure you're giving them the best possible value:
1. Offer a quality product or service. This one is a no-brainer. If you want loyal customers, you must ensure they're happy with what they've purchased from you. That means offering a high-quality product or service that meets their needs and expectations.
2. Stand behind your product or service. If something goes wrong, stand behind your product or service 100%. Customer satisfaction is key, so do whatever it takes to make things right.
3. Offer fair prices. Value doesn't have to mean the cheapest option on the market. Instead, focus on offering reasonable prices for the quality of your product or service.
4. Deliver what you promise. When you make a promise to a customer, whether in terms of quality, delivery time, or price, make sure you deliver on that promise. Customer trust is hard to earn and easy to lose, so don't take it for granted.
Use Technology to Your Advantage
Technology has revolutionized the way businesses operate and interact with customers. By harnessing the power of tech marketing, businesses can more effectively keep track of customer data, establish communication channels, and deliver a higher level of customer service.
Businesses can also use technology to automate some of the more repetitive and mundane tasks associated with customer retention, such as sending follow-up emails or surveying customers. This frees employees to focus on more important tasks, such as developing customer relationships.
Furthermore, you can use technology to create a more personalized experience for customers. By leveraging data collected from customer interactions, businesses can send targeted communications and offers more likely to resonate with each customer. In today's competitive marketplace, personalization can be a powerful tool for differentiating your business and winning customer loyalty.
Here are examples of technology to help you achieve your retention goals:
Customer relationship management (CRM) software: tracks customer data and interactions.
Email marketing software: automates the sending of follow-up emails and surveys.
Personalization software: creates targeted communications and offers.
Web analytics software: monitors customer behavior and preferences.
Social media monitoring tools: tracks customer sentiment and engagement.
Marketing automation software: automates marketing tasks like segmentation, lead nurturing, and campaign management.
The strategies outlined above are just a few of the many ways businesses can improve customer retention. Implementing the right mix of techniques for your business shows that you are devoted to customer success as you are to your own.
Conclusion
The takeaway for businesses is that customer retention should be a key focus to achieving sustainable growth. By understanding the importance of customer retention and adopting the right strategies, businesses can create long-lasting relationships with their customers, leading to increased loyalty and customer lifetime value.
FAQs
Here are other questions about B2B customer retention that we have not covered in the article.
How can you ensure that your customers remain satisfied with your products or services?
Some of the most effective methods are:
1. Keeping your customers informed about changes to your products or services.
2. Offering customer support that is responsive and easy to access.
3. Listening to customer feedback and considering it when making product or service changes.
4. Making it easy for customers to purchase your products or services.
5. Offering discounts and other incentives for repeat purchases.
6. Delivering excellent customer service.
7. Staying up-to-date with the latest technology and using it to improve customer retention strategies.
What are the key factors that contribute to customer loyalty?
1. Quality products or services.
2. Fair prices.
3. A positive customer experience.
4. responsive customer support.
5. Easy purchase process.
6. Regular communication and updates from the company.
What is a good customer retention rate?
Some experts suggest reasonable customer retention rates are around 80-85%. For every 100 customers, 80-85 would continue doing business with the company after their first purchase. However, the ideal retention rate will vary depending on the industry and other factors.