What are your thoughts on building and sustaining a B2B community management for your business?
As the former Arsenal manager Arsene Wenger once said: "A manager is a guide. He takes a group of people and says, 'With you, I can make us a success; I can show you the way.'"
Do you know the benefits of creating and fostering communities among your customers and prospects? What are the best methods to manage online communities? How can you make sure your B2B community initiatives are successful?
This article provides answers to those questions.
Read on to learn more.
What is a B2B Community?
A B2B community is a platform that allows organizations to connect and network with each other, as well as share information, ideas, and resources related to their respective industries.
A B2B community creates an environment where organizations can effectively communicate, collaborate on projects, and learn from one another.
This ultimately helps organizations maximize their potential while cultivating strong business relationships.
The main goals of a B2B community are to:
Make it easier for organizations to find the right business partners;
Develop trust between businesses;
Foster collaborations among members in order to more effectively solve problems;
Encourage knowledge sharing through discussion forums;
Allow for fast communication between members about new services or products offered by other companies within the network.
Ultimately, having access to such a platform can be key for businesses looking to accelerate growth and expand into new markets faster.
With easy access to important industry contacts or valuable insights from experts within their field, a well-designed B2B community can open up opportunities for businesses vying for success in the global economy.
The Different Types of Communities that Businesses Can Create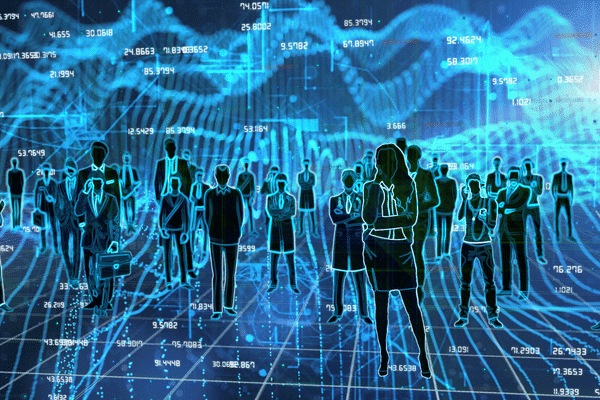 Every business is different, so each business must create different types of communities to succeed.
There are four general types of communities that businesses can create: customer communities, expert communities, partner communities, and employee communities.
Each type of community serves a different purpose, and businesses need to understand which type of community they should be created to achieve their goals.
1. Customer Community
A customer community is a group of customers who share a common interest in a company's products or services.
The purpose of a branded customer community is to allow customers to interact with each other to raise questions, provide feedback, and collaborate on solutions.
This community helps businesses to identify new sales opportunities and cultivate relationships with potential customers. By creating a customer B2B community, businesses can reap many rewards that will help them to grow and succeed.
Here are three reasons you should build a customer community for your business.
Customer Communities Foster Relationships Between Customers
When a business creates online customer communities, the customers become more than just names or faces; they become part of a group that shares something in common.
This sense of community can lead to deeper relationships and loyalty among customers. In turn, these customers will become brand advocates, recommending the business to others and giving it positive online reviews.
Customer Communities Provide Valuable Feedback to Your Company
A well-run customer community can provide valuable feedback to your company about your products, services, and overall customer experience.
Customers will often use the community to submit feature requests or report bugs. And because your employees moderate the community, you can be sure that the feedback you receive is actionable and relevant.
Customer Communities Can Reduce Support Costs
By enabling customers to help each other in the customer community, you can reduce the number of support tickets that need to be answered by your team.
When customers can find answers to their questions in the community, they're less likely to submit a ticket to your support team.
And when customers can find solutions to their problems in the community, they wouldn't need to contact customer support for help.
2. Expert Community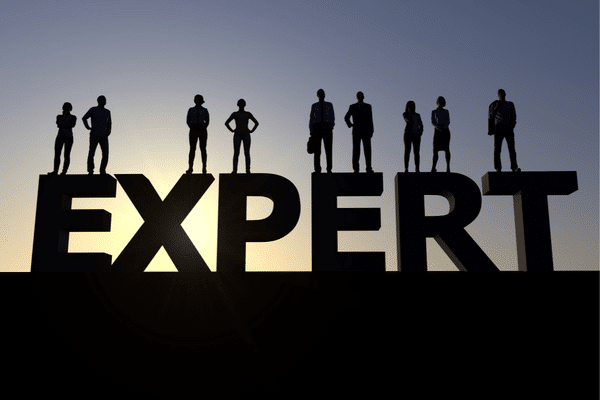 An expert community is made up of people who are passionate about a niche and who are also thought leaders in the industry. They're the people who are constantly sharing their knowledge with others and who are always looking for new ways to perfect their skills.
The purpose of an expert community is to allow businesses to connect with experts in their industry and get advice and insights on specific topics. These community-building efforts can be used by businesses to research new products, find solutions to problems, and learn about best practices.
Tapping into the collective knowledge of an expert community can help you make better-informed decisions that lead to improved results.
When you build an expert community around your B2B product or service, you also benefit in two ways.
First, you get free marketing from all experts talking about your product or service. Second, you get access to a group of highly qualified potential customers who are already interested in your offer.
3. Partner Community
A partner community is a business partnership among companies or organizations in which each benefits from the other's resources.
The term "partner community" can also refer to a group of companies that have formed a strategic alliance to cooperate on a particular project or initiative.
In a partner community, each company shares its strengths and weaknesses with the other partners to create a more robust and effective partnership.
This concept is often used in the context of supply chain management, as it can help ensure that all supply chain members are working together efficiently.
Let's explore the benefits of partner B2B communities and how they can help your business.
Mutually-beneficial Relationships
One of the primary benefits is that it provides a way for companies to build relationships. When companies have strong relationships, they are more likely to trust and do business with each other.
Partner B2B communities can help companies save time and money by collaborating on projects and sharing best practices.
Visibility
Another benefit of partner B2B communities is that they can help companies increase their visibility. When companies are active in a community, they are more likely to be seen by potential customers and partners.
This increased visibility can lead to growing business opportunities and sales and help companies build their brand equity.
Companies participating in a community are seen as industry leaders and experts. It can help magnet new customers and partners.
Market Intelligence
Finally, partner B2B communities can help companies increase their market intelligence. By monitoring the activity in a community, companies can stay up-to-date on industry trends and developments.
In addition, by interacting with other companies in the community, companies can gain insights into their competitors' strategies. You use this data to develop more effective marketing plans and strategies.
4. Employee Community
A strong employee community is important for several reasons.
It helps with employee retention. Employees who feel like they are part of a community are likelier to stick around.
It helps with employee morale. A strong sense of community can make employees feel appreciated and valued, making them happier and more productive.
It helps attract new talent. Potential employees want to see that there is a sense of community within a company before they decide to join the team.
Tips
Building a strong employee community doesn't happen overnight. It takes time, effort, and careful planning. Here are a few tactics to help you get started:
Define your company culture. What values do you want to promote? What kind of environment do you want to create? Answering these questions will help you develop guidelines for how you want your employee community to function.
Encourage employees to get involved. There are different ways to do this – from hosting social events to creating volunteer opportunities. The key is ensuring that there are plenty of opportunities for employees to interact personally.
Promote open communication. Employees should feel safe to communicate openly with each other without fear of judgment or retaliation. It means fostering an atmosphere where people feel comfortable offering constructive feedback and speaking up when they have ideas or concerns.
Provide support and resources. Employees should feel they have the support and resources they need to succeed in their roles. It includes everything from access to quality training materials to regular check-ins with their managers.
Celebrate successes – big and small! Make sure you take the time to celebrate every success, no matter how big or small. It will show your employees that their hard work is appreciated and that their contributions make a difference.
B2B communities are great for connecting with other professionals, sharing best practices, and networking.
Now, setting up a community is easy, but sustaining it to be an effective long-term business strategy requires more. Hence, the next part.
How to Manage a Community Effectively?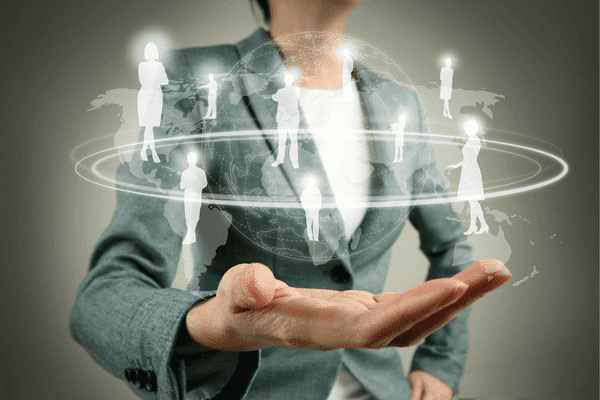 Here are proven methods for managing a community effectively:
Define the Community's Mission and Vision
A mission and vision are two of the most important aspects of any business, especially a B2B community. Mission statements are brief descriptions of what a business does and why it exists, while a vision statement is a long-term goal or desired future state.
Having a mission and vision gives businesses direction and purpose and can help them with customer retention.
Why You Need a Mission Statement
Your mission statement can help you to attract the right kind of customers. If you clearly understand your target customer, you can craft a mission statement that resonates with them. Your mission statement can also help to keep your team members focused on the company's goals.
The best way to write a mission statement is to think about what your company does day-to-day and identify the one thing that would make the biggest difference to your clients or customers.
It is something you can always keep top of mind as you continue to build your community and add new features that will help the members achieve their goals.
Your mission statement is a way of introducing your business to the world. It's an elevator pitch that tells people what you do, how you do it, and why it matters.
Tips
Here are four tips for creating a strong mission statement for your b2b community:
Keep it concise and impactful. You want people to be able to read it and instantly understand what your community is all about.
Be realistic. Your mission statement should be achievable. Don't make promises that you can't keep or set goals that are impossible to reach.
Highlight the value proposition. What makes your community different? Why should people care? Your mission statement should answer these questions clearly and compellingly.
Get input from your members. The best way to ensure that your mission statement resonates with your audience is to get input from them during the crafting process. Ask them what they expect from the community, and use their feedback to fine-tune your statement.
Why You Need a Vision Statement
Your vision statement can help you to make strategic decisions about where to allocate your resources. If you have a clear vision for the future of your business, you can make decisions today that will help you to achieve that vision tomorrow.
Your vision statement can also help you to attract investors and partners who share your dream for the future of the business.
In contrast to a mission statement, which focuses more on the present, a vision statement looks to the future. A vision statement should be ambitious but achievable. It should inspire your team members and give them something to work towards.
Establish a Communication Protocol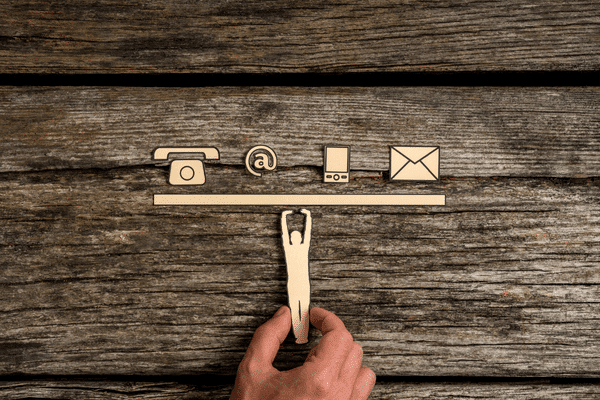 A communication protocol is a set of rules that dictate how information is exchanged between two or more parties.
In business-to-business (B2B) communities, establishing a communication protocol is vital to ensuring that all members are on the same page and that everyone's needs are being met.
Think of your B2B community as a team; for that team to function properly, there needs to be clear and concise communication between all members.
A communication protocol provides that structure by outlining how the information will be exchanged between community members.
Without a communication protocol in place, it's easy for community members to become confused or frustrated, leading to a decline in activity or an overall deterioration of the community.
How to Establish a Communication Protocol for Your B2B Community
There's no one-size-fits-all solution in establishing a communication protocol for your B2B community—it will vary depending on the size and needs of your particular community. However, there are some general guidelines you can follow to ensure that your protocol is effective:
Decide who will be overseeing the community management and facilitating communication. This person will act as the point of contact for all members and will be responsible for ensuring that the communication protocol is followed.
Draft a set of detailed rules and guidelines that all members must adhere to. These rules should outline how and when everyone will share information, what type of language is appropriate, etc. Be sure to leave room for interpretation so that community members can use their judgment when necessary.
Test your communication protocol with a small subset of your community before rolling it out to everyone. It will help you identify any potential problems so that you can fix them before the protocol is implemented.
Solicit feedback from members once the communication protocol has been established. This feedback can be used to make tweaks and improvements as necessary.
Finally, don't forget to revisit your communication protocol regularly—as your community grows and changes, so should your protocol!
Appoint a Leader or Leadership Team
A successful B2B community requires the involvement of an engaged leader or leadership team. The community leader provides valuable support to members, helping to ensure the quality and integrity of content, advocating for member needs, and promoting the community to encourage adoption and continued engagement.
The Role of the B2B Community Leader
The leader(s) of a B2B community play an important role in ensuring the quality and accuracy of information exchanged within the community.
They also keep members engaged by providing timely responses to questions and concerns and highlighting new and relevant content.
In addition, leaders advocate for the needs of the community members, working to create an inclusive and beneficial space for all.
Selecting a Leader or Leadership Team for Your B2B Community
When selecting a leader or leadership team for your B2B community, it is important to consider the goals and objectives of the community. The leaders should be individuals who are passionate about the topic of the community and who have demonstrated expertise in the field. In addition, they should be able to commit the time necessary to actively participate in and promote the community.
Create and Enforce Rules and Regulations
A successful community is governed by established and enforced rules and regulations. By doing so, you will be able to create an environment conducive to productive networking and relationship building. Furthermore, enforcing rules and regulations will help to ensure that your community remains a safe and trusted space for all members.
What rules to create?
The first step to creating a successful B2B community management is establishing basic ground rules. These rules should govern everything from acceptable language to the types of content that are allowed (e.g., no promotional materials or spam).
Setting these boundaries from the outset will reduce the likelihood of problems arising down the road.
In any community, positivity is key. To encourage positive interactions among members of your B2B community, promote collaboration and respect.
For example, you could create opportunities for members to work together on projects or host monthly discussion threads on relevant industry topics. By stimulating a sense of teamwork and cooperation, you'll create an environment where members are more likely to help one another succeed.
Discourage negative interactions
Of course, not all interactions will be positive ones. There will inevitably be disagreements among members from time to time.
When these disputes arise, it's important to deal with them quickly and fairly. Otherwise, they could spiral out of control and damage the sense of unity within your community.
If a member acts inappropriately, reach out privately and explain why their behavior is not tolerated in the community.
In most cases, a polite warning will be enough to get the person back on track. However, if someone persists in causing problems, you may need to take more drastic measures, such as banning them from the community altogether.
A reminder for the community manager
As the creator of a B2B community, you are also its most important member. As such, it's vital that you participate actively in the day-to-day running of the community.
It means promptly responding to questions and concerns, participating in discussions when possible, and being available whenever members need you.
By showing that you're invested in the community's success, you'll set a good example for other members to follow suit.
Why are rules necessary?
Businesses are built on relationships. To foster productive relationships, community members need to have a certain level of trust and respect. Establishing rules and regulations will help ensure that all members treat each other with respect and act professionally.
Another reason for imposing rules and regulations is to protect your members' privacy. When businesses share information, they trust that it will remain confidential.
If there are no rules governing how Community managers can use this information, there is a risk that it could be mishandled or even leaked. Having clear rules and regulations in place can help ensure that all information shared within the community remains confidential.
Finally, enforcing rules and regulations will help to keep your community free from spam or other unwelcome content.
It is important because you want your members to feel like the community is a safe space where they can freely network and build relationships without fear of being bombarded with irrelevant or unsolicited content.
How to enforce rules and regulations
Once you have established rules and regulations for your B2B community, it is important to consistently enforce them to maintain a productive and safe space for all members.
The first way is using software tools that automatically flag or delete content violating community guidelines. It can be an effective way to keep unwanted content from ever reaching the eyes of your members.
Another way is by manually moderating all content before it is published. It requires more work on your part, but it allows you greater control over what appears in the community.
You can also rely on the members of your community to report any violations. It helps to get everyone to feel invested in maintaining a positive environment.
Handle Conflict Resolution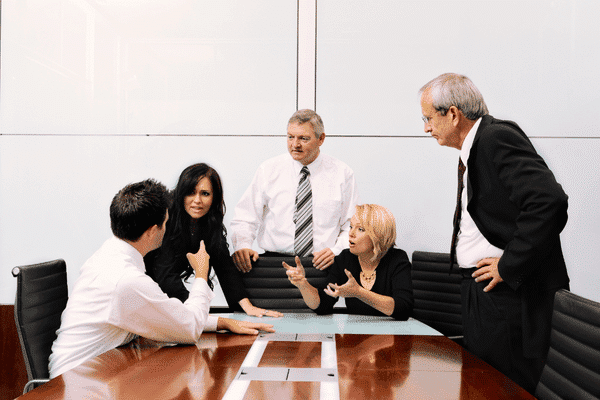 Conflict is inevitable, especially in the business world. Whether it's a disagreement between two employees or a fallout between a company and its customers, conflict is bound to happen. And when it does, it's important to know how to handle it properly.
Conflict resolution in a business-to-business (B2B) setting differs from conflict resolution in other settings. That's because the parties involved in a B2B dispute are usually more invested in the outcome.
After all, their livelihoods depend on it! For this reason, proper conflict resolution is essential to the success of any B2B community.
How to handle conflict
Identify the root of the problem. It can be difficult, especially if the parties involved are unwilling to communicate openly and honestly. However, it's important to take the time to figure out what started the conflict in the first place. Once you know that, you can begin working on a resolution.
Come up with a plan of action. You should design this plan to address the root of the problem while considering the needs of all parties involved. It's important to remember that no one likes to feel like they've been wronged, so make sure your plan is fair and just.
Put the plan into action. It is where communication comes into play. You need to be clear and to the point when communicating your plan to all parties involved. Emphasize that the goal is to resolve the conflict so everyone can move forward.
Follow up after implementing your plan. Make sure all parties are satisfied with the results and that there are no lingering hard feelings. If not, you may need to go back to the drawing board and develop a new plan of action.
A well-functioning community requires effort and planning. Following the tips above, you can set your community up for success.
The Benefits of a Nurturing B2B Community Management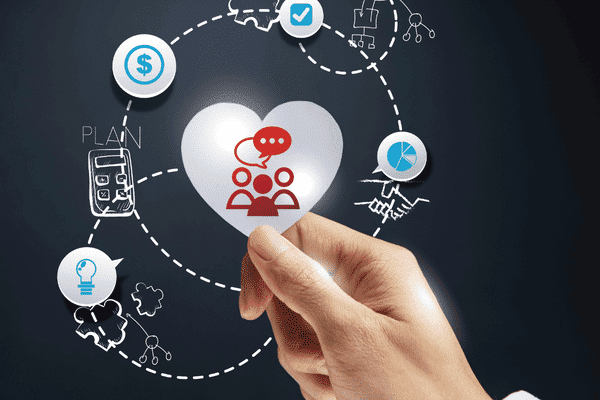 When a community is well-managed, it can help businesses do better in many ways.
Builds Brand Loyalty
A sense of community belonging helps consumers become more attached to their brands than if they didn't have any outlet where people could fit in.
They do not need customer service interactions necessary just to know what's going on (and how your business may improve).
Feedback from these spaces can also provide valuable insight as it pertains directly to potential improvements that boost customer engagement. It keeps them from running off after another company that does a better job.
Creates a Network of Promoters
The most valuable outcome of having an online community is the ability to turn members into promoters of your brand. By establishing trust and credibility with your consumers, they are more likely to recommend you to others through word-of-mouth or social media community platforms.
It is the most powerful marketing that any company could ask for. It's organic, personal, and comes from a source that potential customers are likely to trust more than anything else.
Reduces Marketing and Support Costs
As previously mentioned, online communities can help businesses save money on advertising and support. By providing a space for customers to interact with each other, businesses can take a step back and let the community do its thing. Not only will this reduce support costs (as customers will often help each other out), but it can also cut down on marketing expenses.
Fosters Innovation and Creativity
A nurturing B2B community management can provide a space for companies to come together and share ideas, encouraging creativity and innovation.
By bringing together, experts from different companies with diverse perspectives, B2B communities provide a breeding ground for new ideas. More importantly, it can offer resources and support that help members turn innovative ideas into reality.
By promoting collaboration and knowledge-sharing, B2B communities can help foster a culture of innovation and creativity within businesses.
Stronger Relationships with Customers, Partners, and Employees
By their very nature, communities bring together people with common goals or interests. It provides a safe space for open dialogue and collaboration.
As a result, members of a B2B community are more likely to trust and respect each other. This bond may even form long-lasting relationships beyond the community's scope.
Ultimately, B2B communities foster stronger relationships by bringing people together and providing open dialogue and collaboration space.
Conclusion
A well-managed community can be a powerful asset for any B2B business. By understanding the different communities and managing them effectively, businesses can tap into valuable resources to help them grow and succeed. You don't have to choose just one community, either – you can create a network of communities that each serve a different purpose. By doing so, you can create a comprehensive ecosystem that supports your business in multiple ways.
FAQs
Here are other frequently asked questions about B2B community management that we have not discussed in the article.
How do you create a community in B2B?
The best way to create a community in B2B will vary depending on the industry and target market. However, some tips on creating a community in B2B include creating online and offline communities, collaborating with other businesses, and using social media platforms.
How much does setting up and running a B2B Community cost?
The cost of setting up and running a B2B Community depends on two things: the size and complexity of the community and the level of customization and support required. 

Some key factors that will affect the cost include:
1. number of users/memberships
2. type and complexity of features required
3. level of customization needed
4. amount of support/maintenance required
Is it hard to get started with a B2B Community?
No, starting with a B2B community is not hard, as there are ways to make the process easier.
1. Make sure you have a clear goal for your Community.
2. Develop an effective strategy for recruiting new members.
3. Create an engaging environment that will keep members coming back for more.
Can I monetize my community?
Yes, you can monetize your community by creating a paid membership program or charging for advertising. You can also generate revenue by partnering with other businesses to create exclusive content or experiences available only to your community members. Whatever approach you choose, make sure that the benefits of membership are clear and appealing and that the experience is worth the investment for your members.