Trade show marketing is great for capturing leads but is a considerable investment. Not only do you have to pay for your booth, but you also have to factor in travel and accommodation costs for your team.
And if you're not careful, you can easily waste hours talking to people who aren't interested in your offer.
In this post, we have concocted a powerful preparation checklist that will help you re-energize your trade show marketing strategy. May this be the end of trade shows that don't yield the results you were hoping for.
Let's get down to business.
What are Trade Shows, and Why are They Important for B2B?
Trade shows are events where businesses in a particular industry showcase their products or services. They allow businesses to network with one another and form new partnerships.
Trade shows can also be a valuable marketing tool, allowing companies to cultivate relationships with potential customers.
For B2B, trade shows can be essential to the sales process. B2B trade shows help companies meet potential clients and partners and stay up-to-date with the latest industry trends.
It helps them gain a competitive edge. Businesses participating in trade shows often see a significant increase in sales and customer inquiries.
To get the most out of trade shows, marketing and sales teams need to put a concerted effort into their trade show marketing strategy.
One critical aspect of pulling this off is preparation. And when you prepare, there should be no room for half-measures. If you want to achieve your marketing objectives, you must work ahead of time.
So, what do you need to prepare?
Pre-Show Preparation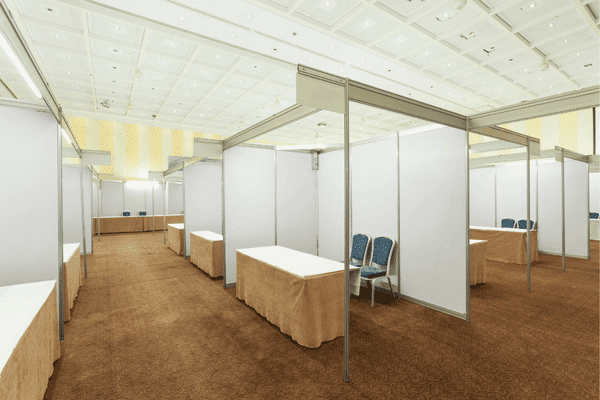 1. Analyze your goals and objectives for the trade show
When planning a trade show, you must have clear goals and objectives.
Measuring the event's success will be difficult without a clear sense of purpose. Furthermore, without specific goals, developing an effective strategy for marketing the trade show and attracting exhibitors and attendees will be heavy.
Some business goals that trade shows can help you achieve include raising awareness of the company or product, generating sales leads, building relationships with customers, or launching a new product.
2. Know your target audience
Knowing your audience helps you choose an exhibit hall that is convenient for them, schedule events and speakers that will appeal to them, and promote your event in the right channels.
You can also develop marketing materials more likely to resonate with them. If you're targeting senior executives, your materials should be different than if you're targeting small business owners.
3. Plan your budget
These events can be expensive. Companies invest significant resources in exhibiting at major trade shows. Between the cost of the exhibit space, travel, and marketing materials, you must have a complete idea of your budget before you begin planning.
Be sure to factor in all these costs, including shipping and construction expenses for exhibiting materials. Setting aside funds for contingency planning is also important in case of unexpected costs (which are to be expected).
4. Conceptualize a strong booth presence
A strong booth presence can make a big difference in the success of your trade show.
There are a few key things to remember when conceptualizing your booth.
Lighting
When choosing the lighting for your trade show booth, strike a balance between approachability and branding. You want your booth to be inviting so passersby will stop and learn more about your products or services.
But you also want your booth to reflect your brand identity and help you stand out from the competition.
One way to strike this balance is to use accent lighting to highlight key features of your booth while using softer, diffused lighting to create an overall warm and welcoming atmosphere. Another important consideration is the placement of your lights.
Be sure to place them in a way that doesn't create any glare on your display materials or signage.
Location
Be sure to research the location of your booth in relation to the other exhibitors. You want to be placed in an area convenient for trade show attendees, but you also want to avoid being too close to similar businesses.
If you're selling products, you'll want to be located near the exhibit hall entrance so attendees can easily find you when they're looking to make a purchase.
Signage
Your booth's signage should be eye-catching and easy to read from a distance. It should also be consistent with your brand's overall aesthetic. If you have a lot of text, use clear, legible fonts and formatting that will make the information easy to digest.
And remember to keep your message short and sweet. Attendees shouldn't have to spend more than a few seconds reading your signage to understand what you do and why they should care.
Exhibit design
The overall design of your booth should be consistent with your brand identity. Your booth should be sleek and professional if you have a corporate brand. If you have a more fun or whimsical brand, your booth can be more playful.
No matter your brand, your booth should be inviting and easy to navigate. Be sure to leave plenty of space for attendees to move around, and use furniture and props judiciously to avoid creating a cluttered space.
If you're exhibiting at a large trade show, consider using furniture to create distinct zones within your booth for different activities, such as demonstrations, product displays, or seating for casual conversation.
5. Prepare your booth activities
Now that you have your booth space reserved and your exhibit designed, it's time to start thinking about what you'll be doing at the trade show.
Your booth activities should be focused on generating leads and making sales. But they should also be interactive and engaging, so attendees will want to spend time at your booth.
Consider offering attendees the opportunity to:
Try out your product
Enter a contest or giveaway
Play a game
Spin a wheel to win a prize
Get their photo taken
Meet a company spokesperson
6. Create a promotional plan
A successful trade show depends on a well-executed promotional plan. Start planning your promotion at least six months in advance to ensure your trade show is successful.
Your promotional plan should include
Traditional marketing tactics such as print ads, direct mail, and email marketing.
Social media marketing campaign to generate interest and excitement leading up to the event.
PR campaigns to generate media coverage of your participation in the trade show.
All right. That's for the pre-show preparations. Now, let's move on to the on-site execution.
During the Show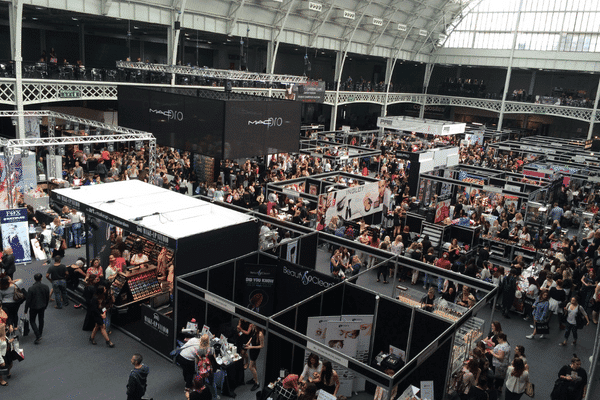 What must you do to get the most out of your tradeshow marketing strategy?
1. Make a good first impression with potential customers
First impressions matter; nowhere is this truer than at a trade show. With so many businesses vying for attention, making a good impression on potential customers from the moment they set eyes on your booth is essential.
Here's how to make sure you're making the best possible first impression:
(Some pointers have already been mentioned, but they're worth repeating.)
Greet potential customers as they approach your booth.
Have a well-designed, eye-catching display consistent with your brand identity.
Use clear and legible signage to explain what you do and why attendees should care.
Have a professional and polished appearance.
Make sure your staff is well-informed and prepared to answer questions.
Offer interactive and engaging activities for attendees to participate in.
Make an excellent first impression by being professional and attentive to potential customers.
Make sure your staff is well-trained and friendly.
Offer freebies and incentives to get attendees to stop by your booth.
2. Staff your booth with the right people
Carefully consider whom you staff your booth with. The people working the booth are critical to its success. You need outgoing sales representatives knowledgeable about your product or service and who can engage with potential customers. They should be friendly and approachable but also be able to answer tough questions.
You'll also want to make sure that your staff is well-trained on your company's unique selling points and can effectively communicate them to prospects. With the right team in place, you can create a positive experience for everyone involved and maximize your chances of success at the trade show. (Remember, they're representing your company!)
3. Engage with attendees
Don't let your visitors go without interacting with them and giving them the most unforgettable trade show experience.
Creating an unforgettable experience starts with engaging all five senses. For sight, you already have high-quality aesthetic visuals that are striking. What about the sound? Create a soundtrack that is pleasant and unobtrusive. For smell, use relaxing or invigorating scents, depending on your brand identity. For taste, offer small bites of food and light refreshments. And for touch, provide textures for attendees to explore.
Of course, you have prepared exciting activities that will make your visitors know they are the focus of your attention.
4. Have a strong lead capture system in place
The whole point of exhibiting at a trade show is capturing leads you can follow up with after the event. To guarantee a successful event, collect contact information from all potential leads.
You can use a CRM system to track leads, set up automatic email drip campaigns, or assign follow-up tasks to specific team members.
Whichever system you use, make sure it's simple and easy to use; you don't want potential customers to get frustrated and leave without giving you their information.
Now that the trade show is over, is it over?
The work doesn't stop when the show ends; it's just beginning. After-the-Show preparation ensures you get the most out of your investment.
After the Show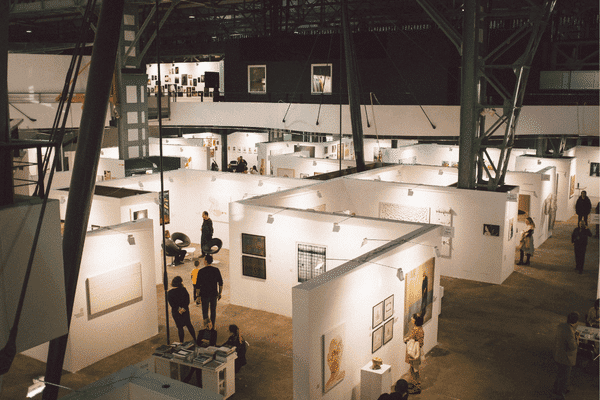 1. Evaluate your results
Performance evaluation is an important part of learning from your experiences and making necessary changes for future shows. Make sure to note what worked and what didn't, how much money you spent, and what return on investment (ROI) you achieved.
2. Follow up with leads
As mentioned earlier, the primary goal of exhibiting at a trade show is to capture leads that will eventually generate sales.
Here's a guideline for following up with leads:
Follow up with leads captured at trade shows within 24 hours
Send a personalized email appreciating them for their time and interest
In your email, attach a link to a landing page where they can learn more about your company
If they don't convert after the first email, send another one two days later
If they still don't convert, reach out to them on social media or call them directly
3. Plan for the next show
It's time to start planning your next trade show. Use what you learned to create a more effective strategy and make changes to improve your chances of success.
4. Stay connected with attendees
Just because the event is over doesn't mean your relationship with attendees has to end. You can stay connected with them by sending periodic emails, sharing relevant blog posts, or even inviting them to future events.
Hey, presto! You now have a comprehensive guide to re-energizing your B2B trade show marketing strategy. But not so fast…
Before you get out there and make it happen, there's one more thing.
Show Fatigue – how to avoid it?
Show fatigue is a common phenomenon among trade show marketers and organizers. It occurs when you've been working long hours on a project and start to feel burned out. Symptoms include lethargy, irritability, and a general feeling of exhaustion. Show fatigue can seriously impact your work, affecting your ability to make decisions and stay organized.
Fortunately, you can avoid it in simple ways:
Take breaks throughout the day. Taking a walk or stepping outside will help you feel better.
Try to keep your evenings free from work-related obligations. It will give you time to relax and recharge before the next day.
Delegate tasks to your team members. By doing so, you will be less burdened by the workload.
Be flexible in your approach. Rigidity will make you more likely to snap under pressure. It will help you stay calm and organized during the event, even when you must make modifications.
Reward yourself and your team for their hard work. It will help maintain morale and keep everyone motivated.
Conclusion
The key to success is a trade show marketing plan that starts long before the event and continues after it's over. Staying top of mind before, during, and after the trade show can maximize the ROI of your trade show participation and generate valuable new leads for your business. Following these simple tips, you can re-energize your marketing programs and create a successful strategy to help you achieve your goals.
FAQs
Here are other questions about trade show marketing that we have not discussed in the article.
What does a trade show mean to B2B marketing?
Trade shows are a vital part of B2B marketing, allowing businesses to showcase their products and services to potential buyers. By exhibiting at trade shows, businesses can create awareness for their brand, generate leads, and build relationships with potential and existing customers. In addition, trade shows offer businesses the chance to learn about the latest industry trends and connect with other professionals in their field.
How do you get attention at a trade show?
By far, the best way to get attention at a trade show is to have an eye-catching booth. Put your branding front and center, and invest in high-quality materials and props to draw people in.
You can also bring along some giveaways or promo items to hand out or run contests and prize draws throughout the day. And don't forget to staff your booth with friendly and enthusiastic employees ready to talk about your company and answer any questions!
What can I do to make my trade show booth more inviting?
There are a few simple ways to make your trade show booth more inviting:
Make sure your branding is visible and attractive.
Use high-quality materials and props to give your booth a professional look.
Bring along some giveaways or promotional items to hand out.