Whatever type of business you do, your business will always struggle without a solid B2B go-to-market strategy.
It is a key element for planning and launching marketing activities so that you can target, reach, and convert leads into profitable customers.
As a marketer, you are likely always looking for innovative ways to reach your target audience and deliver your message efficiently. Building a well-planned go-to-market strategy can help you improve operational competence.
In this blog post, we have outlined a plan for getting your product or service in front of the right people at the right time and for the right price. We'll also provide tips on how to get started with a B2B GTM strategy of your own.
Let's go.
What is a Go-to-Market (GTM) Strategy
A go-to-market strategy (GTM) is the steps a company takes to bring a new product or service to market. It describes how you will bring your offer to the market and establish yourself as a leader in your industry.
This sales strategy outlines tactics that enable the company to match desired outcomes with its resources and capabilities and navigate industry complexities.
There are four basic components that make up the entire GTM strategy. You must know these components and define them carefully if you hope to get a strategy that works long-term.
The Components of a Go-to-Market Plan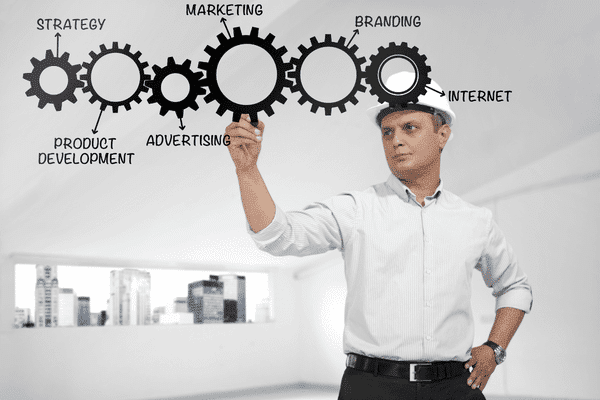 The main components of a go-to-market plan are market segmentation, value proposition, product positioning, and sales channels. An effective GTM strategy should be customized to the specific needs of the product and the company, and it should be regularly updated as the market landscape changes.
Market Segmentation
Market segmentation is the process of classifying a broad business market, consisting of existing and potential customers, into sub-groups of consumers (known as segments) based on identified shared characteristics.
In other words, it is the practice of dividing a large target audience into smaller groups that have similar interests, needs, and wants. This helps to identify and better understand specific customer groups so that companies can provide tailored products and services designed to meet their individual needs.
Without effective segmentation strategies, marketers risk wasting resources by attempting to reach too many people with one message when those messages may not resonate with everyone equally well.
This could result in lower ROI for their efforts because sales may not be maximized for all buyers.
Value Proposition and Product Positioning
Your value proposition is what tells prospective customers why they should buy from you instead of your competition. It differentiates you in the marketplace and sets you apart from everyone else.
An effective value proposition is clear, concise, and positioned front and center in all marketing materials.
When crafting your value proposition, consider these three key components:
The specific needs of your target customer base
The unique benefits of your product or service
How is your solution superior to other options in the market
A subset of value proposition is product positioning. It involves understanding customer needs, researching the competition, and developing a messaging platform that sets the brand apart from others in the same category.
All aspects of a company's marketing must reflect this positioning, including social media campaigns, advertising, and PR efforts, as well as packaging design and promotional activities. Ultimately, successful product positioning requires consistency in messaging across all channels to create a strong and recognizable brand identity.
The goal of product positioning is to create an association between the product and certain ideas or characteristics in the minds of prospective buyers.
This can include practical benefits such as speed or durability, emotional benefits like trustworthiness or prestige, lifestyle benefits such as convenience or luxury, social benefits such as being fashionable or environmentally friendly, or even values such as innovation or sustainability.
These meaningful associations help customers develop an emotional connection with a brand which can ultimately lead to increased sales and loyalty.
Sales Channels
No matter how great your product may be, without the right sales channel, you won't be able to reach your target audience and maximize revenue potential.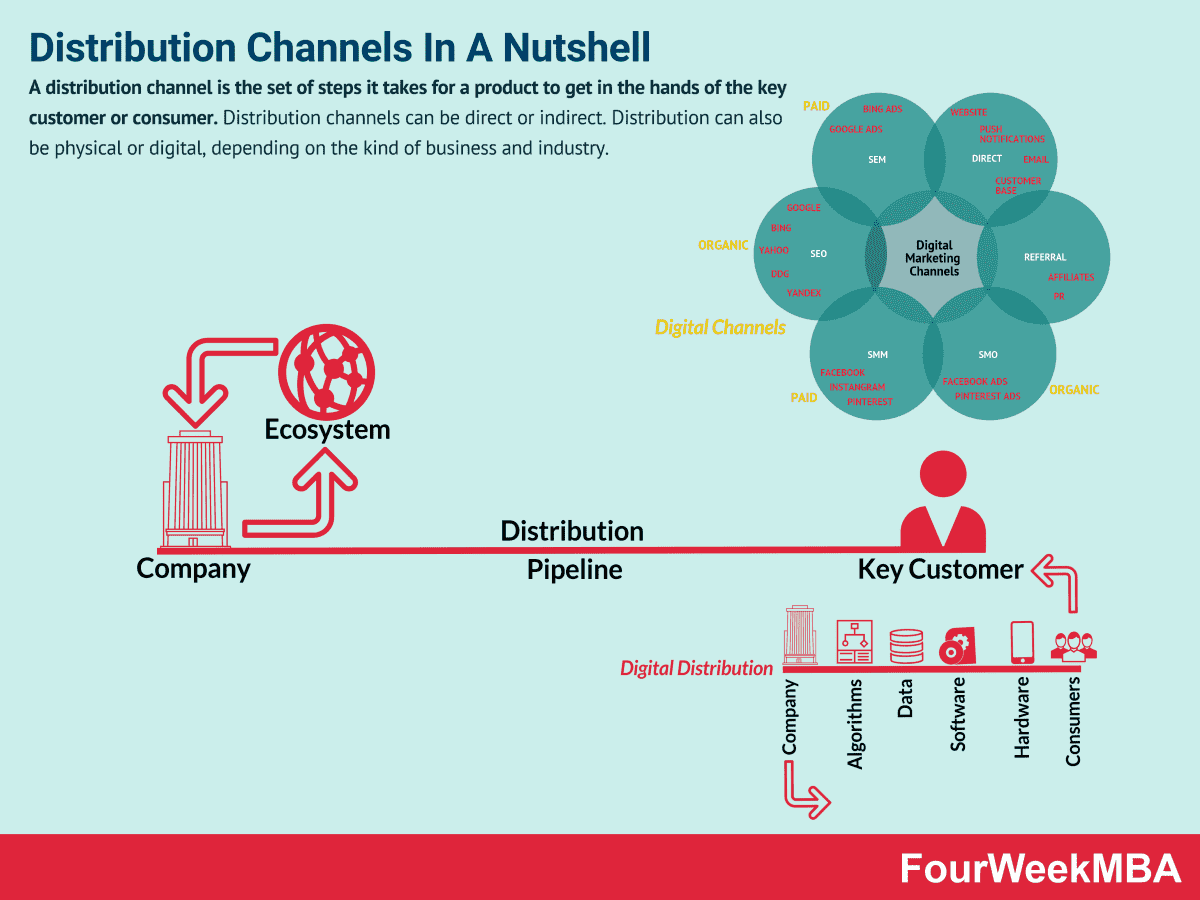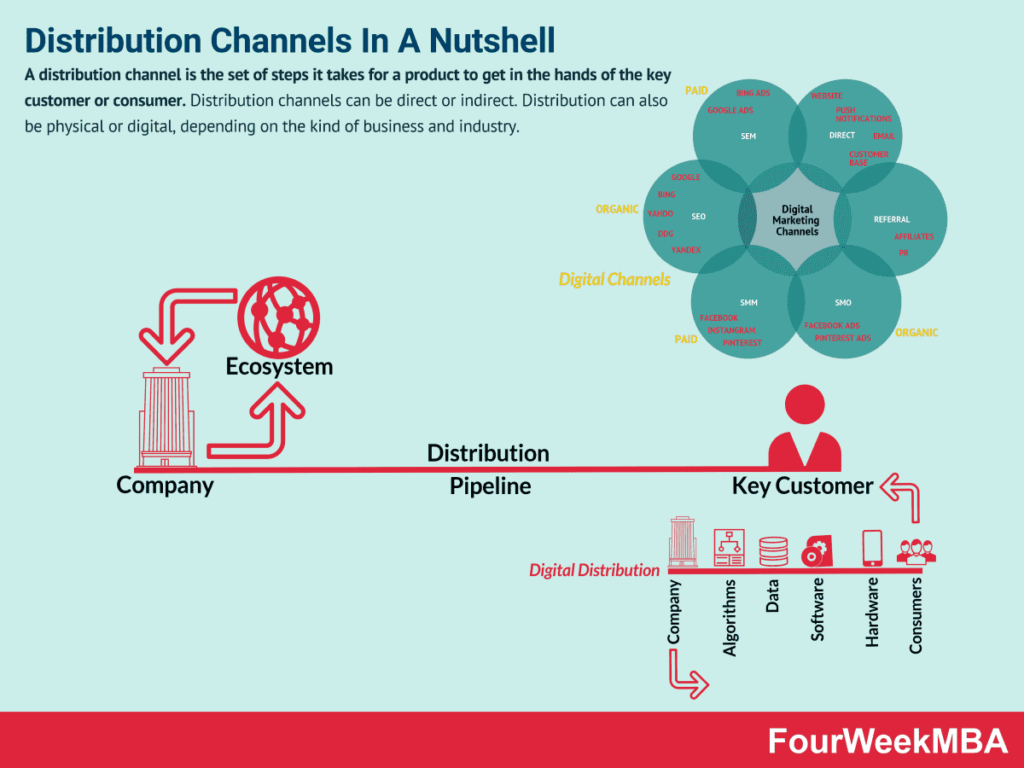 Sales channels are the routes through which you deliver your product or service to potential customers.
There are several different types of sales channels, including direct, indirect, multi-level, online, offline, retail outlets, etc. Each has its advantages and disadvantages depending on what you're selling and who you're selling it to.
Leveraging the right sales channels is a game changer. From increased visibility to wider market access and improved customer engagement, these channels have what it takes to drive greater revenue streams with multiple sources, all while mitigating risk through diversified income sources.
You can ensure that your business remains profitable even if one channel isn't performing as anticipated.
Here are several things to consider to ensure that you're optimizing for success:
Which channels fit within the overall mission and goals of your company? You need to determine which strategies will bring in the most customers while also staying true to who you are as a brand.
How will you promote them? For a particular channel to be successful, it must have effective promotion behind it. This includes branded messaging, digital advertising campaigns, franchise advertising, and other marketing activities.
What costs should be considered? It's important that whatever strategy is chosen fits within both budgeted resources and other factors like the time investment needed from team members involved in managing these platforms appropriately.
These components lay the foundation of almost all marketing strategies.
The 5 Most Common GTM Strategies
Let's look at the five most common GTM strategies used by established companies:
Inbound Marketing
Inbound marketing is a modern, effective approach to digital marketing that focuses on creating and distributing helpful, relevant content like blogs, videos, email marketing campaigns, or webinars.
Since it relies on organic reach rather than paid advertisements, it is deemed more effective and cost-efficient.
It usually begins with search engine optimization (SEO). SEO means optimizing your website so that it appears higher up in search engine results when people search for topics related to your business.
This can include updating the content on your website, optimizing images and videos for faster loading times, and improving technical aspects like page structure and meta tags. By appearing higher up in search engine results pages (SERPs), you'll draw more attention from potential customers than competitors who may be lower down the list.
Outbound Marketing
Outbound marketing is a type of advertising approach where businesses and brands reach out to customers by promoting their products or services directly.
It uses traditional media channels such as print ads, billboards, or television commercials to get its message across. It also makes use of direct mail campaigns and cold calling as well as door-to-door sales approaches.
One key advantage of outbound marketing is that it offers much more control over when and how people receive your message than with other types of advertising. For example, you can decide when your TV commercial airs during a specific show, what radio station plays your ad, or send promotional postcards when it's most relevant for potential buyers.
Partner Programs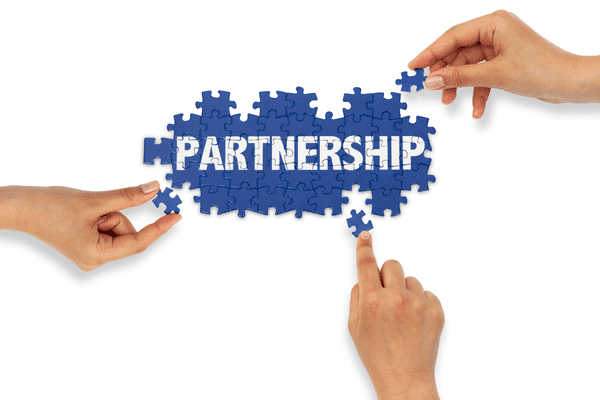 Partner programs are a strategic marketing process in which two or more organizations collaborate to achieve mutual goals such as increased promotion, brand awareness, and sales.
By joining forces, each partner can leverage the other's resources, customer base, and brand recognition.
The primary purpose of partner programs is to increase sales and extend product reach.
Partner programs give companies access to new markets, allowing them to enter new markets more quickly than if they had gone solo. It also allows companies to benefit from existing relationships that partners already have with customers, suppliers, and partners.
Partnerships may also offer cost savings for both parties through joint procurement or shared distribution networks.
Account-Based Marketing
Account-based marketing, or ABM, is a strategic approach to marketing that focuses on building relationships with key decision-makers at large companies.
It can be accomplished by sending direct mailers or emails to these individuals, hosting in-person events, or engaging with them on social media.
By targeting specific individuals and companies instead of a large audience, businesses can build stronger relationships and position themselves as influencers in their industry.
Imagine a software company that wants to expand into the healthcare industry to explain how this might work in practice. With ABM, they might first conduct market research and identify decision-makers at leading hospitals. Then, they can use the information to develop tailored messaging that appeals specifically to the needs and preferences of these contacts.
Demand Generation
Demand generation is a go-to-market strategy designed to generate new leads and bring potential customers into the sales funnel.
This strategy involves various marketing activities and tactics, from creating and sharing content on social media and blog platforms to reaching out to potential customers via email and phone calls.
Some key components of demand generation include evaluating performance metrics such as open rates, click-through rates, conversions rates, and conversion values can help companies improve their demand generation strategies over time to deliver more high-quality leads to their sales teams effectively.
Developing a GTM Strategy for B2B of Your Own
Knowing how critical a go-to-market strategy is to the success of your B2B Marketing, here are some steps that you can take to develop an effective B2B GTM strategy.
Basic Market Research
Basic market research for a Business to Business go-to-market strategy involves gathering information about potential clients. A customer profile helps understand the market landscape and identify opportunities or challenges.
Surveys, focus groups, or interviews with key stakeholders are effective methods. Quantitative data from public records and government databases also provide valuable insights into consumer demographics and preferences.
After collecting this data, you can analyze and use it to create effective marketing strategies that align with customer needs and preferences.
Well-executed B2B go-to-market strategies focus on understanding the pain points of your target market and being able to communicate those needs effectively to win their business.
Identify Key Influencing Factors
Once you better understand your target markets, you can identify the key factors that will influence their purchasing decisions.
The key influencing elements are unique selling proposition, brand awareness, brand reputation, and distribution channels. Customer insights are critical in understanding and addressing these elements, as they can help you decide which marketing strategies will be most effective.
Research Your Competition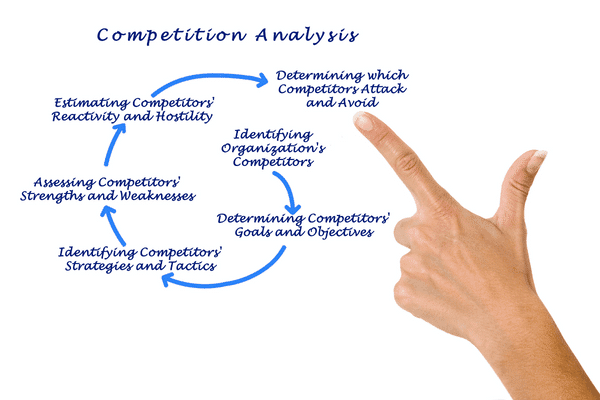 In addition to understanding your market landscape, it is also important to understand the competitive landscape and how you build up against your competitors.
You may perform a SWOT analysis of your business and competitors or conduct industry research to better understand trends, customer needs, and gaps in the market.
SWOT stands for strengths, weaknesses, opportunities, and threats. Here's how to do it:
List your strengths and weaknesses. Strengths are things your business does well; weaknesses are things your business does poorly.
List the opportunities available to you and the threats you face. Opportunities could help your business grow; threats are things that could hurt your business.
Analyze each item on your list and determine what actions you can take to capitalize on the strengths, address the weaknesses, take advantage of the opportunities, and mitigate the threats.
To stay on top of your progress and ensure that you're making headway, regularly review your analysis. Revise the SWOT whenever necessary to make sure it accurately reflects where you are in achieving goals.
Develop Pricing and Packaging Strategies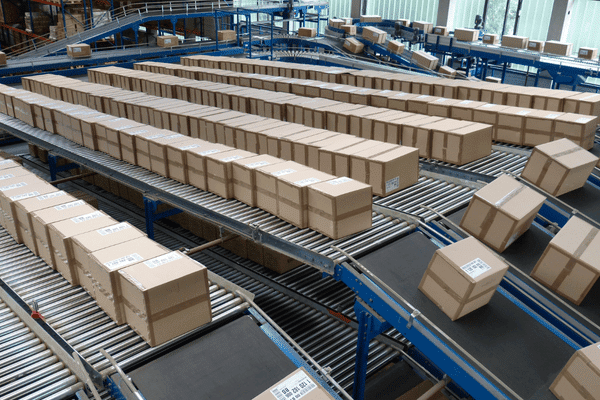 Pricing and packaging are two important aspects of any go-to-market strategy.
Good sales plans always pay attention to packaging. Your packaging should be designed to catch the attention of every ideal customer and communicate the salient features and benefits of your products or services.
A competitive pricing strategy that offers value for money will attract potential buyers and keep your sales cycle healthy.
It is important to know the current market conditions and trends impacting both supply and demand for your product. When setting a price point, it is good to know how high or low your competitors' prices are compared to yours.
There are a few key factors that you should consider when determining the pricing of your product.
You need to consider your costs and your expected profits.
Your production costs will determine the lowest price you can afford to sell at to make a profit while also considering any necessary expenses, such as marketing or development costs and customer acquisition costs (CAC).
How to reduce your CAC?
There are ways to reduce customer acquisition costs (CAC) in a B2B setting. One way is to focus on qualified leads. You must have a process to ensure that you only target leads that are likely to convert into customers. You can do this by using lead scoring, which ranks leads based on firmographics, technographics, and engagement data.
Another way to reduce CAC is by using effective lead nurturing tactics. It involves maintaining consistent contact with leads over some time to turn them into sales-ready customers.
Develop a Messaging Strategy
Messaging is an essential element in all sales funnels stages, so be intentional in the planning process.
Here are a few key things to note when crafting a messaging strategy for your B2B go-to-market (GTM) efforts.
First, you must align your message with your target buyer persona. This means understanding their specific pain points and what they're looking for in a solution.
Then, you can craft a message that resonates with them and speaks directly to their needs.
Your messaging should be consistent across all channels – from your website to your sales collateral to your social media posts. It will help create a cohesive brand image and make it easier for prospects to remember your company when they're ready to buy.
Finally, don't forget to test, test, test! Try out different messages and see what works best with your target audience.
Choose Your Sales Channels
The final step in developing an effective GTM strategy is to choose the right sales channels to attract more customers. It considers your budget, target markets, and product positioning.
Common B2B sales channels include trade shows, online marketing, direct mail, and telemarketing.
Trade Shows
A trade show is an exhibition where companies in a specific industry showcase their products and services.
Trade shows are one of the most common B2B sales channels, as they allow you to showcase your products or services directly in front of target customers.
They provide a chance for companies to network and build relationships with target customers. Meeting face-to-face with suppliers and other industry professionals is a great way to learn about new products and trends in your industry.
Direct Mail
Direct mail is a marketing strategy that utilizes letters and other printed materials to communicate with potential customers in the business-to-business setting.
Unlike other marketing channels, direct mail targets a specific audience segment and allows personalized, one-to-one messaging.
This makes it an effective tool for targeting key decision-makers within an organization, such as purchasing agents or executives, who can be powerful advocates for your product or service.
Since direct mail relies on the physical delivery of items like brochures, flyers, and catalogs, companies can leverage this personal touch to connect with their target audiences and build lasting relationships over time.
Telemarketing
Telemarketing is a direct marketing strategy that involves making phone calls to potential or existing customers to promote a product or service.
While telemarketing can generate leads or make sales, it can also be used for appointment setting, market research, or customer service.
In the business-to-business (B2B) world, telemarketing is often used as part of a comprehensive go-to-market (GTM) strategy. When used correctly, telemarketing can be an effective way to reach out to target customers, build relationships, and close deals.
Online Marketing
As the name suggests, online marketing in B2B Go-To-Market strategy is the process of marketing goods or services online.
You may use search engine optimization (SEO), pay-per-click (PPC) advertising, and social media marketing.
Businesses need to carefully consider their target market and craft their marketing messages accordingly to be successful. They need to track various data points to measure the effectiveness of their campaigns.
Online marketing in B2B GTM strategy can be a complex and time-consuming process, but it can be an extremely effective way to reach new customers and grow a business.
We will cite a few examples of tremendously successful social marketing campaigns that increase these brands' customer base and get high-quality leads.
Create an Advertising and Promotion Plan
Advertising and promotion are important aspects of any go-to-market strategy. To generate awareness and interest in your products or services, you need to develop an advertising and promotion plan tailored to your target markets.
Some examples are print ads, online banner ads, or conducting promotional events. The key is to create an effective and efficient plan while staying within your budget.
Coca-Cola has a well-defined GTM strategy that has been tailored to the target markets. The strategy uses a mix of advertising and promotional channels, developing catchy logos and localized slogans, and focusing on customer satisfaction. As a result, they have been highly successful in the global beverage market.
Conclusion
A successful go-to-market strategy in the B2B world requires careful planning, thorough research, and the right execution. However, you can create a foundation for success if you focus on your target market, use the right mix of advertising and promotional channels, and assemble a team of skilled sales reps, you can create a foundation for success. Keep in mind that as your business grows, your GTM strategy will need to evolve along with it.
FAQs
Here are other questions about B2B Go-to-Market Strategy that might help you fortify your own structure.
What is a GTM strategy framework?
A go-to-market strategy framework is a structure that provides a high-level view of how your company will bring its products or services to market. It should answer the question, "How will we get our products into the hands of our target customers?"

There are many go-to-market frameworks, but most fall into one of five categories: product launch, lead generation, partner marketing, sales acceleration, or market expansion. Each framework has its own set of steps and activities that need to be carried out to succeed.
What are the risks of a B2B go-to-market strategy?
The biggest risk is that you may not achieve the scale you need to make a profit. You may also cannibalize your current business or alienate your existing customers. Another risk is investing too much money in marketing and not seeing a return on that investment. Finally, you may not be able to execute your strategy correctly and lose market share to your competitors.
What are the best practices of B2B GTM strategy?
The most important practice is to ensure you're aligned with your sales processes. Marketing departments often get siloed and disconnected from the sales teams they're supposed to be supporting, so it's crucial that you have a close working relationship. When everyone is on the same page and working towards common goals, that's when you can start to see results.

Other than that, some other best practices to keep in mind are:
1. Continuous experimentation
2. Personalization
3. Keeping an eye on the latest trends.