Educational content is one of your most potent weapons.
While two-thirds of content marketing programs place their organization's promotion first, the top performers prioritize audience needs. That extra effort pays off. 88% of high-performing teams focus on providing quality information over sales messages for greater success.
But you need to know how to wield it and take advantage of its blades.
This post covers the definition and importance of educational content marketing, examples, and tips for creating your own.
Ready to get started? Let's go.
What is Educational Content?
Educational content is any content that teaches an audience something relevant to their interests, experiences, and needs. This content provides consumers with valuable information about the advertised product or service without overtly selling it.
Educational content aims to engage and grow an audience by creating new, informative, and useful materials that can help make purchase decisions and maintain customer loyalty.
It could be a tutorial video on how to change a tire, a blog post explaining the fundamentals of personal finance, an online course on the basics of digital marketing, or a podcast episode about the history of the American Civil War.
Why is Educational Content Important?
There has been a growing trend of open educational resources like articles, books, or e-courses – designed to teach people new skills or knowledge. This trend has been driven by the increasing availability of high-quality educational content and the decreasing cost of accessing it.
It can help equip individuals with new ideas, facts, insights, and perspectives that may have been outside their area of expertise or interest.
In today's tech-savvy world, it has also become an invaluable resource for keeping abreast of innovations in any field, be it science or artistry.
By making complex topics easier to understand through comprehensive breakdowns into accessible sections – whether you're looking for information on studies or research projects – educational material offers readers both convenience and clarity when exploring unfamiliar territory online.
How Can It Improve Content Marketing?
When it comes to content development, one question always gets asked: "how do we sell without selling?" The answer is simple: provide value. Educational content provides value to your audience by offering them something new without relying too heavily on hard-selling techniques.
Here are some ways educational content streamlines your marketing efforts:
1. It helps you build trust with your audience.
Creating a strong connection with your readers starts by providing them with informative and useful content. Include evidence so they can trust the accuracy of what they are reading. Boosting their trust in you is easy when the facts are backed up with reliable research.
With great knowledge comes greater confidence.
2. It establishes you as an expert in your field.
Educating your customers gives them the necessary insight to make confident decisions when buying from you. By delivering valuable and actionable advice, you demonstrate that you are an authoritative expert in your field – giving customers peace of mind knowing they're getting reliable guidance before committing.
3. It helps you generate leads and close sales.
You can use educational content to nurture leads and guide them down the sales funnel. For example, you might offer video lessons on a relevant topic in exchange for contact information. Or, you could create a series of blog posts that walk readers through the purchase process.
4. It is versatile and can be used in different ways.
As you already know, digital content can take many forms, from blog posts and articles to infographics.
It can be used in many ways, such as:
Driving traffic to your website or blog by sharing interesting and informative articles or online courses.
Engaging potential customers in conversations on social media by answering their questions and providing valuable insights.
Increasing brand awareness by sharing various types of content showcasing your company's expertise and core values.
5. It is affordable and easy to produce.
Educational marketing doesn't have to be expensive. With digital resources, creating high-quality content that reaches your target audience can be surprisingly simple and cost-efficient.
Here are a few tips for creating affordable educational marketing content: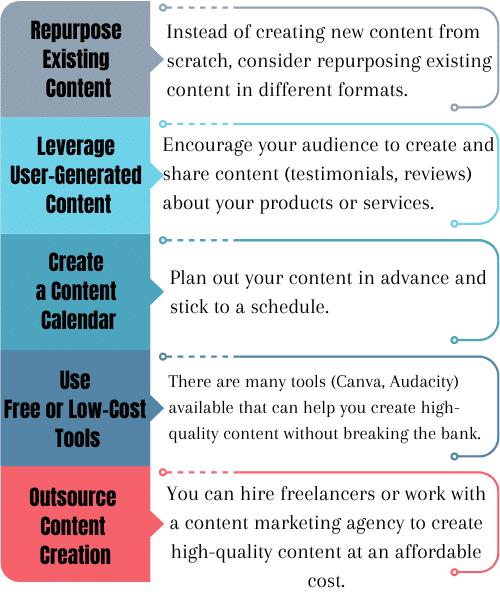 Now, let's see educational content in action.
Examples of Educational Content
Would you be surprised that 86% of buyers are happy to pay more for a great customer experience? They want brands to meet them where they are—which is increasingly online—and offer helpful, valuable content that speaks to their specific at each stage of the customer journey.
Here are three simple examples of using educational content to achieve your marketing goals.
1. Increasing brand awareness with blog posts
Consistently publishing blog articles is one of the best ways to increase brand awareness and drive traffic to your website. But what kind of articles should you be writing?
Many companies make the mistake of only writing about their product or service—but unless you're a household name, chances are your target audience doesn't know much about you yet, so they're not searching for your company name when they go online.
Instead, focus on writing educational articles that address your target audience's pain points and challenges.
Once you've established thought leadership, you can start mixing in some promotional content here and there (but even then, make sure it's truly helpful and not just a thinly veiled sales pitch). A good rule of thumb is the 80/20 rule: 80% educational and 20% promotional.
2. Nurturing leads with an email course
If you want to nurture leads further down the funnel, one effective strategy is to create an email course consisting of 5-7 lessons delivered over 2-3 weeks.
These lessons should build on each other and provide real value, so resist the urge to include a hard sell at the end of each one! Remember, the goal here is education, not selling.
An email course is a great way to establish trust and relationships with potential customers while providing genuinely helpful information—the perfect recipe for turning leads into paying customers down the road.
Plus, once someone signs up for your email course, you have their contact information to continue marketing to them even after they finish the course.
3. Driving revenue with an e-book or white paper
E-books and white papers are usually gated (meaning readers have to exchange their contact information for access), so they're a great way to generate leads while also providing valuable information that can help prospects further along in their buyer's journey make a purchasing decision.
When putting together an e-book or white paper, make sure it's packed full of actionable tips and data-backed advice—nothing too high-level or general; otherwise, prospects won't see its value and won't bother giving up their contact info for it.
If you can deliver truly valuable insights in your e-book or white paper, you can expect it to generate quality leads (and eventually sales) for your business.
3 Important Things to Remember as You Deliver Educational Content
Creating content, especially technical education for your business, is not as simple as creating a PowerPoint presentation and calling it a day.
If you want your educational content to be truly effective, there are three crucial things to remember.
It Must Be Engaging and Interactive
Dull, lifeless presentations are quickly forgotten.
To ensure that your educational content is engaging and interactive for customers, you must put yourself in their shoes. Be sure to tailor your content to your audience when creating it.
Here are important guide questions: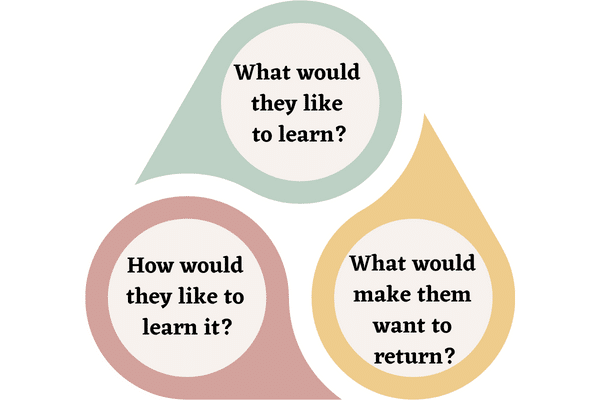 If you're not sure where to start, try surveying your potential and existing customers or holding focus groups. Then, you can start crafting content that will meet their needs and keep them engaged.
Use interactive tools and other elements like quizzes and question-and-answer sessions to encourage participation, and make sure to update your content to stay fresh periodically.
It Must Be Original and Well-Researched
Your customers want to learn something new, not hear the same old information regurgitated in a new way.
So how can you make sure your content is original?
1. Keep up with the latest research. Keeping your content fresh and relevant requires staying on top of new studies and developments in your field.
2. Be creative in your approach. There's no shortage of ways to present information, so don't be afraid to experiment with different formats and strategies.
3. Draw on your own experiences. Your own experiences have probably taught you a lot, so why not share them?
Always keep your audience's needs front and center, and you'll be sure to produce creative content that is both original and useful.
It Must Be Relevant
In any field, there is tension between those who emphasize content and those who emphasize context.
The former group puts their energies into coming up with the right information, and the latter into understanding the circumstances under which that information will be used. The tension between these two mindsets is particularly relevant when it comes to educational content.
On the one hand, you want your content to be as comprehensive and well-organized as possible. On the other hand, your content must be relevant to customers in different situations.
The challenge is to find a way to strike the right balance between these two imperatives.
Scaffolding
One way to ensure that you create both comprehensive and relevant content is to use what educational psychologists call "scaffolding." It involves breaking down the learning task into smaller, more manageable pieces and providing support along the way.
For instance, if you're teaching someone how to use a new software program, you might start by showing them how to perform the most basic tasks.
Once they've mastered those essentials, you can then introduce more advanced features. In this way, scaffolding can help you create content that is both deep and wide.
Just-in-Time
Another way to ensure that your content is relevant is to use "just-in-time" learning. This approach delivers content to learners when they need it, in the format they need, and without overwhelming them with unnecessary information.
For instance, let's say you have a customer struggling to use a particular feature in your software program. You could provide them with a short, targeted video that shows them how to use that feature rather than sending them a lengthy manual or tutorial.
Just-in-time learning can help you create educational content that is relevant and useful for customers in different situations.
In the next section are three options you can do to generate high-quality instructional materials consistently.
How Can You Produce Your Educational Content?
Now that you know what goes into creating great educational content, you might wonder how to produce it and be an excellent educator.
Fortunately, there are several strategies for content creation, and the right approach for you will depend on your budget, skills, and audience's needs.
Option 1: Develop In-House Experts
First, you can develop your in-house experts and have them create and deliver the content. It has the advantage of ensuring that the content quality is high and delivered in a way consistent with your brand.
Note: It can be expensive to develop and maintain an in-house team of experts. Keeping them up to date on the latest developments in their field can be challenging.
Option 2: Outsource
Another option is to partner with an outside organization specializing in educational content. It can be a more cost-effective option and give you access to a wider range of experts.
Note: It's important to select a partner who shares your commitment to quality and has a track record of delivering high-quality content.
Option 3: Utilize Technology
Finally, you can use technology to deliver your educational content. Different platforms and tools can help you create and deliver engaging and interactive digital content.
Note: Make sure you select a platform and format that is easy to use and provides the necessary features and functionality.
Here are a few examples:
| | |
| --- | --- |
| Format | Description |
| Video production | Create educational videos demonstrating your products or services, explaining complex topics, or providing step-by-step instructions. Use animation and special effects to make the content more engaging, and consider using closed captions for accessibility. |
| Interactive content | Interactive content, such as quizzes, polls, and surveys, engages your audience and makes your content more interactive. |
| Podcasting | Podcasts are a great way to reach a wider audience, and they can be listened to on the go. |
| Virtual and Augmented Reality | VR and AR experiences give your audience a more immersive way to learn about your products, services, or industry. |
| Social media | Social media platforms (Facebook, Twitter, TiktTok, and Instagram) allow you to target specific audiences and gain insight into their preferences and interests. |
| Email marketing | Email marketing provides educational content, such as tips and tutorials, to your subscribers. Segment your audience and tailor your emails to their interests and preferences. |
| Website | Develop an educational section on your website that includes blog posts, articles, whitepapers, webinars, and infographics that educate your customers about your products, services, or the industry. |
| Artificial Intelligence (AI) and Machine Learning (ML) | AI and ML technologies create personalized and interactive learning experiences for your audience, optimize content for search engines, and data analytics and insights. |
As an instructional designer, remember that quality, relevance, and engagement are the keys to creating outstanding educational content.
Conclusion
Educational content writing can be one of a company's most effective tools at its disposal. People can make informed decisions about their purchases by using it to establish trust and credibility with potential customers and provide valuable information.
Educational content can help businesses position themselves as experts in their field, promote the brand's values and drive more sales.
FAQ's
Here are other questions helpful for any educational content developer desiring to up their game.
What is educational content marketing?
Educational content marketing is a GTD (getting things done) concept that individuals, businesses, and institutions can adopt to promote themselves, their products, or their ideas. The basic idea is simple: produce high-quality content that is educational and informative, and then use social media and other channels to disseminate this content far and wide.
What are the challenges associated with educational content creation?
Challenge 1
The sheer volume of content that needs to be created. As businesses expand their e-learning offerings, they're often overwhelmed by the amount of material that needs to be produced.

Creating high-quality educational content requires a team of designers, writers, and illustrators who can work together to develop engaging course materials. This can be costly and time-consuming, particularly for small businesses with limited resources.

Challenge 2
Keeping up with the latest trends in educational technology. Rapid changes in how consumers learn new information mean businesses must continually update their e-learning content.
It can be a difficult and expensive task, especially for businesses already struggling to keep up with the pace of change.

Challenge 3
Deciding how they'll distribute their educational material once it's been created. With so many options available, deciding which platform or format is right for your business can be difficult.
How to Use Appropriate Educational Content for Each Funnel Stage?
For example, you own a software company specializing in small business accounting solutions.

Top of the Funnel: Blog post about "5 Accounting Tips Every Small Business Owner Needs to Know"
Middle of the Funnel: Video on "How Our Accounting Software Can Help Your Small Business Save Time and Money"
Bottom of the Funnel: A case study highlighting one of your happy customers and explaining how your software was able to help them overcome a specific challenge they were facing.