B2B podcast advertising is still a relatively new and untapped market but has huge potential. Podcasting is growing in popularity as a content medium, and businesses are starting to see how valuable it is as a marketing tool.
This blog post will guide you to the basics of podcast advertising, so you'll know the best ways to use it for your business.
Even if you don't have much experience with podcast advertising, you can use this guide to develop a strategy to create a successful campaign.
If you're ready to learn more, don't stop reading.
Why B2B Podcast Advertising is Skyrocketing
The latest survey reveals that more than half the population of American consumers listen to podcasts. This increase in listenership is partly due to podcasts being an easy way to consume content while commuting or working out.
But it's not just consumers who are tuning in to podcasts; businesses are also starting to see the value in this form of advertising.
B2B enterprises are particularly drawn to podcast advertising because it allows them to reach ideal targets for B2B products and services.
Listeners of business-focused podcasts are typically decision-makers within their company. Podcasts offer a convenient way to get the latest news and insights while multitasking.
In addition, podcast advertising is very effective at building brand awareness and trust. Because podcasts are generally personal and intimate in nature, listeners tend to develop a strong connection with the hosts.
As a result, ads that run on podcasts are often seen as more trustworthy and authentic than other forms of digital advertising.
With more businesses looking to capitalize on the benefits of podcast advertising, it's no surprise that spending on this form of content marketing is skyrocketing. And as the number of people tuning in to podcasts continues to grow, we'll likely see even more businesses investing in this powerful marketing channel.
The Benefits of B2B Podcast Advertising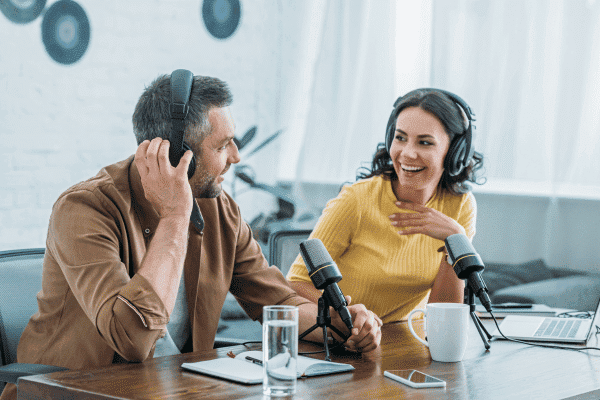 Podcast advertising offers many benefits for businesses; here are five of the most important ones:
By aligning your brand with a relevant show, you can tap into an engaged and captive audience interested in hearing your message.
You see, people can choose the topics they want to listen to, so they're already self-selected to be attentive to what you have to say.
B2B podcast advertising offers the ability to target a specific audience with great precision, just like account-based marketing. For example, you can target listeners by industry, job title, company size, or even specific pain points.
It ensures that your marketing team reaches the right people with the right message at the right time.
Build thought leadership and credibility
Lining up with popular podcasts can tap into the show's audience and position your company as a thought leader in your industry.
Podcast advertising can also build credibility for your brand by featuring positive customer testimonials on the show. This type of advertising is a potent way to reach a target audience that may be difficult to reach through traditional means.
Generate leads and close deals
Podcast advertising can generate leads and close deals by directing listeners to landing pages with special offers.
For example, you could offer a free white paper or e-book in exchange for an email address. You can also use podcast advertising to promote webinars or other events that would be of interest to your target audience.
These CTAs can effectively encourage listeners to visit your website or sign up for your email list. You can also use podcast advertising to promote special offers or coupon codes. All these will lead to an increase in web traffic and ROI.
Tap into a growing trend
Tapping into a growing trend is always a smart marketing move. It allows you to be an early adopter and get ahead of the competition.
And with the popularity of podcasts on the rise, now is the perfect time to jump on board. A growing number of people listen to podcasts daily, which presents a great opportunity for businesses to get in front of this amassing crowd.
You can position your brand as an innovator and thought leader by being one of the first companies to invest in podcast advertising.
Affordable and measurable
Podcast advertising is very affordable, especially when compared to other digital marketing forms. In terms of cost, podcast advertising rates are generally based on CPM (cost per thousand impressions), so businesses only pay when a listener hears their ad.
And because podcasts are typically downloaded and listened to on personal devices like smartphones, it's easy to monitor how many people hear your ad. This data can be extremely valuable in understanding the effectiveness of your marketing efforts.
All of these advantages make podcast advertising an attractive proposition for businesses. So, will every type of advertisement work on podcasts?
Let's talk about that.
What Kind of Ads Work Best on Podcasts?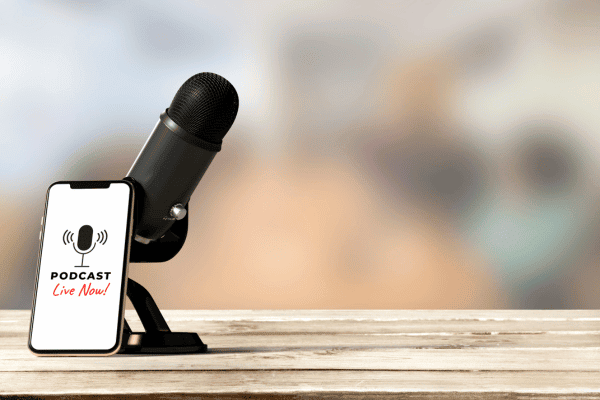 The great thing about podcast advertising is that it's very versatile. But there are certain types of ads that work better than others.
The best podcast ads feel like a natural extension of the show. As such, they should be relevant to the topic and offer value to the listener.
Here are the types of podcast ads that work best for B2B:
Host Endorsement
A host endorsement podcast ad is a commercial message read by the show's host. The sponsor usually records this ad in advance and then played during the show. Host endorsement ads effectively reach a target audience because they come from a trusted source. You can instantly create a sense of authority and trustworthiness when you feature a well-known and respected podcast host. The host's endorsement can help increase brand awareness and connect with the listener.
A few things to remember:
Choose a host who aligns with your brand and whose voice will resonate with your audience.
Keep the ad short and focused on a single offer or call to action.
Make sure the production quality is top-notch, so listeners will stick around until the end.
Product Placement
Product placement is a form of advertising where branded products are featured prominently in a show.
It is done in different ways, such as featuring the product in the show's artwork, using it as a prop, or even mentioning it by name.
Product placement is an effective way to reach listeners because it doesn't feel like an advertisement. Instead, it's a subtle way to integrate your brand into the show.
Pre-roll Ads
Pre-roll ads are played before the start of a show. They are typically short, 15 to 30 seconds long, and can be either host-read or pre-recorded.
Pre-roll ads are a great way to reach listeners because they are generally very engaged at this point. They are just settling in and getting ready to listen, so listeners are likelier to hear and remember your ad.
Mid-roll Ads
Mid-roll ads are played in the middle of the episode. They are typically longer than pre-roll ads, anywhere from 60 to 120 seconds, and can either be pre-recorded or live.
Mid-roll ads are effective because listeners are already invested in the show and are less likely to tune out. However, they require careful planning to avoid disrupting the flow of the podcast.
Post-roll Ads
Post-roll ads are played at the end of a podcast episode. They are typically short, 15 to 30 seconds long, and can be either host-read or pre-recorded.
It is a great time to deliver a call to action, such as directing listeners to your website or social media platforms. Because post-roll ads are so concise, they can effectively deliver a message.
Sponsored Content
Sponsored content is an advertising form where the advertiser pays to have their message included in the show. The ad is integrated into a podcast episode's body and presented as a story or interview to appear more natural and less like an ad. This type of advertising is becoming increasingly popular with podcasters as it allows them to partner with brands that are relevant to their audience.
Have you decided which type of ad is right for your podcast? Great! But before you start recording your ads, there are a few things you need to do to create a successful podcast advertising strategy.
The 4-Step B2B Podcast Advertising Strategy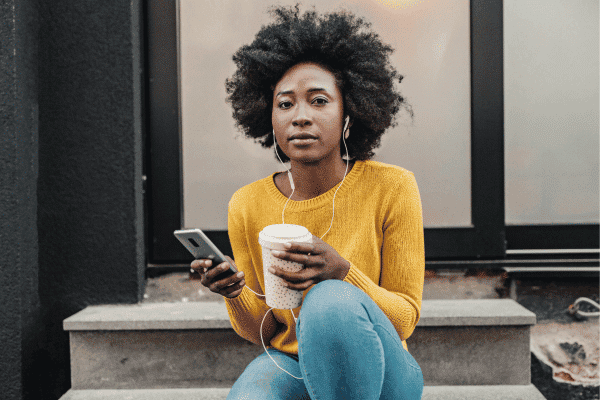 You must put together a solid advertising strategy to make the most of your podcast ads.
Here's a four-step process to help you get started:
Step 1: Define Objectives and Target Audience
Before launching a podcast advertising campaign, it's important to define your objectives and target audience.
What are you hoping to achieve with your campaign? Are you looking to increase brand awareness, generate leads, or drive sales?
Once you've identified your objectives, you can begin identifying your target audience.
Who are your ideal customers or clients? What demographics do they fall into? What are their interests and needs?
Remember that your ad should be designed to appeal to your target audience and achieve your objectives. If you can do that, you'll be well on creating a successful podcast ad.
Step 2: Research Popular Podcasts
The next step is to research popular podcasts in your industry. It will help you identify the most relevant shows for your target audience and where you should place your ads.
When researching podcasts, pay attention to the following:
Number of downloads or subscribers: It shows how popular the podcast is.
Release schedule: Make sure the show is active and releases new podcast episodes regularly.
Episode length: It will give you an idea of how long your ad should be.
Advertising options: See if the podcast offers advertising options that fit your budget.
Content focus: This will help you understand what topics are covered on the show and if they're relevant to your business.
Listeners: Find out who the podcast's listeners are and if they match your target audience.
Step 3: Develop a Budget
How much are you willing to spend on podcast advertising?
Your budget will depend on the length of your ad, the number of episodes you want to advertise on, and the price of each ad spot.
It's important to remember that podcast advertising is a long-term investment. It can take weeks or even months to see results from your ads, so maintain a budget to sustain your ad campaign over time.
One of the best ways to save money on podcast advertising is to take advantage of free or discounted ad space. Many podcasts offer free ad space for new sponsors, so be sure to ask about any special deals that may be available. You can also look for podcasts that offer discounts for bulk purchases or for placing ads during specific time slots.
Step 4: Create Engaging and Targeted Ads.
Now it's time to focus on creating engaging and targeted ads. Remember, your ad should be designed to appeal to your target audience and achieve your objectives.
Voice ads are one of the most effective types of advertising, but only when done right. Here are pointers to help your podcast production team create engaging and targeted podcast ads to reach your audience and achieve your objectives.
Write a script that is targeted to your audience. Make sure it is short and on point, relevant, and includes a strong call to action that tells them what you want them to do after hearing your ad.
Find performers who can deliver your ad in an engaging and believable way. It is often the most difficult part of creating a voice ad, but it's also the most important. The right performer can make all the difference in whether or not people listen to your ad and take action on what you're asking them to do.
Record your ad using high-quality equipment. It will ensure that people can hear your ad and that it sounds professional. Use engaging sound effects and music to grab attention and hold interest.
Edit your ad for quality and clarity. Make sure it flows well and doesn't sound like one long commercial. It is your last chance to make sure your ad sounds its best before you release it to the public.
That completes our steps on how to create podcast ads. Now, we will discuss a highly relevant topic that we can't leave out: podcast sponsorship.
Podcast Sponsorship
Product sponsorship is when a company agrees to sponsor a podcast to advertise its product or service.
In most cases, the show will mention the sponsor's product or service at some point during the show, typically in the form of short podcast promotion.
When you sponsor a show, you become part of a community, and people belonging to that community will trust your brand. You can use the show to share your company's history, discuss your mission and values, and tell customers why you're the best at your work.
Podcast sponsorship also offers great PodFit – that is, it's a perfect match between the show's topic and your company's products or services.
Let's say you sell software that helps podcasters edit their audio files. Sponsoring a popular podcast editing software show would be an ideal way to reach your target market.
Finding the Right Podcasts to Sponsor
There are many shows to choose from; how do you know which ones best fit your product or service?
Here are a few factors to consider when choosing podcasts to sponsor:
Make sure the podcast aligns with your brand values. You want to partner with a show that reflects the same mission and vision as your company.
Consider the size and scope of the podcast. A large show with a wide audience is great for reach, but a smaller, more niche show may effectively target your ideal customer.
Think about whether the podcast has sponsors already. If so, what kind of businesses are they? You want to make sure you're not going up against direct competitors.
Sponsorship Costs
The cost of sponsoring a podcast varies depending on the show, its popularity, and the length of the sponsorship.
In most cases, you can expect to pay anywhere from $15 to $500 per episode. For example, a small show that gets 1,000 downloads per episode may charge $18 for a 30-second pre-roll ad, while a more popular show with 10,000 downloads per episode could charge $500 for the same spot.
The price also goes up if you want a longer sponsorship or to sponsor multiple episodes. For example, a sponsor who wants to be on every episode of a popular show may pay $5,000 per episode, while a sponsor who only wants to be on for a single episode may pay $500.
The best way to determine how much it will cost to sponsor a particular podcast is to contact the show directly and ask. They can give you a better estimate based on their audience and listenership.
Negotiating a Sponsorship Deal
Once you've decided which show you want to sponsor, it's time to start negotiating. It can be a tricky process, but you can do a few things to increase your chances of getting a good deal.
Here are a few tips for negotiating podcast sponsorships:
Start by reaching out to the show and asking for their sponsor rate card. It will give you an idea of how much they typically charge for sponsorships. If the show has no rate card, ask them for their rates. Be prepared to negotiate based on your budget and what you're willing to pay.
Try to bundle your sponsorship with other marketing efforts. For example, if you're also buying ad space on the show's website, you may get a discount on the sponsorship rate.
Don't be afraid to ask for a lower rate. The worst they can say is no; you may be surprised at how willing they are to negotiate.
Be prepared to pay upfront. Most shows will require payment before your ad airs. It is to ensure they get paid even if you decide to cancel the sponsorship later on.
Sponsoring a podcast can be an extremely effective way to reach your target market with your B2B advertising. Finding the right podcast for your business is key to a successful sponsorship.
Conclusion
There's no doubt that podcast advertising is on the rise, and this growing audience provides a captive audience for advertisers. But it's important to have a strategy in place.
I hope this guide has given you insights into approaching podcast advertising and developing a strategy that works for your business. Remember, the key is to be creative, relevant, and targeted. If you can do those things, you'll be well on your way to success.
FAQs
Here are other frequently asked questions about B2B podcast advertising that we have not discussed in the article.
How much is a 30-second ad on a podcast
A 30-second ad on a podcast can cost anywhere from $5-$100, depending on the show's popularity and reach. Shows with millions of downloads per episode may charge upwards of $100, while new or less popular shows may only charge $5-$25 per 30-second spot. Generally speaking, the more popular the show, the more expensive the ad spot will be. But there are always exceptions to this rule, so it's best to contact the show directly to get a sense of their rates.
Is advertising on podcasts effective?
Yes, advertising on multiple podcasts can be an effective way to reach consumers.
Podcasts are a particularly strategic way to reach consumers because they offer a more engaged and personal listening experience than traditional radio. And since podcast listeners usually look for high-quality content, they're more likely to pay attention to ads placed within podcasts.
Advertisers can also target their ads by selecting specific podcasts that align with their target audience. It allows advertisers to reach a highly engaged group of consumers who are already interested in advertised products or services.
What are the most popular listening platforms?
The most popular podcast listening platforms are:
1. Apple Podcasts
2. Spotify
3. Stitcher
4. Google Podcasts
5. iHeartRadio
6. TuneIn Radio
7. Podbean
8. Pocket Casts
9. Castbox
10. Overcast
What is a business-to-business podcast?
A business-to-business podcast is a show that covers topics related to running a successful business. Typically, these shows interview experts and business leaders to get their insights on various aspects of starting and growing a company.
What is a social media marketing podcast?
A social media marketing podcast is a weekly or monthly podcast that focuses on marketing insights that involve the process of gaining website traffic through social media posts on different sites.