You might have come across the phrase "sales vs. presales" and wondered what the difference is. Don't they both do the same thing? Do they have different goals and roles?
It's no secret that refining the sales sequence is essential to a company's success. But what is less known is that presales – the process of identifying and qualifying potential customers – is just as crucial, if not more so.
Harvard Business Review reports a win rate of up to 50% when selling to a new market and an even greater potential for existing partners with a proven track record of achieving 80-90%.
This article will explore the differences between presales and sales and explain why investing in presales is crucial for any business.
Before we dive into the significant differences between these terms, let us first define them.
Definitions
What is Presales?
Before a sale takes place, companies often leverage presales activities to establish and nurture relationships with potential customers.
From creating tailored marketing materials to organizing events connecting buyers and sellers, these efforts can provide the groundwork for successful transactions.
The purpose of presales is to bridge the gap between customers' expectations and company offerings by helping customers arrive at the best possible decision for their specific needs.
What is Sales?
Sales refers to the process of negotiating and closing deals with customers to generate revenue for a business. The seller completes a transaction in response to an inquiry, offer, bid, or proposal.
A sale is considered to be complete when:
The buyer and seller agree on the price and quantity of goods or services
Both parties exchange something of value
The title to the goods or services passes from the seller to the buyer.
Differences
Presales and sales represent the dynamic between the customer and the company. Without a strong presence in either department, an organization may find it difficult to move products or services from concept to reality.
Sales teams are responsible for meeting and exceeding quotas by selling products or services to customers. Pre-sales teams are accountable for supporting the sales team in achieving their quotas.
Let's explore their differences in goals, roles, processes, and tools.
Goal
The goal of presales is to enable the sales team.
So, the pre-sales team needs to have a deep understanding of their offer and communicate that understanding to the sales rep. Presales also supports the sales team by providing them with tools, information, and resources. In short, the presales goal is to ensure that the sales team is as prepared as possible to sell the offer.
The goal of sales is to sell the product or service.
Revenue growth is the ultimate target, but sales teams also focus on other metrics, such as the number of deals closed or the amount of new business generated.
Roles
The presales team typically consists of account managers, business development representatives (BDRs), and product specialists. Account managers oversee the relationships with key accounts. BDRs are responsible for generating new leads and opportunities. Product specialists provide in-depth product knowledge to the sales team and support them during the sales processes.
The sales team typically consists of sales development representatives (SDRs), account executives, and closing managers. SDRs are tasked with generating new leads and opportunities. Account executives are responsible for managing relationships with key accounts and closing deals. Closing managers are responsible for overseeing the entire sales cycle and ensuring that deals are closed in a timely manner.
Process
The Pre-sales Process
Presales requires tasks necessary to be completed before a product or service is sold.
Presales generally involves five key steps: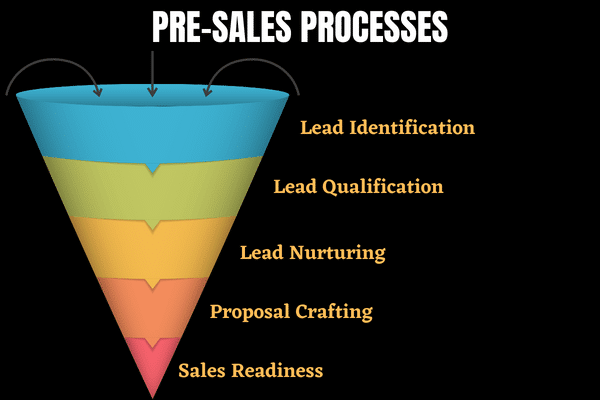 Lead Identification: Identifying the right prospects for your business so that you can focus on those most likely to become customers.
Lead Qualification: Evaluating leads against established criteria to determine which leads are more likely to convert.
Lead Nurturing: Developing relationships with potential customers through education and value-adding content.
Proposal Crafting: Creating tailored proposals that appeal to each customer's needs and situation.
Sales Readiness Preparing your team for sales conversations, including product demos and sales decks.
The Sales Process
The sales process begins after a lead has been generated.
The sales process also involves five key steps: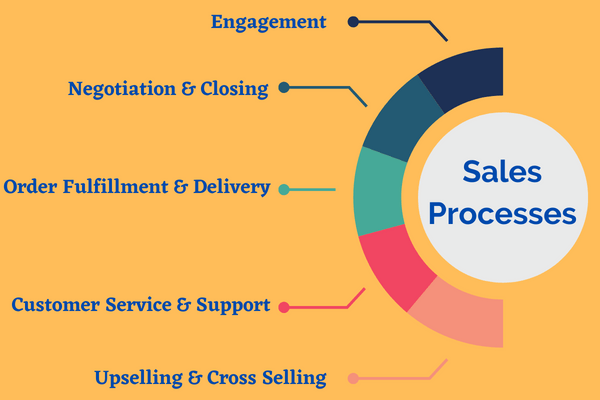 Engagement: Reaching out to stakeholders and building relationships between them and the company.
Negotiation & Closing: Exploring different options, discussing terms, and closing deals that make mutual sense for both parties involved.
Order Fulfillment & Delivery: Ensuring orders have been processed correctly and delivered on time to meet customer expectations.
Customer Service & Support: Building strong relationships with customers through timely support and delivering a high-quality product or service experience throughout the customer journey as well as after they're already satisfied customers.
Upselling & Cross Selling opportunities: Proactively looking at opportunities to accelerate sales by offering related products or services alongside existing ones being purchased by customers
Tools
Because of the differences mentioned above, the tools can also vary. For example, presales teams may use marketing automation software to nurture leads, while sales teams may use customer relationship management (CRM) software to monitor customer data and manage deals.
We'll give you a rundown of the most commonly used tools in pre-sales and sales so that you can be better prepared for success.
Pre-Sales Tools
As the primary goal of pre-sales is generating interest, pre-sales teams often use tools like webinars, eBooks, white papers, and free trials.
Webinars: virtual events that allow you to present information about your product or service to a large group of people at once.
eBooks: digital books that are packed with information about a particular topic.
White papers: similar to eBooks, but they tend to be shorter—around 5,000 words—and more focused on providing detailed information about a specific issue or problem.
Free trials: allow potential customers to use your product or service for a limited time without committing to purchasing it outright. It can effectively generate interest and get people hooked on your product before they've even paid for it.
Sales Tools
Once you've generated interest in your product or service, it's time to start selling. The most common sales tools are:
Proposals: outline what you're offering and how much it will cost
Contracts: spell out the terms of the agreement between you and the customer
Pricing tables: provide a breakdown of the costs associated with your product or service
Demos: allow potential customers to see your product or service in action to understand better how it works and what it can do for them.
Here's a summary of these key differences:
| | | |
| --- | --- | --- |
| Areas of Differences | Presales | Sales |
| Goals | ensure a successful transition from the initial sales inquiry to the purchase of a product or service | convert leads into customers |
| Roles | provide technical expertise and product-specific knowledge to the sales team, enabling them to better understand their prospects' needs and create effective solutions | deliver a clear value proposition and build relationships with customers to ensure satisfaction across all interactions |
| Processes | assess customer requirements, provide technical guidance and demos, explain the features and benefits of a product or service, generate quotes, and provide assistance with the completion of purchase orders | handle customer inquiries and negotiations, set up appointments with identified prospects, and ultimately close deals |
| Tools | gather potential customer information; predictive modeling or market intelligence reports | track existing customers' interactions; showcase products through presentations or demos and concluding deals |
Increasing the Chances of Closing Deals
When you're selling to another business, you're not just trying to sell them on your product or service—you're also trying to sell them on the idea that doing business with you will be a good investment.
A. How to Increase the Chances of Closing a Presale?
Here are proven steps you can do to increase the chances of closing a B2B presale.
A.1 Do Your Research
One of the most important things you can do when preparing for a B2B presale is to research your potential customer. It includes everything from their company history and size to their specific needs and pain points. The more you know about your potential customer, the better equipped you'll be to sell them your product or service.
In addition to researching the company itself, it's also a good idea to research the decision-makers within the company. It means finding out who their boss is, what their job title is, and what their role is within the company. The more information you have about those who will be deciding to do business with you, the better.
A.2 Court the Decision-Maker
Once you've done your research, it's time to start building a relationship with the decision-maker. It means reaching out and making contact in a way that is professional and respectful. You want to show them that you're interested in doing business with them and have something valuable to offer.
One of the best ways to court a decision-maker is to connect with them on LinkedIn. This professional networking site allows you to build relationships and exchange messages with potential customers without being too pushy or sales-y.
A.3 Make a Good First Impression
When you finally meet with the decision-maker, making a good first impression is important.
Another important tip for increasing your chances of closing a B2B presale is to build a relationship with your potential customer before you even start talking about your product or service.
Remember, when you're selling to another business, you're not just selling them on your product—you're also selling them on the idea of doing business with you. So, they must see you as someone they can trust and depend on.
One way to build this relationship is by offering helpful resources.
They could be blog posts, articles, white papers, etc. Something that sells value and addresses the needs of your potential customers. Doing this can position yourself as an expert in your industry and someone who is truly invested in helping businesses succeed.
A.4 Have a Solid Proposal
When you're ready to start talking specifics about your product or service, it's important that you have a solid proposal prepared.
This proposal should outline all of your offer's features and benefits and how they address your potential customer's specific needs. It should also include pricing information and any special offers or discounts that may be available.
Be sure to keep your proposal complete but concise. You want it easy for decision-makers to digest quickly so they can see how working with you will benefit their business bottom line.
Bonus Tip: The presales questioning technique.
Knowing your customer's decision criteria is essential when presenting a solution. The "pre-sales questioning technique" provides an effective tool for helping you understand where the client stands so that you can identify any gaps in their decision-making journey.
Doing this twice during the presentation (at the end of summarizing and after fulfilling the criteria) allows customers to be more comfortable with what they're about to decide on.
B. How to Increase the Chances of Closing a Sale?
Let's look at four tips for helping you close more deals and grow your business.
B.1 Use the Research from Presales
One of the most important data you can use to increase your closing rate is the research you did during the presales process. It means going into sales calls with as much information as possible about your potential customer.
You should also do additional research on your industry and your competition. Knowledge will help you answer questions and address concerns with confidence which potential customers find outstanding.
B.2 Nurture Relationships
People only do business with businesses they like and trust. Therefore, it's important that you take the time to build relationships with your potential customers.
Get to know them personally, and let them get to know you. The more comfortable they are with you, the more likely they'll be to do business with you when the time comes. That's why relationship marketing must go together with customer marketing.
B.3 Be Persistent (But Not Pushy)
When you believe in what you're selling, you must be persistent in your efforts to close a deal. However, there is a fine line between being persistent and being pushy.
No one likes to be sold to, so you must balance being assertive and respecting your potential customers' boundaries.
If someone isn't interested in what you're selling, don't waste your time trying to force them into a sale. Move on and focus your efforts elsewhere.
B.4 Offer Something Differentiated
If your product or service is the same as everyone else's on the market, it will be difficult to close a sale. Therefore, you must take the time to identify what makes your offering unique and emphasize those differences in your sales pitch.
In closing sales, there are always three possible outcomes: a successful "yes," an unfortunate "no," or a lesson.
Here's a video that teaches how to prepare for both "hell yes" and "hell no" responses from prospects and avoid getting stuck in between.
Closing Statement
Both sales and presales play an important role in helping businesses achieve their goals. Sales teams are focused on meeting quotas by selling products or services to customers. Presales teams provide support and resources that help sales reps close deals. Although they have different goals, sales and presales must work together to succeed.
FAQs
Here are other frequently asked questions about presales vs. sales that we have not covered in the article.
Is presales part of sales?
Yes. Presales is a part of the integrated sales process responsible for setting the stage for a successful sale. By identifying and addressing potential objections upfront, the presales team can help to smooth the way for a closed deal.
When is the best way to transition from presales to sales?
Most companies will want their presales professionals to transition into sales once they understand the product or service, the market, and the customer. Many companies also prefer that presales professionals have some experience in sales so they can hit the ground running when they transition.
What is the difference between pre-sales and post-sales?
Pre-sales is the process of qualifying and targeting potential customers. It's about identifying who is a good fit for your product and getting them interested in what you have to offer. Post-sales is turning those interested potential customers into actual paying customers and then supporting them so they become happy, loyal customers.