With the growing public concern about climate change and other environmental issues, environmental marketing is becoming increasingly relevant for businesses and organizations.
In fact, the global green technology and sustainability market is forecast to grow to approximately 35.5 billion U.S. dollars by 2030.
This post will show you how promoting the environmental benefits of your products or services can differentiate you from competitors and attract new customers. And greater than that, raising awareness about environmental causes helps create a more sustainable future for us all.
Let's look at some of the most effective environmental marketing strategies you can use to make a difference.
What is Environmental Marketing?
Environmental marketing describes the promotion and sale of products or services that are designed to positively impact the environment. It focuses heavily on sustainability, ethical sourcing, reducing emissions, and other forms of environmental consciousness.
You can use it to endorse green products and services or to raise awareness about environmental issues.
Environmental marketing has different forms, but all campaigns share the goal of increasing public knowledge of how our actions can impact the environment.
Why is It Beneficial for Your Business?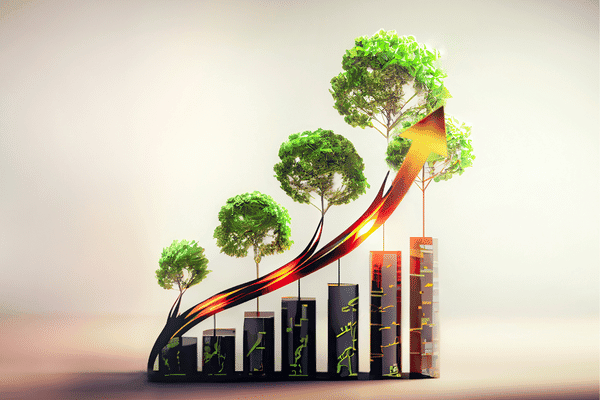 Making your business more environmentally friendly can offer many benefits, from reducing your environmental impact to enhancing your product differentiation.
Here are four key reasons to consider green marketing initiatives for your business.
Reduced Environmental Impact
In the past, businesses have not been held accountable for the pollution and environmental degradation they have caused. However, as public awareness of the issue has grown, so has the demand for more sustainable business practices.
One of the most apparent benefits of environmental marketing is that it can help reduce your business's impact on the environment.
Making sustainability a crucial part of implementing holistic marketing can encourage customers to make responsible choices that minimize waste and conserve natural resources.
You can also set an example for other businesses to follow, thereby helping to create a market for more sustainable products and services.
Enhanced Product Differentiation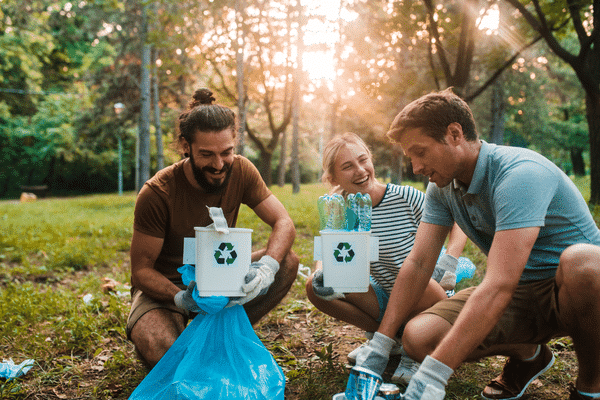 Product differentiation is a marketing tool that creates a unique selling proposition for a product or service. It makes a product or service more attractive to customers by highlighting its unique features and benefits.
The marketplace is highly competitive, so you must find proactive ways to stand out from the crowd.
Normally, if two products are essentially the same, customers will base their decision on price alone. However, if one of the products is eco-friendly, it gives a significant edge. Customers are even willing to pay a premium for that option.
The reason for this is the increasing environmental consciousness, so they are eager to support businesses that share their values.
By positioning your company as environmentally responsible, you can tap into the growing trend of eco-consciousness and forge a stronger connection with consumers.
Stronger Corporate Social Responsibility Credentials
A company's green marketing practices play an important role in shaping public perceptions of its corporate social responsibility (CSR) credentials.
Demonstrating a commitment to sustainability can show potential customers and partners that you're serious about making a positive difference in the world.
Your business doesn't only care for profits but also the planet.
It can go a long way toward strengthening trust and goodwill for your brand.
Improved Public Perception of the Brand
The public's perception of a company is important for its long-term success. A positive reputation can attract new customers and partners, while a negative one can damage the business at the drop of a hat.
Today, where social media can spread the news—good or bad—faster than ever, companies must be extra cautious about how the public perceives them.
One way to raise your brand's reputation is to focus on environmental marketing. As mentioned earlier, by making sustainability a key part of your marketing strategy, you can position your company as environmentally responsible and win the respect of consumers.
Now, it's time to start integrating environmentally friendly policies into your marketing strategy.
How Can You Implement an Effective Environmental Marketing Strategy?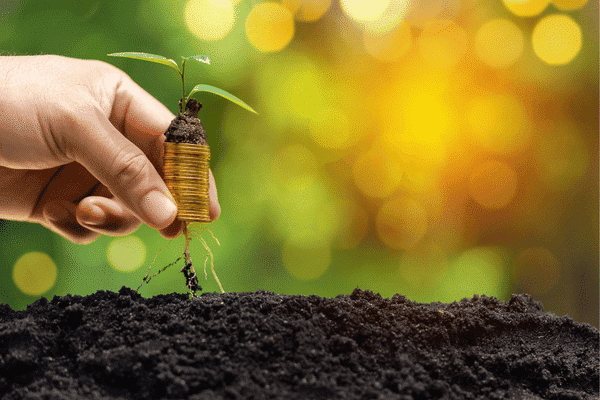 An effective environmental marketing strategy should be based on a thorough understanding of your company's strengths and weaknesses and your target market. Setting realistic goals and objectives that can be measured and evaluated is also important.
Once you clearly understand your company's strengths, weaknesses, and target market, you can begin to develop a marketing strategy that leverages those strengths and addresses those weaknesses.
The following are six strategies you can take to implement effective environmental marketing.
1. Evaluate Your Company's Current Environmental Impact
Your company's current environmental impact is likely the result of years of gradual changes.
As your business has grown, you've probably made choices that were intended to be more efficient or cost-effective without necessarily considering the environmental consequences.
But with more and more businesses being held accountable for their environmental impact, it's important to take a closer look at your company's carbon footprint and see where you can improve.
There are different ways to evaluate your company's environmental impact. One is to simply look at your energy usage.
How much electricity does your company use daily?
Are you using renewable energy sources, or are you still reliant on fossil fuels?
Another way to assess is to examine your manufacturing process.
Do you use environmentally-friendly methods and materials?
Or are there still areas where you could make some changes?
Of course, reducing your company's environmental impact is not just about protecting the planet. It's also about saving money. Making simple changes in how you do business can help you save on energy costs, reduce waste, and improve your bottom line.
2. Conduct a SWOT Analysis
A SWOT (Strengths, Weaknesses, Opportunities, Threats) analysis is a versatile tool used in many situations. Taking an objective look at all four areas can develop a more effective strategy for promoting your business while protecting the environment.
Strengths and weaknesses are internal factors, while opportunities and threats are external. Internal factors are under your control, while external factors are not.
However, internal and external factors can impact your ability to achieve your environmental marketing goals.
Some common environmental marketing strengths include a commitment to sustainable practices, innovative products or services, and a strong social media presence.
Weaknesses might include a lack of resources, inexperience with green marketing, or negative public perceptions.
Opportunities could include emerging trends in sustainable living, new legislation encouraging green practices, or partnerships with other businesses or organizations. Threats might include competitor activity, unfavorable media coverage, or public skepticism about environmental claims.
This valuable information can support your marketing team make more informed decisions about how to best promote your company while protecting the planet.
3. Set Goals
Setting sustainability goals can help you measure your progress and ensure that you're making a positive impact.
Here are five green marketing examples of business goals you can set to reduce your environmental impact.
Calculate your carbon footprint and set reduction targets.
One of the first moves you should take is to calculate your company's carbon footprint. It will give you a baseline against which you can measure your progress. Once you have your numbers, set some reduction targets.
A good goal would be to reduce your emissions by 10% over the next year.
Switch to renewable energy sources.
If your business isn't already using renewable energy sources, now is the time to switch. Renewables like solar and wind power are becoming more affordable, offering several benefits over traditional fossil fuels. This safe and efficient maintenance is better for the environment and can also help save you money on your energy bills over time.
Reduce waste and increase recycling rates.
The amount of waste businesses produce is staggering—but it's also unnecessary. There are many ways to reduce the amount of waste your company produces, from switching to reusable packaging to investing in office recycling bins. Once you've reduced your waste output, focus on increasing your recycling rates. Many businesses struggle with this, but it's important to make an effort; even small changes can make a big difference.
Implement an eco-friendly transportation policy.
If your employees commute to work, encourage them to use public transportation or carpool. You could also offer incentives for employees who walk or bike to work. If possible, allow employees to work remotely part-time or full-time. It will not only reduce emissions from commuting but can also increase employee productivity.
Invest in energy-efficient technology.
Another way to reduce your environmental impact is by investing in energy-efficient tech marketing. From LED lighting to low-energy appliances, there are many options available today that can help slash your energy consumption—and save you money on utility bills at the same time.
4. Incorporate Eco-Friendly Messaging Into Your Marketing Materials.
There are a few simple ways to add eco-friendly messaging to your marketing mix.
For example, you can highlight your products' recycled or recyclable content, tout your use of sustainable packaging, or boast about any energy-saving initiatives your company has undertaken.
Here are other tips for incorporating eco-friendly messaging into your other marketing-related projects:
Use recycled paper
Recycled paper uses far less energy and water to produce than virgin paper, so it's a great way to reduce your company's carbon footprint. Plus, customers will appreciate that you're making an effort to be green.
Go digital
More and more consumers are going paperless, so consider ditching traditional print marketing materials in favor of digital options like email newsletters and social media ads. Not only will this save you resources on printing and postage, but it'll also be more convenient for your customers.
Use eco-friendly ink
Traditional printing ink is made from petroleum products, which can be damaging to the environment. If you want to go green, switch to eco-friendly ink from vegetable oils or soybeans. It's just as effective as regular ink, but it won't harm the planet.
5. Collaborate with Like-Minded Organizations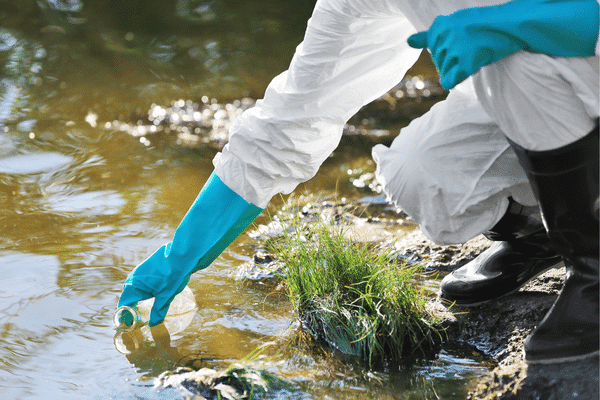 One of the best techniques to promote your company's green initiatives is to partner with other businesses that share your values. You can collaborate on field marketing, campaigns, events, or social media posts.
It is a great way to reach new customers and build goodwill among potential buyers.
6. Advocate for Change
In addition to making changes within your own company, it's important to advocate for change on a larger scale. But how can you turn your commitment to the environment into effective advocacy?
On a local level, you can start by partnering with other businesses and organizations to support environmental initiatives. You can also get involved in local politics and work with your representatives to promote green policies.
On a state level, you can support legislative efforts to reduce pollution and encourage renewable energy. And on a national level, you can use your platform to raise awareness about the importance of environmental protection.
By advocating for change at all levels, you can help make the world a healthier, more sustainable place for everyone.
Making minor changes can have a significant impact on reducing your environmental impact. No effort is too small to help make the world a greener place for everyone.
The Federal Trade Commission published the Guides for the Use of Environmental Marketing Claims, which you might find handy as you embark on your journey to becoming a more sustainable business.
Conclusion
In conclusion, environmental marketing is a strategic way to improve your business while benefiting the planet. There are different methods to reduce your environmental impact, and finding solutions that work for your company's values and goals is essential. You can create a real difference in the world by collaborating with like-minded organizations, advocating for change, and educating others about the importance of sustainability.
FAQs
Here are other questions about environmental marketing that we have not covered in the article.
How does green advertising differ from other forms of marketing
Green advertising, also known as sustainable marketing or environmentally friendly advertising, is a type of marketing that emphasizes the environmental and social benefits of a product or company.
Green advertising differs from other forms of marketing in that it focuses on positive attributes rather than features or benefits. For example, instead of saying, "our product is better than the competition," a green advertiser might say, "our product is better for the environment." This type of advertising can be more effective because it allows consumers to make ethical decisions without feeling guilty or forced to compromise their values.
What are the challenges to prepare for?
Consumer skepticism
Stringent regulation
The high cost of green initiatives
Competition from established brands
What is greenwashing?
Greenwashing is a term used to describe the act of misleading consumers regarding a product or service's environmental benefits. It occurs when companies consciously or unconsciously market their products in ways that make them look like they are more environmentally friendly than they actually are.

This type of marketing creates an illusion of environmental friendliness without really delivering on promises.