B2B sales professionals have long known that personal relationships are key to closing deals. This has meant face-to-face meetings and phone calls in the past, but in today's digital age, there is a new kind of selling: B2B social selling.
It provides the opportunity to build strong personal relationships with clients and close more deals by leveraging social networks, which are already established online sources.
Let's see how it works for B2B.
What is B2B Social Selling?
B2B social selling is a technique companies use to build relationships on social media platforms to generate leads and sales.
In B2B social selling, companies leverage their brand's visibility on the channels their target customers use (e.g., LinkedIn, Twitter) to engage with prospects, answer questions about products and services, and build relationships that lead to long-term sales opportunities.
It's a way for sales reps to level the playing field by using the same tools customers use to research products.
Not too long ago, sales representatives used information asymmetry to their advantage. They had more information about products, market trends, and pricing than buyers, and they used that to close deals.
However, social media has changed the playing field. Customers can easily find out everything they need to know about a product before talking to a sales rep. So, what's a sales rep to do? The answer is social selling.
The core elements of B2B social selling include:
audience identification and segmentation
building authority within your industry
optimizing content for each platform
engaging with prospects without being intrusive or pushy
providing potential buyers with valuable information related to their industry
creating trust between you and members of your target audiences
leveraging technology and automation tools to manage content production & promotion more efficiently
focusing efforts on developing meaningful connections through thought leadership activities such as participating in webinars, online courses, or live events.
What Social Selling is NOT
Two things about this:
First, social selling is not about making a hard sell on social media. It's not about shoving your product or service down people's throats in the hopes that they'll buy something from you.
If anything, that approach is more likely to turn people off than anything else.
Second, social selling is not a magic elixir that will enable you to instantly sell more, nor a silver bullet that will make all your problems disappear. It is a process, and, like any process, it requires time, effort, and dedication to see results.
Now that we've got that out let's see what strategies work best for your social selling efforts.
B2B Social Selling Techniques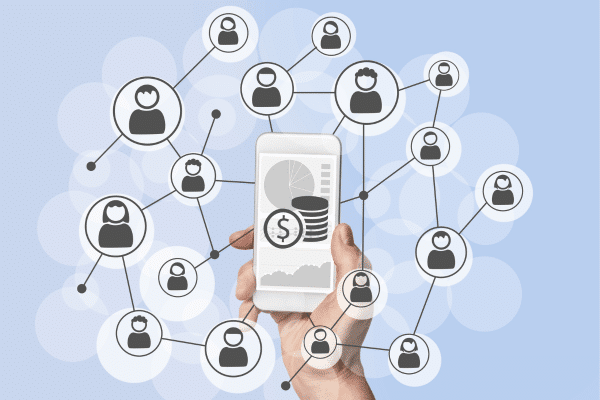 1. Thought Leadership
A thought leader is an acknowledged authority in their field that influences others with their innovative ideas. Thought leaders are esteemed for their knowledge and expertise and often seek advice and guidance.
Thought leadership takes time, effort, and dedication. It requires you to continuously educate yourself on the latest trends and developments in your industry to share your insights with others.
It also means staying on top of the latest technology and tools to be at the forefront of innovation. And, perhaps most importantly, it means being fearless when sharing your ideas—even if they differ from the status quo.
While thought leadership can take many forms, it remains an approach that focuses on helping potential customers understand and solve their problems. It starts with creating high-quality content that provides value to the audience.
The content could be blog posts, articles, white papers, or videos.
When a strong body of work is complete, it is promoted through social media or other channels, reaching a large audience and encouraging potential customers to engage with the thought leader's brand.
The more people you contact, the more you can build a reputation as a thought leader in your industry.
2. Rocking Social Media Platforms
We know that social media is no longer just a way for people to connect with friends and family. It is now an indispensable tool for businesses to reach new customers, build relationships, and grow their brands.
Here are some ideas on making the most of social media for your business.
Establish a social media strategy
Before you start creating social media content, you must have a strategy.
It is a series of actions that are taken to achieve a specific objective using social media platforms. That means knowing your goals, your audience, and a content creation and distribution plan.
So, before you start posting willy-nilly, it's important to take a step back and think about your goals. What do you want to achieve with your social media presence?
For example, if you're looking to improve brand awareness, you'll want to focus on creating shareable and interesting content. If you're looking to drive sales, on the other hand, you'll need to create posts that include Call-to-Actions and links to your website or product pages.
Choose the right platforms for your business
Each social media platform has special features and benefits that can be leveraged to achieve different objectives. So, you must choose the right platform for your business.
The first step is to understand the different types of social media and their purpose. For example, LinkedIn is mainly used for business networking, while Instagram is better suited for businesses with a visual product or service.
Once you've identified the purpose of each platform, you can start to narrow down your options.
The next step is to consider your target audience. Each social media platform has a different demographic, so choosing the one that best aligns with your target customer is important.
For example, if you're targeting millennial customers, Snapchat and Instagram are good choices.
Finally, you need to consider your resources. Some platforms require more time and effort to maintain than others, so choosing one that you have the financial capacity to invest in is important.
Use effective techniques to boost visibility and reach
An effective way to raise the visibility and reach of your business is to use effective techniques such as search engine optimization (SEO), social media marketing, and email marketing.
Keep up with changes in social media algorithms and best practices
Social media is steadily evolving, so it's important to keep up with the latest algorithms and changes.
For example, Facebook recently modified its algorithm to prioritize content from friends and family over businesses. With this development, businesses must find new ways to reach their target audience on the platform.
Another example is the rise of live streaming. Platforms like Instagram and Facebook now allow businesses to stream live videos, which can be used to give customers a behind-the-scenes glimpse of your business or product, host Q&As, or even launch new products.
3. Influencer Outreach Programs
An influencer outreach program is a marketing strategy that involves identifying and targeting influential individuals on social media and getting them to promote your product or service to their followers.
You can start in three steps:
Identify the right influencers for your brand
Before reaching out to influencers, you must first identify which influencers are the best fit for your personal brand.
To do this, consider the size of an influencer's following and engagement rate.
Simply put, you want to prioritize working with influencers who have many followers but also have high engagement rates (i.e., likes, comments, shares, etc.)
It's also important to ensure that the content an influencer typically posts is relevant to your industry. For example, if you're a fashion brand, you'll want to work with fashion bloggers or Instagrammers rather than general lifestyle influencers.
More importantly, find an influencer that aligns with your brand values. There's no point in working with somebody who doesn't share your same vision—it will only backfire in the long run.
Craft a tailored pitch for each influencer
Now that you've identified which influencers you want to target, it's time to start reaching out!
When contacting an influencer about working with your brand, it's important to personalize your pitch rather than sending out generic messages.
Take some time to look at the content they've posted in the past and mention why you think they would be a good fit for your brand.
Then, explain what you hope to accomplish by working together and what type of content you want them to create.
If you can craft a tailored message for each influencer that demonstrates that you've taken the time to research their work and consider how they could help promote your business, you'll be much more likely to get their attention—and ultimately secure a partnership.
Offer something of value in return
Of course, influencers won't just promote your product or service for free—they need to be compensated for their work.
One way to do this is by offering them a free product or service in exchange for a review or social media shout-out. Other options include offering a commission on sales generated from their promotion or paying them a flat fee for their work.
Remember, influencers are busy people, so you'll need to make it worth their while if you want to secure a partnership.
4. Digital Sales Enablement
Digital sales enablement uses digital tools and strategies to reach and engage buyers at every stage of the buyer's journey.
Using digital sales enablement tools, sales teams can connect with buyers who might otherwise be difficult to reach.
Digital sales enablement also helps sales teams nurture relationships with prospects more effectively until they are ready to buy.
What are the Most Common Digital Sales Enablement Tools?
There are different digital sales enablement tools that you can use to reach and engage buyers at every stage of the buyer's journey.
Website personalization is a tool that can be used to customize the content and messaging on your website based on who is visiting your site.
For example, if you know a particular visitor is interested in your product or service, you can serve them content tailored to their needs and interests.
Lead capture forms are forms that visitors can fill out on your website to request more information about your product or service. By collecting leads through lead capture forms, you can follow up with prospects interested in learning more about what you offer.
Content marketing is creating and distributing high-quality content (such as blog posts, eBooks, infographics, etc.) to attract the attention of potential buyers and build relationships with them.
By providing potential buyers with valuable information, you can establish yourself as a thought leader in your industry and build trust with prospects before they are even ready to buy.
In the past, salespeople would receive training on new products and features once or twice a year. However, this approach is no longer enough in today's rapidly changing digital landscape.
To keep up with the competition, businesses must provide their sales teams with continuous training covering new products and features, market changes, and buyer behavior shifts.
Finally, businesses must implement a performance management system to ensure that sales teams can meet their goals. This system should track the progress of each salesperson and provide feedback on their performance.
By tracking sales teams' performance, businesses can identify areas where they need improvement and provide solutions to help them improve.
With digital sales enablement, you can give your sales team the edge it needs to succeed in today's market.
The 5 Essential Tools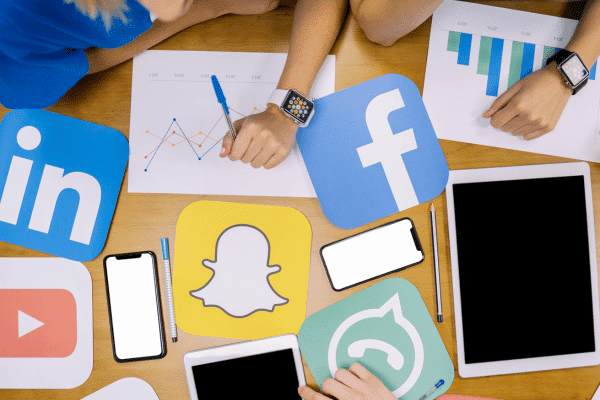 Here are four essential tools that every B2B social selling team needs:
LinkedIn Sales Navigator
LinkedIn Sales Navigator is a powerful sales tool that can help you find and connect with prospects, build relationships, and close deals.
What can it do?
gives access to LinkedIn's massive database of professionals and allows you to search for specific individuals or companies.
provides valuable insights into each prospect, including their job title, company size, and location. You can use this information to tailor your sales deck and improve your chances of closing the deal.
allows you to set up automated tasks and reminders to stay organized and on top of your prospects.
Twitter Lists
Twitter lists are a way to organize the people you follow into different groups. You can have as many or as few lists as you want and add or remove people from lists anytime.
The benefits of using Twitter lists are twofold. First, they help you segment the people you're following so you can easily find and engage with the right people at the right time. Second, they allow you to view tweets from a specific group of people without having to follow them all individually.
For example, let's say you're attending a conference and want to connect with other attendees on Twitter. You could create a list of all the conference attendees you're following and then quickly view their tweets by going to your list. No more scrolling through your timeline trying to find relevant tweets!
Here are three tips for using Twitter List for social selling:
Create Lists Segmented by Industry or Job Title
Suppose you sell products or services to a specific industry.
For instance, if you sell financial software, you could create a list of financial analysts that work in banks or other financial institutions.
Then, whenever there's news relevant to your industry (e.g., new financial regulations), you can quickly view tweets from experts in your field and chime in with your thoughts/opinions/solutions.
Not only will this help position you as a thought leader in your industry, but it will also help increase brand awareness amongst potential buyers.
Create Prospecting Lists Based on Keywords
In addition to creating industry-specific lists, another helpful tip is creating prospecting lists based on keywords related to your product or service offering.
For example, if you sell CRM software, you could create a list of people who tweet about needing a CRM solution or wanting to switch CRM providers.
Then, whenever someone tweets about needing a new CRM solution or dissatisfaction with their current provider, you can reach out and offer them yours as an alternative.
It is an excellent way to reach potential buyers who may not be familiar with your brand yet but have an immediate need for your product/service.
Monitor Your Competitors' Activity
Finally, don't forget to keep an eye on your competitors' activity on Twitter (and other social platforms). Creating a list specifically for your competitors is a great way to do this.
That way, every time they tweet about something new (e.g., product launch), you'll be one of the first to know so that you can tweet about it too.
Being proactive like this will help ensure that your brand is top-of-mind when potential buyers are ready to make a purchase decision."
Facebook Groups
Facebook groups are great for connecting with potential customers and building relationships. By joining relevant groups, you can engage in discussions, offer advice, and position yourself as an expert in your field.
For example, let's say that you sell software that helps businesses manage their social media accounts. You could join a Facebook group for small business owners and offer advice on using social media effectively.
This help build trust and credibility with potential customers and promote your software organically (i.e., without paying for ads).
Here are two tips for using Facebook groups for social selling:
Join groups relevant to your target market
The first step is finding groups your potential customers are already members of. To do this, you can use Facebook's search function and filter by groups.
For example, if you sell software for small businesses, you could search for "small business owners" or "entrepreneurs."
Engage in discussions and offer advice
Once you've joined relevant groups, take some time to engage in discussion and offer helpful advice. It will build trust and credibility with potential customers. It's also a great opportunity to organically promote your product or service.
Quora
With over 300 million active users, Quora is one of the most popular Q&A sites on the internet, and it can be a goldmine for businesses looking to generate leads and build relationships with potential customers.
Here's how it works:
You create an account and start following topics relevant to your business. When someone asks a question that you can answer, you chime in with your expert advice.
Not only does this help establish you as a thought leader in your industry, but it also lets you reach out to people who might be interested in what you have to offer.
Why is Quora Effective for Social Selling?
Quora is a low-pressure way to connect with potential customers. You're not coming across as salesy or pushy because you're simply providing helpful information in response to someone's question.
It allows you to target industries and niches. For example, if you sell marketing software, you can follow topics like "digital marketing" and "SEO" to reach people who might be interested in what you have to offer. This targeting is something that other social media platforms like Facebook and Twitter don't allow, which makes Quora even more valuable.
It allows you to showcase your knowledge and expertise without sounding like a know-it-all. Nobody likes being sold to, but everyone likes learning from an expert. By sharing your knowledge on Quora, you can position yourself as an expert in your field without being arrogant or self-promoting.
Reddit
Reddit is a social news aggregator where users can submit, vote, and comment on content. It's also a suitable place to find new customers and market your business.
How to use Reddit?
The first step is to find the relevant subreddit for your business niche. Then, start participating in the community by sharing helpful information and engaging in discussion. When you've built up some trust, you can start promoting your products or services in a relevant and helpful way to the Reddit community.
A few more things to remember:
Reddit is a community, and users quickly call out anything that feels "sales-y." As such, it's important to focus on providing value first and foremost. It means offering helpful advice, sharing relevant news articles, and generally being a good community member.
Be transparent about who you are and what you do. Many subreddits have rules against self-promotion, but as long as you're upfront about your business from the start, you shouldn't have any problems. Many users appreciate talking to a real person instead of a faceless corporation.
Competition is fierce in every industry, and social media is no exception! So be sure to use every tool at your disposal to come out on top!
Closing Statement
While social media platforms have their place in the B2B sales process, it's important to note that they are not replacements for personal relationships. To succeed with social selling, you must employ various techniques and the right tools. LinkedIn, Twitter, Quora, and Reddit are essential tools for any B2B social seller.
FAQs
Here are more questions about B2B social selling that we have not discussed in the article.
Why should I use social selling?
Social selling is an effective way to build relationships with potential and current customers through social media. It allows you to build a personal connection with people, which can help you better understand their needs and wants. It, in turn, can help you provide them with the best possible solutions and products.
Social selling can also help boost your brand's visibility and credibility. When customers see that you are engaged on social media and active in conversations with potential and current customers, they will be more likely to trust your brand and consider your products or services.
What are examples of social selling?
Some examples of social selling include sharing valuable content, answering customer questions, providing valuable insights, and sparking dialogue. The most effective social sellers are genuinely helpful and interested in building lasting relationships with their followers.